'Curb Your Enthusiasm' May Be Done for Now but JB Smoove's Leon Meditation Sessions Live On
Season 10 of HBO's Curb Your Enthusiasm hit the mark on most counts. Along the way, fans got to see the rise and fall of a "spite store" owned and operated by Larry (Larry David) and watched how Larry handled other shifts in his world (including the #MeToo movement).
It was also a great season for Leon Black, the character played by JB Smoove. As far as character arcs, we didn't see much change for Leon. He started and ended the season in basically the same place: hanging out at Larry's house (which is also Leon's house) offering advice and whatnot.
Leon certainly earned his room and board in season 10. When he wasn't warming up to his new position of "bean-meister" at Latte Larry's, Leon was turning Larry's idea for a bathroom-break business (Gotta Go) into a reality. ("This could be the pee Amazon," Leon said after hearing about it.)
But with the March 22 season finale already on the books, Curb fans will have to wait who-knows-how-long for another installment. (David once took a six-year break between seasons.) In the meantime, we'd recommend the guided meditation sessions Smoove does as Leon.
JB Smoove released his 1st Leon-guided meditation in January 2020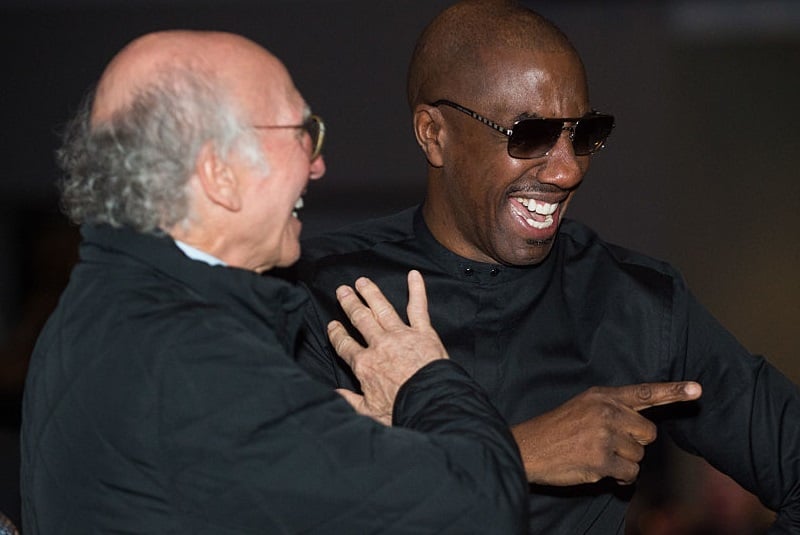 Since he became Larry's permanent house-guest in season 6, Leon has served as the Curb main character's sounding-board and informal adviser on a number of things. And that apparently inspired Leon to take things to the next level, which in his case mean leading meditation sessions.
The first of these Leon-guided meditations arrived in January 2020, just before Curb's season 10 premiere. If you happened to catch it, you saw Smoove sticking close to his brilliant Leon character. After snickering, he addresses his audience: "Look at you — you all f*cked up."
From there, he leads viewers through breathing exercises — "Breathe in your mouth. Exhale through your a**." — and directs people to picture a meadow with a bird chirping in the distance. ("Not one of those annoying birds that never shuts the f*ck up," Leon notes. He means "a nice, relaxing-a** bird.")
In brief, it's everything you'd expect from a guided meditation by Leon. And for those with plenty of extra time on their hands while self-isolating, HBO released a follow-up guided meditation the day after Curb's season 10 ended.
Leon's 2nd guided meditation arrived March 23
While Curb fans were still processing the show's season 10 finale, HBO dropped a second Leon-guided meditation session as a "digital exclusive" on March 23. And Leon basically picked up right where he left off in his first session.
"It's time," he began the meditation, "to get in your a**." This time around, Leon didn't hesitate to pull the rug out from underneath his audience's feet. After guiding you to envision "a meadow … and a f*ckin' stream, full of f*ckin' flowers and sh*t," he takes it back to the harsh reality.
"There ain't no stream over there," Leon says. "You still in your mama's basement. You know what that stream is? That f*ckin' washing machine." Soon after, he wraps up his second session as Leon. Hopefully, there will be more to come to tide fans over until the next season of Curb.
Also see: 'Sopranos' Podcast From Michael Imperioli and Steve Schirripa Still Shooting for April Launch