'Curb Your Enthusiasm': Richard Lewis Recalls 'Screaming and Crawling on My Knees' From Back Pain During Season 10
No, comedian Richard Lewis isn't banned from returning to Curb Your Enthusiasm. But instead, Lewis bowed out from season 11 due to a series of surgeries that left him on the sidelines.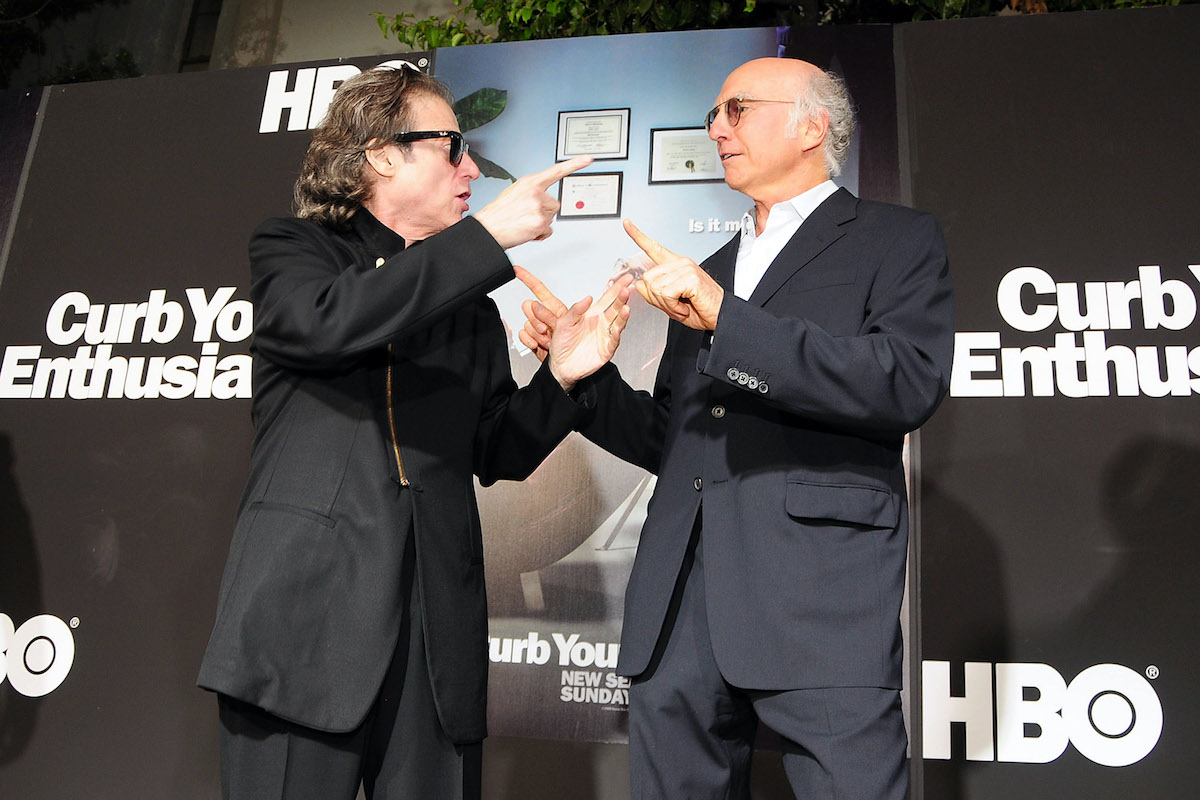 "What a ride, LD!" Lewis tweeted. "I love you, buddy. Tragically, these past 18 months I've endured a back and two shoulder surgeries and not able to be in #curbyourenthusiasm for season 11. I'll be watching…"
"For 20 years, I had the greatest comedy gig I could have ever imagined with my oldest and dearest friend LD. Honestly, I'm crushed that I won't be part of this season," Lewis told Variety. "For sure, I will be screaming with all the other 'Curb' fans when the new season starts. Hope to be there for Season 12!"
Richard Lewis looked pained last season
While Lewis plays an exaggerated version of himself on Curb, his pained version wasn't exactly theatrics last year. In early March 2020, he told The Chicago Tribune his pain level was at a "100 out of 100." But he soldiered on for season 10 out of his allegiance to creator and friend Larry David.
"After 20 years of being associated with the whole show, it was too much on my mind that I couldn't let him down," he said. Wife Joyce Lapinsky said Lewis spent a good amount of time last season flat on his back. "Larry and the production were kind enough to push off some of his scenes – push them back on the timeline," she said.
"He'd be in a trailer, laying down in pain," Lapinsky added. "Then they'd just perk him up and bring him in for the shoot."
"When they finally needed me, I wasn't really that great standing up," Lewis said. "So I had two days' work with six scenes, and, fortunately, all the scenes were in restaurants. I don't know what I would have done if it were anything else."
Richard Lewis needed help getting dressed because the pain was so intense
After years of grappling with back pain, Lewis admits he was at a debilitating point.
"They had to have me in these scenes," he recalled about season 10. "So they rented a room in an office building across the street (from the shooting location), with two medics in the room with me. They became medic/clothing stylists. They never had more fun."
"I mean, they're medical people. But they'd say: 'No, Richard, I wouldn't wear the corduroy,'" he joked. "And I'd say: 'Just help me put my pants on, this is what they want me to wear.'" Lewis said he'd joke back and forth with the medics about wardrobe.
"Then they'd put me in a wheelchair and wheeled me across the street. And people are honking their horns: 'Hey, Lewis!'" he recounted. "And the medics were smiling and emailing, taking this tortured man to this set. The medics are now probably doing Hello Dolly somewhere."
Lewis said his adrenaline for performance kicked in and he was able to deliver. But when his scene was over, the pain was excruciating. "I'm not exaggerating, I was screaming and crawling on my knees to get to the bathroom by my bed," he remarked. "I wasn't (yet) thinking of an operation. I was thinking: If I can get through this, I can get through anything. … And my wife could only just stand there and watch."