Here Are Some of the Cutest Moments From BTS' Appearance on 'The Late Late Show With James Corden'
It's officially comeback season, BTS fans. For the first time ever, this boy band performed their choreography for the single, "Black Swan," the first group song off of Map of the Soul: 7. Iconic live performance aside, there were a few cute moments from James Corden hanging out with this K-pop group. Here are a few fan-favorites.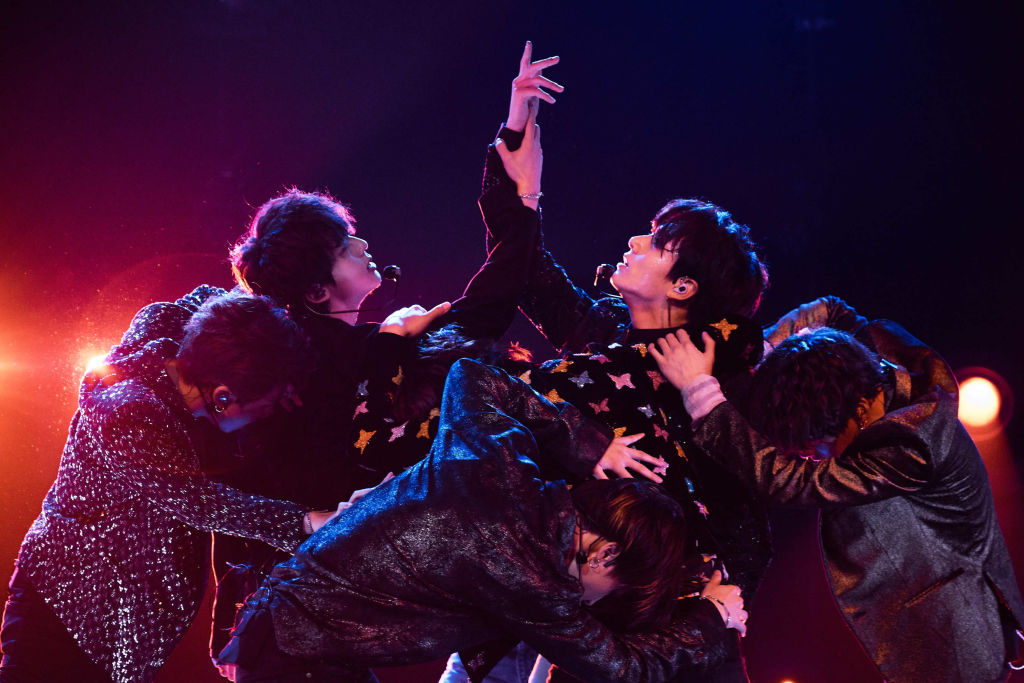 Kim Taehyung (also known as V) saying 'never better'
While BTS appeared on The Late Late Show with James Corden to perform "Black Swan," the group had a chance to sit down and talk about their recent experiences as a group. A few of the members showcased their English, including J-Hope, who elaborated on his experience at the Grammy Awards. Suga stated that they would be back next year and V shared his love for the BTS army.
For one segment backstage, James Corden asked the boys how they were doing. V said, "never better" with a smile, and turned to RM for reassurance. Almost instantly, the phrase became a top trending hashtag on Twitter.
"'NEVER BETTER' Is not just a phrase anymore, it's a religion now, a commitment, a way of life, Taehyung helped me see the light," one Twitter user said.
Suga and James Corden holding hands during 'Hide and Seek'
In true James Corden fashion, the members of BTS played a little game while on the show. Ashton Kutcher and James Corden competed to see who could find more BTS members, who hid throughout the studio.
While James Corden held the hands of the members he found, Ashton Kutcher flung Jin over his shoulders, running throughout the studio. James Corden patting Suga's hand was definitely a highlight.
"James was such a fanboy hugging every one of them and holding their hands tight. Like how he held V and Suga. And J-hope. Ashton was determined to carry them all there. I don't mind that too. They must smell really nice. Sigh. How I wish," one Twitter user said.
Last time they were on The Late Late Show with James Corden, the boys played a game of "Flinch." In groups, they stood behind glass while fruits were launched at them. Some members were definitely "cooler" than others, but still equally as adorable.
RM and James Corden hugging after the interview
After their interview on the show, James Corden started talking to RM. The two stood up and embraced, only making fans love James Corden more. Some took to social media, thanking the host for being so gracious towards BTS.
"You're definitely one of the kindest [and] nicest man out there, thank you for the love and support to BTS over the last 3 years since you've met them, we really appreciate it," one Twitter user wrote. "Every time they go to your show they have so much fun and today wasn't the exception!"
"J-Hope and Taehyung both of them said James Corden took care of them so well and they felt the show shooting was so comfortable. Taehyung said it was the most comfortable show for him," another Twitter user said.
Music by BTS, including their recently released single "Black Swan" is available for streaming on Spotify, Apple Music, and other platforms. Map of the Soul: 7 premieres on Feb. 21, 2020.