Cynthia Bailey 'Bumped Heads' With Kyle Richards on 'RHUGT' – 'I Couldn't Let It Go'
Cynthia Bailey from The Real Housewives of Atlanta held onto some resentment toward Kyle Richards during the "Bailey-Que" on The Real Housewives Ultimate Girls Trip.
During the barbeque dinner, Richards expressed that she was uncomfortable with the game Bailey wanted to play where the women would name who was the prettiest and other designations. Bailey was annoyed and "50 Cynt" even made an appearance. Bailey and Richards ultimately seemed to resolve their differences at the dinner. But Bailey said she hung onto that resentment a little longer than she would have liked.
Cynthia Bailey said she bumped heads the most with Kyle Richards on 'RHUGT'
"Who did I not connect with that much? I would say surprisingly … Kyle and I bumped heads," Bailey said on the Group Text with Melissa Rivers podcast.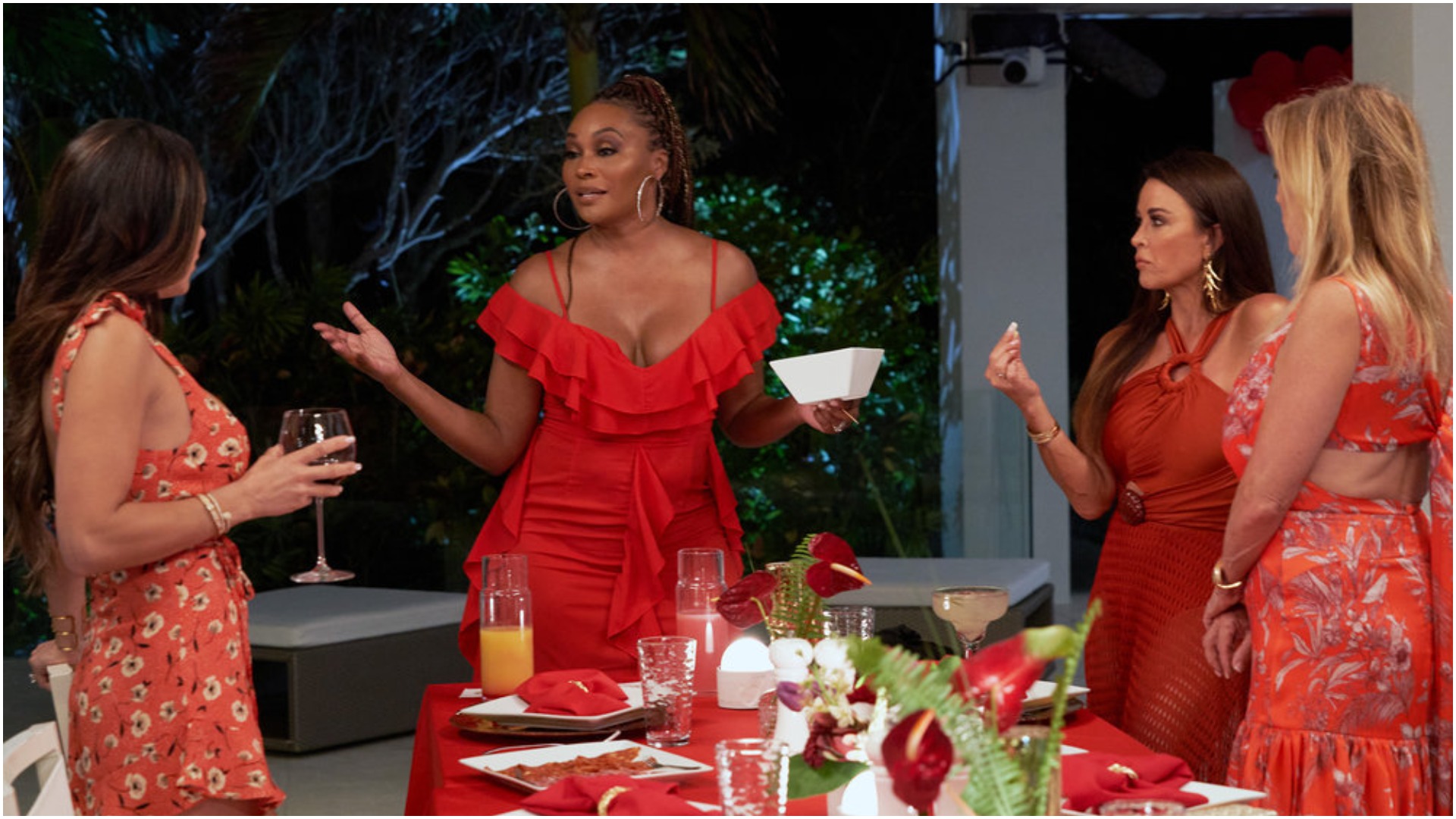 "But it was a situation that could have been resolved quicker," she continued. "But I was kind of holding on to it for a minute and couldn't let it go. And looking back, I wish I could just like let it roll off and let it go. But I just couldn't for some reason at the time, and I can't explain it."
Bailey then said that she ended up bonding with everyone on the show during their eight-day shoot. "We had a blast," she shared. "Like, other than, you know, like true to Housewife style, you put women together in one house. You're going to have some conflict. There's going to be some drama. But at the end of it, I can say I really did get to bond with these ladies and get to know the ones that I didn't know that, well, a lot better."
Kyle Richards admits the conflict with Cynthia Bailey on 'RHUGT' surprised her
Richards was taken aback that she and Bailey butted heads. "Cynthia (and) I had a little bit of an issue," she told USA Today. "I wasn't expecting that."
"We bumped heads early on in the trip," Bailey remarked. "Once we did, I have to give her credit because she apologized pretty much right away. … I wish looking back that I was just able to just kind of accept her apology sooner than I did."
Bailey also shared with USA Today and in the podcast that her friendship with Kenya Moore also took a little hit on RHUGT. Bailey was annoyed that Moore showed up late to her dinner and helped herself to the food before everyone else. "That hurt me, because Kenya is someone who I am friends with and who I'm always going to have love for," Bailey said. "That is something that I didn't expect, that I didn't want and that I'm still dealing with."
Cynthia Bailey forged a strong bond with Teresa Giudice
While Bailey said Richards had a tough moment on the show, she found Teresa Giudice from The Real Housewives of New Jersey to be incredible.
"Teresa and I have friends in common, but we've never hung out alone," Bailey said about connecting with Giudice on RHUGT. "And to my surprise, I actually connected the most with Teresa Giudice. She was the one I was most curious about. And I was curious about Teresa because I felt like, she's been through so much. I mean, she's been in jail. I mean, her comeback story is gangster."
"So I was like, wow, I was just interested in hearing her story," she continued. "And she was so lovely and so transparent. You know, we just connected. She's in love. You know, I was super in love and still am. But like I remember when Mike and I first started dating, she's in that same situation. She just recently got engaged to Louie. So I'm we just connected."