'D.P.': Jung Hae-In Teases a Second Season Is in the Works
Actor Jung Have-In reveals in an online interview the script for 'D.P.' Season 2 is being worked on as he wants to show his character's growth in the new season.
K-dramas often stick to a formula of 16-episodes or one season. The boom of Korean culture, K-Pop, and streaming platforms like Netflix developing their own dramas, has created a bigger fan base for K-dramas. More popularity has led fans to become heavily invested in the stories and characters of a drama. This has lead producers and shows creators to develop more than one season. The recent success of Netflix's D.P. has fans wanting more. Lead actor Jung Hae-In reveals a second installment is already in the works for the drama.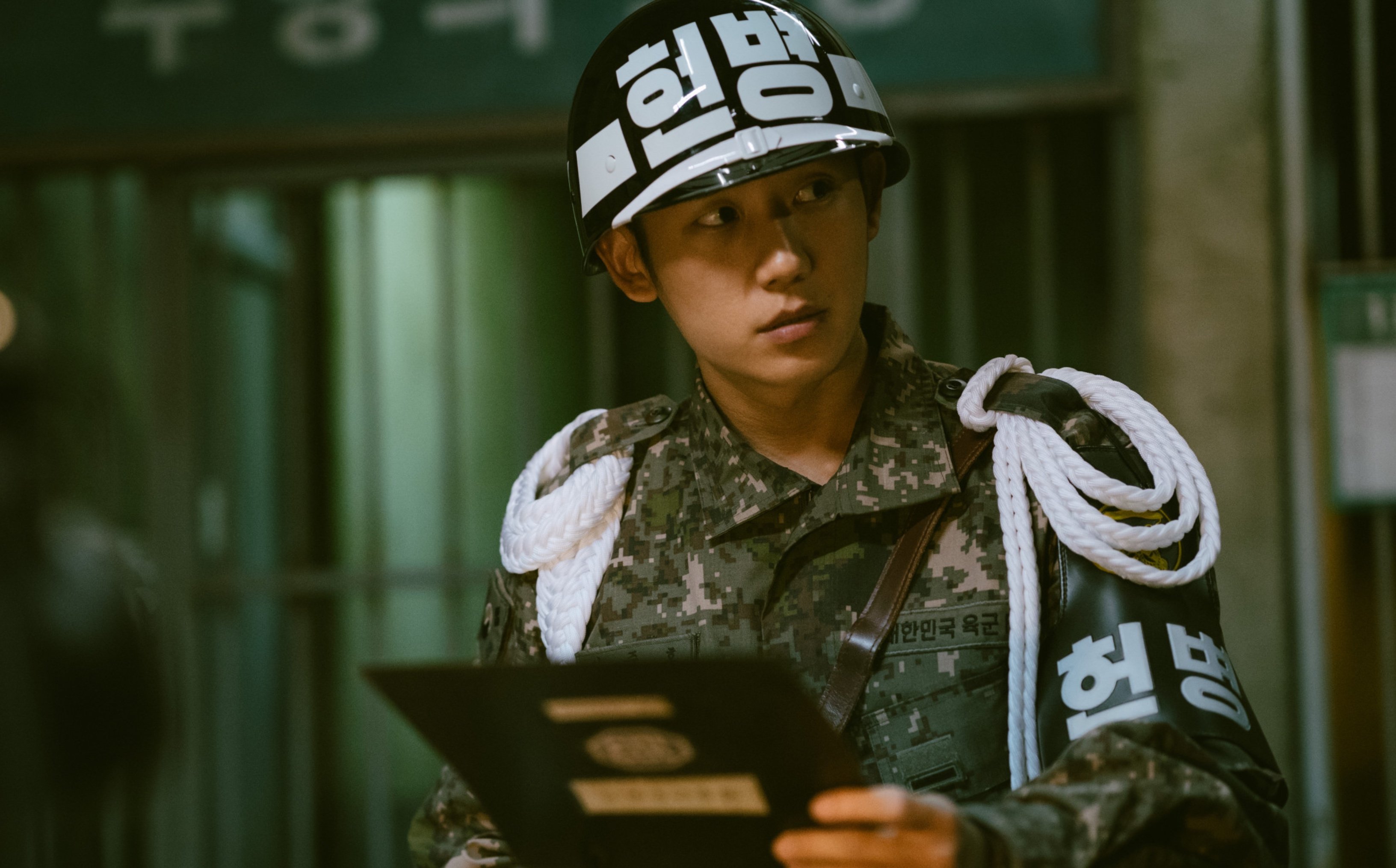 'D.P.' has gained recognition for its chilling reality about the Korean military
Netflix premiered D.P. at the end of August and only had six episodes. The shorter than normal K-drama left a lasting impact on viewers as it centered around South Korea's mandatory military service. Young men between the ages of 18 to 28 must enlist to serve for two years. A decades-long requirement has a dark side. D.P. unearths and shines a light on the dark truth about mistreatment in the military and what drives soldiers to go AWOL.
Jung Hae-In stars as Ahn Jun-Ho, a recently enlisted soldier who joins the Deserter Pursuit team. It seems like a dream to escape the military's rigorous training and physical toll to return to civilian life as an undercover officer. In reality, Jun-Ho must bring back deserters who escaped the severe physical mistreatment they faced by their superiors. D.P. takes place in 2014 when mistreatment cases in the military were on the rise.
Jung Hae-In says Season 2 is already in the works
According to Soompi, Jung did not expect the K-drama to gain so much attention as it did. He credits the drama's success to its ability not to hide the truth about one of Korea's darkest realities. Jung even had a hard time filming certain scenes that could feel suffocating, emotional, and heartbreaking. The K-drama's push to showcase the stories of mistreatment in the military was a hit amongst viewers.
Jung's character had many layers to uncover, and the actor explains feeling a buzz being able to see his story come to life on screen. Just as the fans want to see more of the drama, so does Jung, who reveals, "Since there was so much interest and praise for the drama, I'm looking forward to a second season myself. I've heard that the director and writer are already working on the script. They've started to put the wheels in motion. I want to show my character's growth in the second season."
D.P. ends with Jun-Ho unable to stop one of his comrades from doing the unthinkable. The K-drama teased fans that there is more to the story even after the shocking events. Jun-Ho is seen looking dazed behind a group of recruits. The camera zooms in on his face, and he stares at the audience before running out of frame. The final scene shows another soldier in their unit being mistreated before opening fire.
'D.P.' joins a list of K-dramas that broke the one-season limit
D.P. is not the only K-drama that will break the stereotype of sticking to 16 episodes or one season. Two Netflix original dramas gained so much popularity that fans demanded new seasons. Love Alarm debuted in 2019 and had an unfinished ending that fans wanted answers to. They got their wish as the K-drama got a second season in 2021.
Netflix's Hospital Playlist was not originally meant to go beyond one season. As the drama ranked number one on Korean cable television and Netflix, the K-drama was renewed for a following season. Hospital Playlist 2 still dominates in ratings in 2021. Some K-dramas go farther, like The Penthouse: War in Life currently in its third season.