Daisy Ridley Gave John Boyega a Nickname While Filming 'Star Wars: The Force Awakens' — And They Still Use it
Rey and Finn may be best friends in the Star Wars sequel trilogy. However, the actors behind these characters, Daisy Ridley and John Boyega, are equally as close, maybe even more adorable. Here's what we know about this Star Wars dynamic duo and their friendship outside of the galaxy far, far away. 
Daisy Ridley and John Boyega star as best friends, Rey and Finn, in 'Star Wars'
Fans first met these characters in 2015, with the premiere of the first movie from the sequel trilogy, titled Star Wars: The Force Awakens. There, Daisy Ridley portrayed the resilient scavenger-turned-Jedi, Rey. 
During this movie, Rey befriends a former stormtrooper, Finn, and together, they bring a droid back to the Resistance in an attempt to take down the First Order and its leader, ruthless Kylo Ren. Throughout the course of movies like The Last Jedi and The Rise of Skywalker, these two embark on a few adventures, along with their friends Poe and Rose. 
However, outside of the Star Wars-universe, Daisy Ridley and John Boyega are best friends, just like their characters. They often appear in interviews and red carpets together, John Boyega even supporting Daisy Ridley on social media.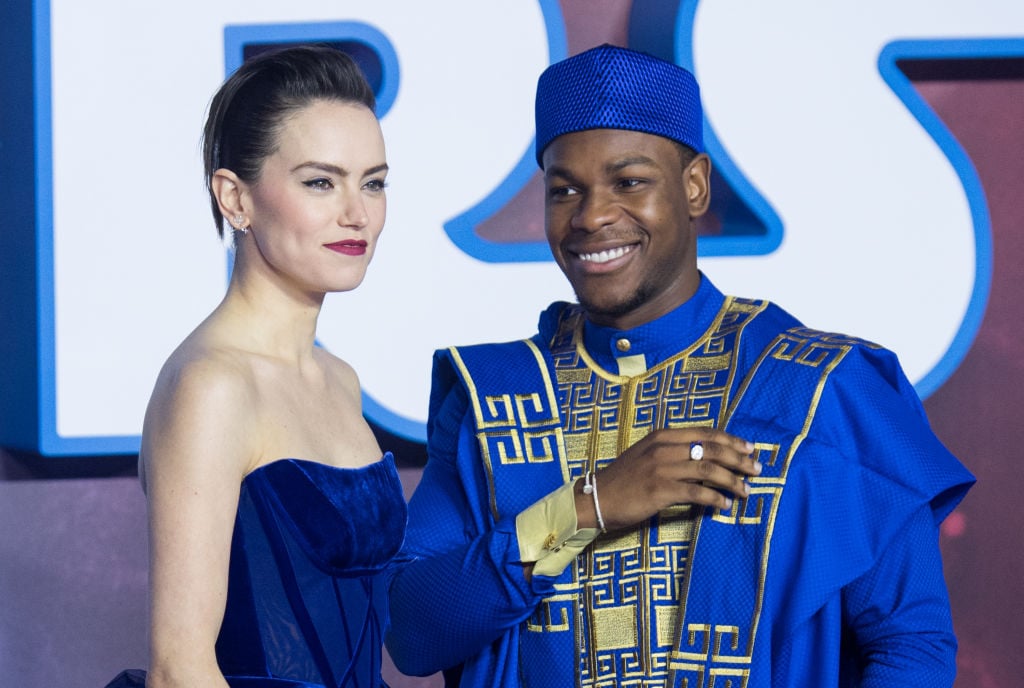 Daisy Ridley and John Boyega are best friends in real life
These two are fighting for the resistance, even if that means being separated for a little while. For one article, John Boyega and Daisy Ridley talked about being split up for the majority of The Last Jedi. The consensus of the two actors was that they liked working together. 
"It was horrible when I read the script for the first time and I wasn't with her. We auditioned together," John Boyega said during an interview with The New York Times. "We went through this whole experience together. To be split apart was scary for me. But then I understood that is something that we could draw from — something that Finn really feels, and Rey really feels. And then I was like, 'Oh! Rian does know what he's doing.'"
Even if they are physically separated while filming, John Boyega and Daisy Ridley often share their love for one another. One of the best examples of that is the nickname they have for each other — peanut.
These 'Star Wars' actors have nicknames for each other 
Surprisingly, the nickname used by both Daisy Ridley and John Boyega is "peanut." No one truly knows how this nickname came to be, but the two have been using it since the first movie of the sequel trilogy. For one interview, the duo elaborated on who came up with it. 
"Oh! My peanut! Yeah, she's my peanut," Boyega said on the carpet while talking about his chemistry with his co-stars, according to Entertainment Tonight.
"Peanut! I call him Peanut, too," Daisy Ridley added. "The thing is, I think it was me that invented it. But he would never admit that! We just get on really well and we are really good friends. It's so great to experience this whole thing together."
RELATED: Is Rey From 'Star Wars: The Rise of Skywalker' the First Jedi to Have a Golden Lightsaber?
Related post url: 
RELATED: Will the Coronavirus Surge Impact the Disney+ Release Date of 'Star Wars: The Rise of Skywalker'?
Related post url: