'Dallas' Star Larry Hagman Recalled When the Queen Mother Asked Him to Reveal 'Who Shot J.R.?'
Larry Hagman became a global sensation when his character J.R. Ewing took a bullet on 'Dallas', where even Queen Elizabeth wanted some inside information.
Larry Hagman became an international superstar for his role as the heartless oil barren J.R. Ewing on Dallas. On the airwaves from 1978 to 1991, the nighttime soap created a global sensation when J.R. was shot by a mystery assailant in March 1980. Leaving viewers on a cliffhanger until November of that year, everyone from presidents to royalty were asking cast members to reveal the big secret.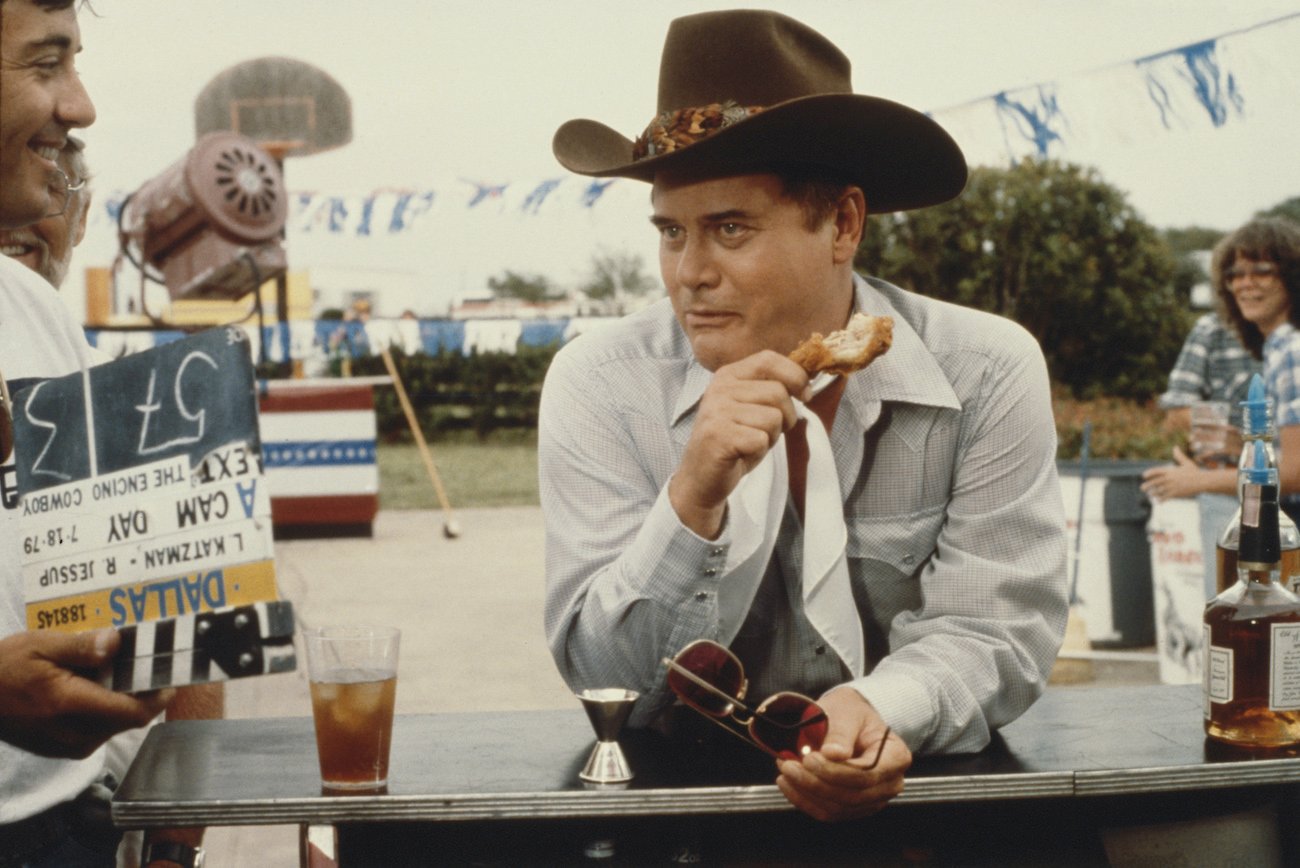 Even the cast didn't know who shot J.R.
Though Hagman had achieved a certain level of fame from various roles over the years, most notably on the sitcom I Dream of Jeannie, playing the scoundrel J.R. Ewing gave him elite celebrity status. When the cheating oil exec was shot by a mystery attacker in the season 3 finale, the Dallas plot line became a global phenomenon. To keep even the cast in the dark, producers filmed each co-star as the culprit.
"On the set, everybody got to shoot J. R.," actor Mary Crosby, who played J.R.'s mistress and sister-in-law Kristin Shepard, told Texas Monthly in 2018. "Including the producers, including Larry, including the makeup artists, the continuity people. Everybody got to shoot him because they wanted the actual shooter to be kept a secret."
"We had no idea who shot him," producer David Paulsen revealed. "The producers just put a gun in the hands of many people, and [showrunner Leonard] Katzman would figure out later who it was."
'Dallas' cast and crew couldn't tell anyone
The identity of J.R.'s shooter became an international obsession. Viewers from all walks of life didn't want to wait for the season 4 premiere to get answers.
"One of the stars, I forget who, called Leonard Katzman and said, 'Listen, I'm on the golf links with ex-President [Gerald] Ford,'" Paulsen recalled. "He wants to know who shot J. R.' Leonard said, 'Can't tell him.' … He got back on the line, and he said, 'Len, he said to tell you that he used to be President of the United States. He can keep a secret.' Leonard said, 'I can't tell him.'"
While working abroad, Crosby turned down a tempting seven-figure offer to spill the beans.
"I was filming a miniseries in England, where shops across the country literally closed up just so people could watch Dallas," she remarked. "Some guy who sold munitions to Third World countries offered me a million dollars to tell him who shot J. R."
Larry Hagman stayed mum with the Queen Mother
In his 2011 memoir Hello Darlin': Tall (and Absolutely True) Tales About My Life, Hagman described his appearance in London at a celebration for the 80th birthday of Queen Elizabeth, the Queen Mother. The Dallas star was scheduled to sing at the event with an orchestra conducted by the legendary Henry Mancini. Yet his performance didn't go as planned.
"I walked onstage as they played the theme from Dallas and received a wonderful ovation," Hagman wrote. "I started the song with great confidence, but halfway through I went totally blank – I turned to Mr. Mancini and motioned for him to stop. He asked, 'Do you want to begin again?' 'Yes,' I said."
Though me made a second attempt at the song, Hagman got stuck at the same spot, prompting him to give his apologies to the Queen Mother.
"I motioned to Henry to stop again, turned to the royal box, and said, 'Sorry, ma'am,'" Hagman recalled. "'If you're going to blow it, blow it big.' I got a huge laugh among some hoots and whistles."
On the receiving line, Hagman was ribbed by Prince Charles about his halting performance. When the Dallas star the Prince's grandmother, she asked him the fateful question.
"Then I got to the Queen Mother, who said, 'Now I want you to tell me, young man, who shot J.R.?'"
Despite her royal status, Hagman wouldn't budge, telling her, "Not even for you, ma'am."