'Dallas' Star Larry Hagman Would Sign Autographs if Fans Did His 'Payment' Ritual
Once upon a time, Dallas' J.R. Ewing was the wickedest primetime villain on the planet, but people still cared about who shot him. Larry Hagman turned hurling insults into an artform with the way he delivered his lines as the crude, rude jerk J.R., and it's the reason fans loved him.
While he achieved some fame from his role on the beloved show I Dream of Jeannie, Hagman's celebrity status went to another level because of Dallas. His fandom grew so much he had to develop a system to handle the autograph chaos.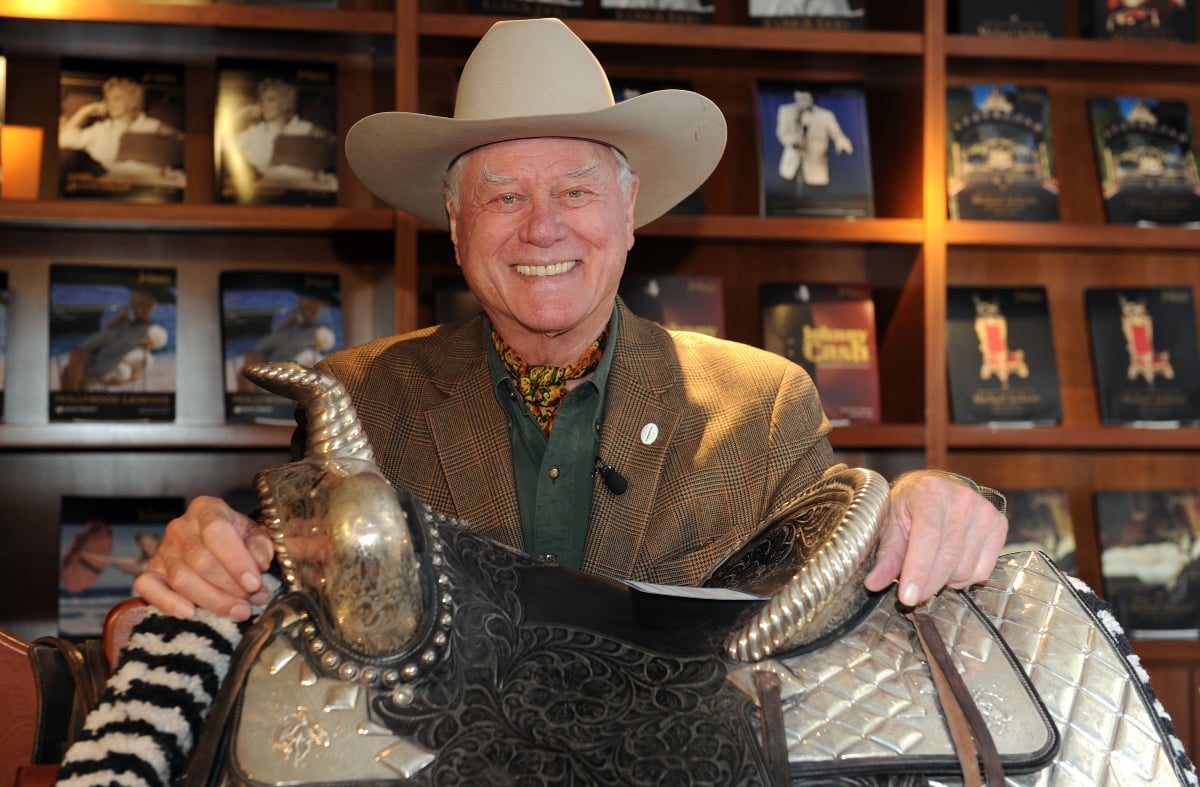 The 'Who Shot J.R.?' storyline changed Larry Hagman's world
It is no lie when people say Dallas had everyone hooked in the '80s, and when J.R. took a bullet, it was the fictional event of the century. On March 21, 1980, CBS aired the cliffhanger episode that defined an era in television. Ratings went through the roof, and so did Larry Hagman's popularity.  
In his memoir, Hello Darlin'!: Tall (and Absolutely True) Tales About My Life, Hagman wrote how flattered he felt about all the attention. He recalled how 50 million vieweres watched J.R. get shot.
At the time, Dallas aired in more than 50 countries, thrusting Hagman into the international spotlight. He referred to that period as "J.R. craziness."
To capitalize on the excitement while the show was on break, Hagman spent time in England where fans and the media were itching for details about J.R.'s fate. That included the Queen Mother.
Such was the pull of Dallas and in November 1980, over 350 million people worldwide tuned in to find out the shooter's identity.
Hagman developed an autograph system
Record-breaking numbers for that big reveal helped Dallas to stay on the air for more than a decade. Hagman recalled how those statistics made him feel in the moment, and he admitted they were beyond his comprehension. But he learned to enjoy it by interacting with fans, and even developed a unique system for autographs.
"I'd sign autographs for anyone who asked, provided they told me a poem, a prayer, or a song in return," wrote Hagman.
"A lot of people balked at this, but I always thought that if I gave my signature away people didn't place any value on it. But if they had to work for it, and essentially pay for it, they got an experience they never would've gotten if I'd signed and we'd never interacted," he explained.
Hagman added that he received "marvelous poems and songs" but more than that, he heard some awesome stories. Those who couldn't come up with a song or prayer were urged to sing "Happy Birthday" or say "Now I am lay me…" Many times, those requests would result in hours-long conversations.
Hagman also gave out branded 'funny money'
When confronted with large crowds, Hagman devised a novel way to give out autographs to fans. He printed up fake money with his photo on it and the words, "In Hagman We Trust."
Originally, he added his personal P.O. box information on the back of the bills and instructed people to mail him self-addressed envelopes so he could send a legit autographed photo.
That was not sustainable. "But after a few months, the post office complained that I was jamming them up and suggested I find another method of responding to the public," Hagman said. He also stopped sharing his address because he couldn't keep up with the requests.