Damon Dash Wants to End Longstanding Beef With Jay-Z
It looks like Damon Dash is ready to end his feud with Jay-Z. The former business partners have been at odds for nearly 20 years. Rumors of Dash being jealous of Jay's success reportedly played a role. Now, Dash says he wants to move forward in peace.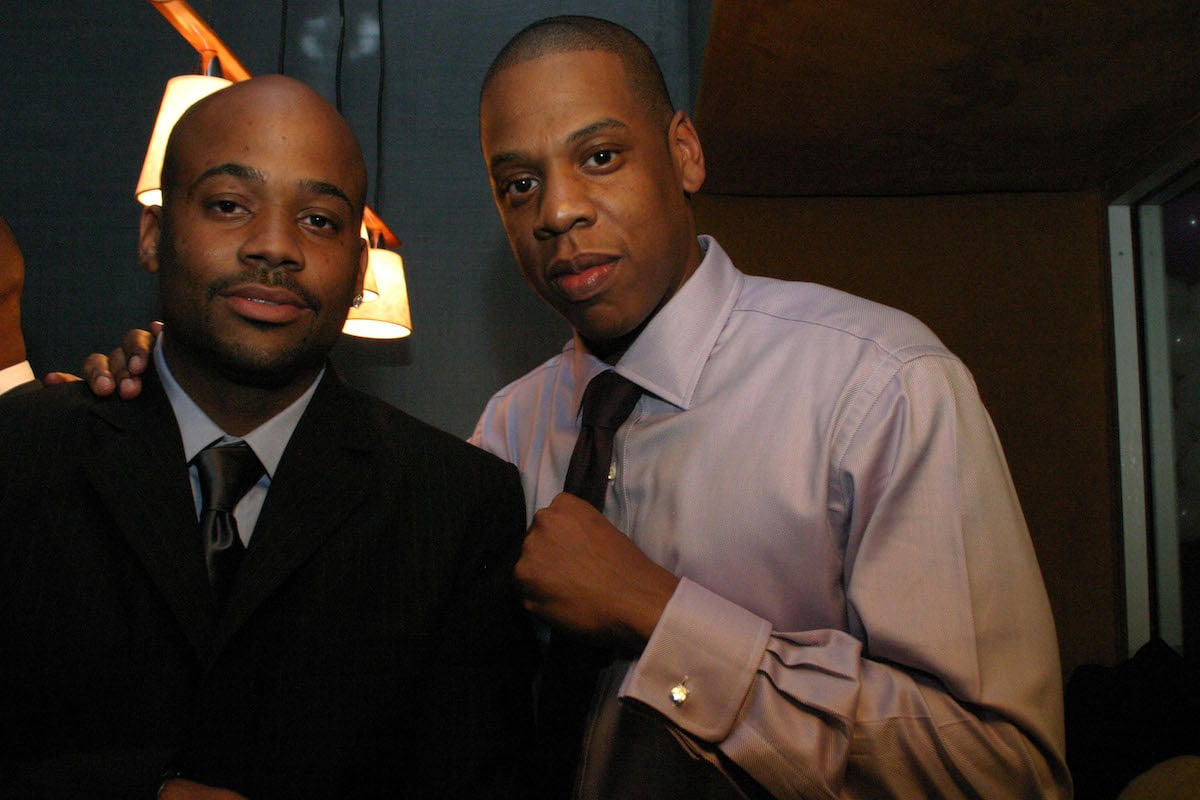 The two have been in an ongoing legal battle
Dash and Jay's friendship began falling apart due to issues within their former record label, Roc-A-Fella Records. They are both co-founders of the label. Dash tried selling his final stake in the label, which includes Jay-Z's 1996 album Reasonable Doubt album as a non-fungible token (NFT). NFT is a form of digital ownership.
Related: Damon Dash Speaks on 'Reasonable Doubt' NFT Legal Battle With Jay-Z — 'Why Doesn't He Want Me To Sell My Third?'
Dash was hit with a lawsuit by Roc-A-Fella's legal team. In the meantime, he was temporarily banned from selling Reasonable Doubt as an NFT. Dash countersued, accusing Jay of stealing the streaming rights to the album. The two have been in court since June 2021.
Jay-Z gives Damon Dash a shoutout during his Hall of Fame induction
Jay was inducted into the Rock & Roll Hall of Fame on Oct. 30. During his acceptance speech, he gave Dash a shoutout, thanking him for their time working together. The shoutout came as a surprise considering the contention between them.
"Shout out to Dame, I know we don't see eye to eye, but I can never erase your accomplishments," Jay said. "And I appreciate you and I thank you for that. Shout out to Biggs. He was one of the most honorable people I've ever met and we created something that will probably never be duplicated. I appreciate you guys. Thank you for our journey – Thank you – Thank you for your contribution to this journey."
Damon Dash says it's time to squash the drama
Dash recently spoke with Page Six about the moment Jay acknowledge his contributions to his career during his Hall of Fame speech. With that in mind, Dash is hopeful they can resolve their issues once and for all. "It was beautiful. I'm glad he said it for the culture. We need to squash everything," he said.
He continued: "So hopefully if that was an extended [olive branch] I'll spin one back. I have no beef with [him] if [he has] no beef with me. Let's get the lawyers out of it then. Let's talk like men, but I definitely appreciate it."
Related: Jay-Z's Most Lucrative Business Deals Netted Him Over $200 Million, and Today He's a Billionaire
Dash adds that the legal battle has taken a toll, considering he looks at Jay as a brother. "I would never want you to think that we have to go to the court to resolve anything," he says. "We can talk it out and the culture needs to see two strong black men working out a problem. Even if they worked together they can go their separate ways, they can still be cool. We should not be divided. We have accomplished too much to be beefing… There ain't no way I'm never gonna [not] consider [him] my brother–it's just that we don't see eye-to-eye."
Overall, he says he is proud of Jay. "Whether we cool or not, him getting in the Hall of Fame is major. So congratulations to us, congratulations to him and thank you [to him] for working so hard to where he got to the Rock & Roll Hall of Fame. Anything he can do to make me great, so thank you for even continuing to strive. He keeps my name alive."
Damon Dash previously said Jay-Z working with R. Kelly caused issues
Though issues due to the label is a cause of their rift, Dash revealed to Hip Hop Motivators that Jay's decision to work with Kelly was the final nail in the coffin. Kelly illegally married Aaliyah when the singer was 15. At the time of Aaliyah's death, she was dating Dash.
Dash says Jay knew of Aaliyah and Kelly's past. Still, Jay collaborated on an album and tour, Best of Both Worlds, with Kelly. Dash says he did not respect Jay's decision.
"I really am not on the Best of Both Worlds," Dash said. "I didn't go to a show, didn't have my name on any of that [and] I was in 'Fiesta,' but only because Aaliyah said she wanted me to do it that way," Dash said. "And I know I'm not f**king with that. I knew, morally, we [Jay-Z and Dash] weren't the same… To me, Roc-a-Fella was defunct. It was over. I couldn't fuck with it. It was something that, to me—I don't wanna say 'unforgivable,' but I couldn't understand it."