Damon Dash Speaks on 'Reasonable Doubt' NFT Legal Battle With Jay-Z — 'Why Doesn't He Want Me To Sell My Third?'
Damon Dash, Jay-Z's former business partner and co-founder of Roc-A-Fella records, has been embroiled in a tense legal battle with the "4:44" rapper for the last few weeks. Dash is currently attempting to sell his one-third stake in Roc-A-Fella records via an NFT of Jay-Z's debut album, Reasonable Doubt.
However, he's facing pushback from Jay-Z's legal team, which claims he doesn't have the right to sell.
Dash recently addressed the controversy, discrediting claims against him that have been circulating in the media
Damon Dash says Jay-Z doesn't want him to sell his third of 'Reasonable Doubt'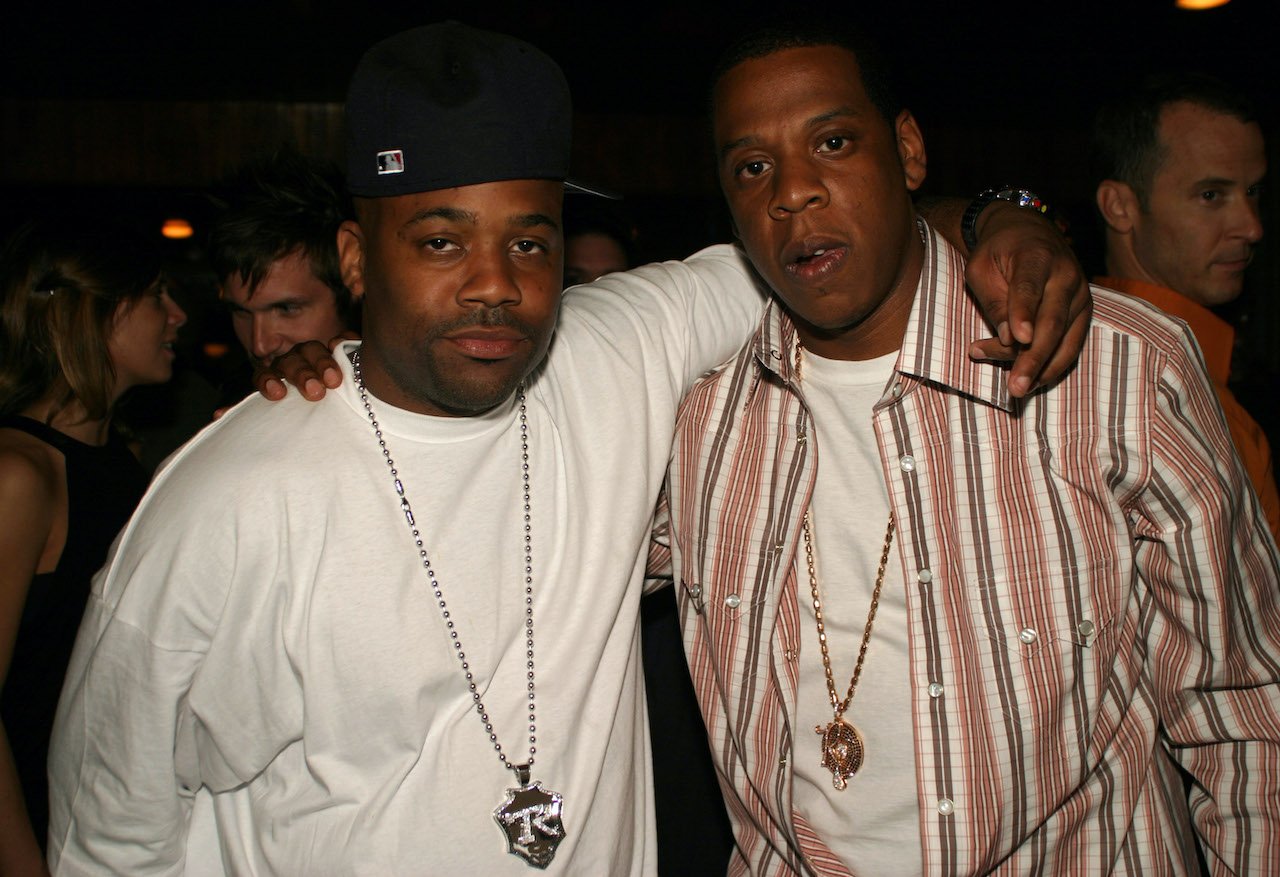 During a recent interview with Variety, Dash questioned why Jay-Z and his lawyers have been fighting so hard to keep him from selling his third of Roc-A-Fella Records. 
"My main question has forever been, 'Why doesn't he want me to sell my third?' Then we look under the hood, and it's 'Oh, snap' — there's this change in the copyright that we know Roc-A-Fella Records held. We never saw any changes on our ledgers. When he tried to sell me the company before, I asked him to send me over the ledgers," he said.
Dash emphasized that he's always been the chief executive for Roc-A-Fella Records, which entitles him to more information about the company's dealings.
"I just want some answers to some questions," Dash said. "I'm the boss of Roc-A-Fella Inc. Everybody knows I am the CEO, and that Jay was the artist. That was our jobs. That's a known fact."
The Roc-A-Fella CEO says no one can stop him from auctioning 'Reasonable Doubt'
Jay-Z and Roc-A-Fella's third founding member, Biggs Burke, were scheduled to meet on July 16 to change the company bylaws that the group had initially agreed to, but Dash claims any adjustments would be illegal.
"They're muddying the waters for me to sell. It's going to time to proof, but they're looking to alter public perception. My lawyer is filing papers to ask the court to make it that they must abstain from any meetings or votes until such point in time that the auction can take place. The real proof though, is that I'm going to do the auction and no one is going to stop me," he said.
Dash assured that their disagreement isn't a personal matter, solely business. He stressed his desire for the two of them to meet up and speak about the issue face to face.
"Jay could have just called me and told me why it was that he didn't want me to sell my third. Culturally, as men, it might have been a lot cooler to call me. At this moment, I have no idea why they're so intent on me not selling my share, that they would accuse me of doing something that I'm not doing," he said.
Damon Dash hasn't spoken to Jay-Z in nearly a decade
Dash and Jay-Z have had a fractured relationship ever since Roc-A-Fella Records disbanded in the early 2000s. In the years since there have been conflicting accounts of why the label fell apart.
Later in the interview, Dash revealed that he hasn't spoken to Jay-Z in nearly 10 years.
We haven't talked in years. We chose to go different paths (in 2013). Personally, when my daughter was 15, she wanted to go see him in concert, so I took her to his concert, and kicked it with him then. We haven't communicated so much after that. But for something like this, you can call someone before you sue them," he said.
RELATED: Author Who Won $300k Lawsuit Against Damon Dash Releases Tell-All Book About Dash's Shady Business Practices