Dana Carvey Thinks Johnny Carson Shunned Him After Joking About Him Being 'Senile'
Tonight Show host, Johnny Carson, was supposedly amused by Waynes' World star, Dana Carvey's, Saturday Night Live impressions of him at first. But it seems he changed his mind about that and eventually Carvey was no longer invited as a guest on The Tonight Show. So, what specific SNL joke did Carvey think might have crossed a line with Carson?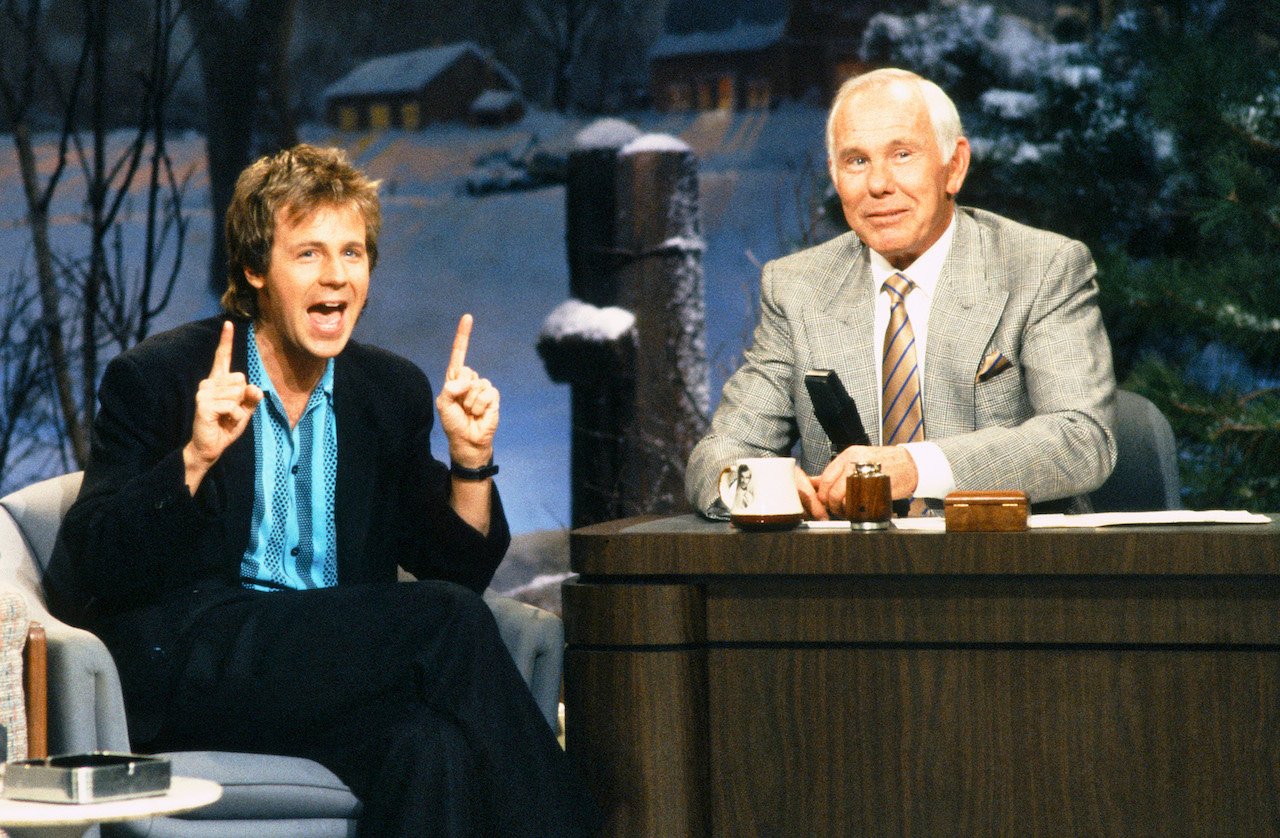 Dana Carvey made his first 'Tonight Show' appearance with Johnny Carson in 1987
After joining SNL in 1986, Carvey made his first appearance on Carson's Tonight Show in 1987. That night, the host introduced him as a "very talented young comedic actor" who was quickly gaining admiration.
Throughout their interview, Carvey talked a little about his fairly normal life as a rising star. He mentioned he and his wife were thinking about having their first baby. And Carson was interested in how his parents from Missoula, Montana felt about his success.
"They're pretty excited," Carvey told him before joking, "My dad wanted me to be a comedian."
Carson was intrigued by stories of family, but the comedy icon seemed most entertained by Carvey's collection of impressions. He was visibly delighted to find his guest did a NSFW imitation of French explorer, Jacques Cousteau.
In the end, Carson seemed to enjoy his first interview with Carvey.
RELATED: Ed McMahon Called Johnny Carson's Signature Golf Swing 'Delicious Irony'
Dana Carvey's 'senile' impressions of Johnny Carson might have offended the host
Initially, Carson gave Carvey's SNL impressions of him a pass, as Carvey explained to Howard Stern on The Howard Stern Show. According to Stern, Carson demanded NBC prevent SNL from turning him into a late-night punchline. But he seemingly didn't feel SNL jokes did that, at least at first.
For three consecutive years, Carson invited Carvey to his Tonight Show anniversary shows. On those occasions, he sat with the host while a montage of his appearance clips ran.
But he also recalled the jokes that seemed to cause a change in Carson's attitude about him. He remembered a sketch that made the host "come off a little senile" in an interview with Susan Dey, played by Jan Hooks. More specifically, they portrayed him as unaware The Partridge Family was off the air for 15 years by then.
In his own defense, Carvey said he waved a "red flag" to Lorne Michaels. But he said Michaels assured him Carson wouldn't mind.
In the end, Carson stopped inviting Carvey as a guest on The Tonight Show without any spoken explanation at all. But Carvey told Stern he was certain it was due to the sketch in question.
To loosely support that theory, it aired in October of 1990. IMDb shows Carvey made several appearances on The Tonight Show Starring Johnny Carson between March of 1987 and his last appearance in July of 1990. And Carson hosted for almost two more years after Carvey's last appearance, retiring in May of 1992.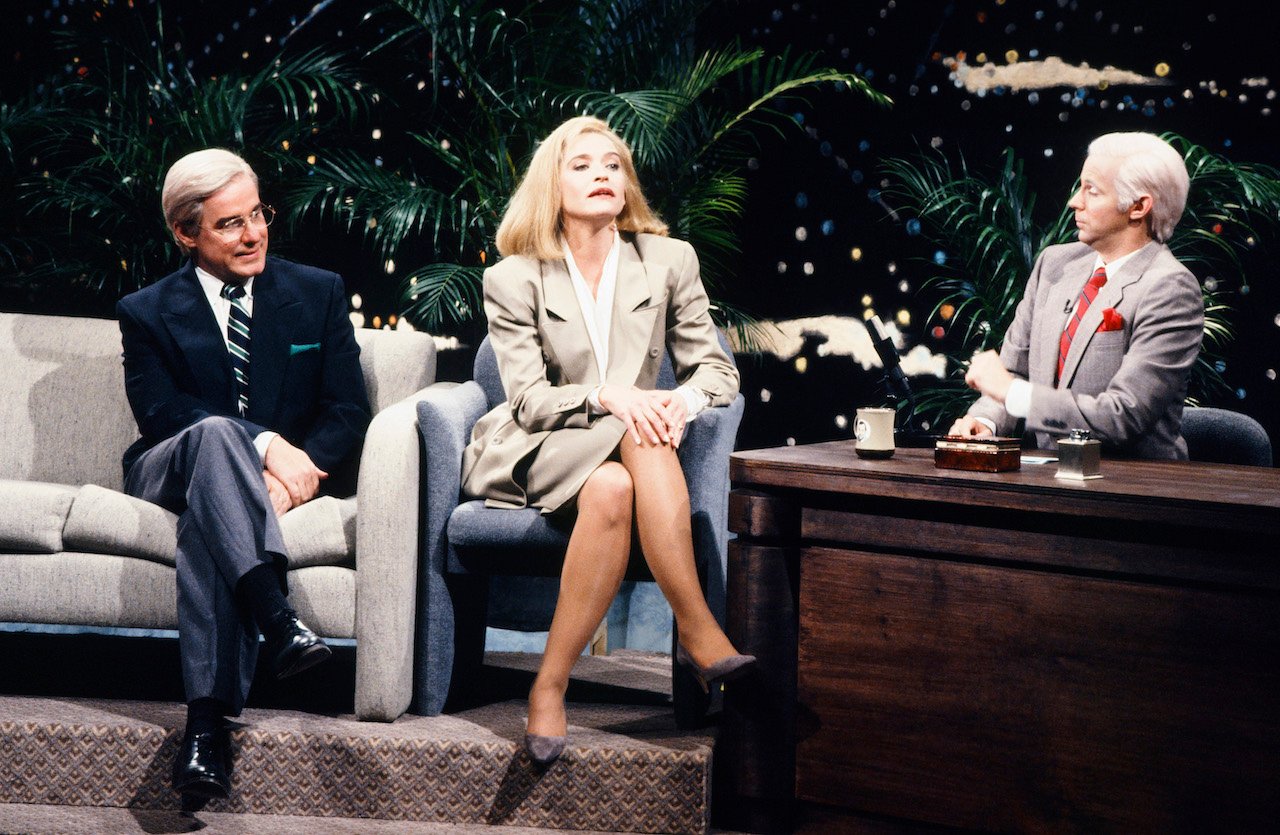 RELATED: Comedian Dana Carvey Won a $7.5 Million Lawsuit After a Doctor Botched His 4th Heart Surgery
Ed McMahon said Johnny Carson believed in 'gentle humor'
While Carson was known to poke fun at celebrities himself, he felt certain topics were off limits. In co-host, Ed McMahon's, memoir, Here's Johnny, he said Carson never set out to personally hurt anyone while "making gentle fun" on The Tonight Show. And the rule might help explain Carvey's exile from The Tonight Show.
SNL humor around McMahon and Carson joked about more than a declining relevancy in young pop culture. The sketches took aim at age, mental sharpness, and eventually Carson's "drinking problem."
In McMahon's memoir, he wrote, "Johnny wasn't an alcoholic and neither was I, but we didn't drink Ovaltine either."
RELATED: Ed McMahon Said Nerves Put a 'Hell of a Strain' on Johnny Carson
How to get help: In the U.S., contact the Substance Abuse and Mental Health Services Administration helpline at 1-800-662-4357.