Dana White's Complicated Relationship With His Own Mother Is Tragic
Unlike many other sports, the UFC's president, Dana White, is as big of a personality as many of the UFC's biggest celebrities.
He's a controversial figure, but, at the end of the day, he's as big of a fight fan as the UFC's fans are. One of the reasons why he's so controversial is because of his personality, which can be abrasive at times.
For example, he famously gets into public feuds with his own fighters, and that just seems unprofessional. However, another example of how Dana White's personality affects his public image is the fact that he doesn't have a great relationship with his own mother.
How Dana White got here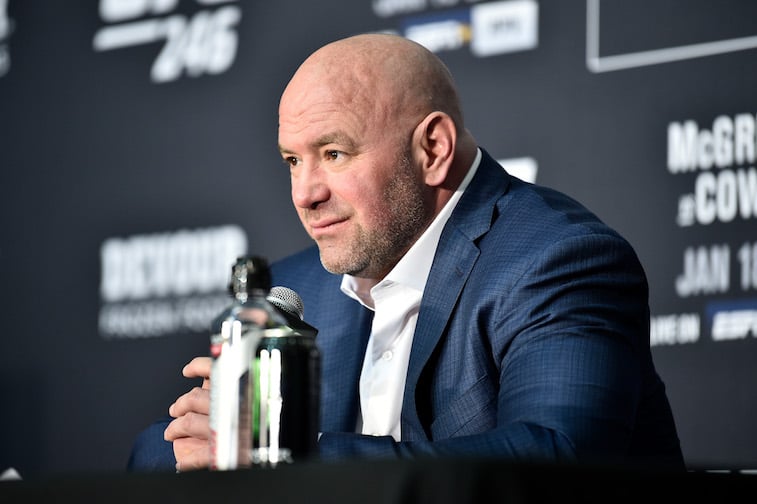 Obviously, he got here thanks to his mother, but, he didn't become the president of the UFC due to her. In fact, he said that, before he even moved to Las Vegas, he was shaken down by the mafia and had to run away from Boston. He landed in Vegas, and there, by a stroke of luck, he met some old friends, the Fertitta brothers. 
The three men agreed to get into business together, and that opportunity came when White realized that he could buy the UFC, which was struggling at the time.
The three men did exactly that, and then, a few decades later, they ended up selling the UFC for about $4 billion. The Fertittas left the UFC, but White stayed on as the president. Due to these circumstances, as well as others, his net worth is now a staggering $500 million.
Dana White's rocky relationship with his mom
While he may have found success in Vegas and created an empire in the UFC, his personal life hasn't been as ideal. In fact, according to Full Contact Fighter, his mom, June White, accused him of neglecting his family after he made it big.
One of the many things she accused him of was neglecting his grandma, who was living at a trailer park in Florida at the time.
When she sent him an email talking about how she thought that his behavior had gotten out of control, Full Contact Fighter said that Dana replied by saying, "Who the f*** do you think you are, talking to me like that? No one talks to me that way." 
June also said that her son had changed a lot. She said that, according to Full Contact Fighter, he had "changed into someone who is egotistical, self-centered, arrogant, and cruel." She then said that he was "a vindictive tyrant who lacks any feelings for how he treats others." 
Dana White's mom wrote books about him
June's feud with her own son wasn't finished, either, and she wrote and published books about him. Full Contact Fighter said that one of those books, called Dana White, King of MMA detailed Dana's childhood. June said that he definitely wasn't a "tough kid who raised himself on the streets," but rather, that he was a problem child who was a neat freak. 
According to Distractify, her other book about her son, called Through A Mother's Eyes, The Dana White Story: An Unauthorized Biography, also alleged that he would sleep around a lot. June alleged that he'd not only sleep with the UFC's ring girls, but he also slept with his own sister-in-law. Distractify said that Dana was indeed involved with other women, as he was the victim of a sex tape extortion scheme that involved a Brazilian dancer.
Dana has been asked questions about these books and his mother before, and he's been tight-lipped about them. PR Web reported that he simply said that "she's a great lady," and that he had no comments about her book.