'Dance Moms': Abby Lee Miller Is Still Shading the OG Cast on Instagram
The days of Abby Lee Miller screaming at dancers on television may long be over, but that hasn't stopped the infamous dance teacher from shading the original Dance Moms cast. While Miller maintains a close relationship with JoJo Siwa (who is now famous in her own right), the original cast members: Nia Sioux, Chloe Lukasiak, Maddie Ziegler, Kenzie Ziegler, Paige Hyland, Brooke Hyland, and their moms seem to have severed all ties with Miller.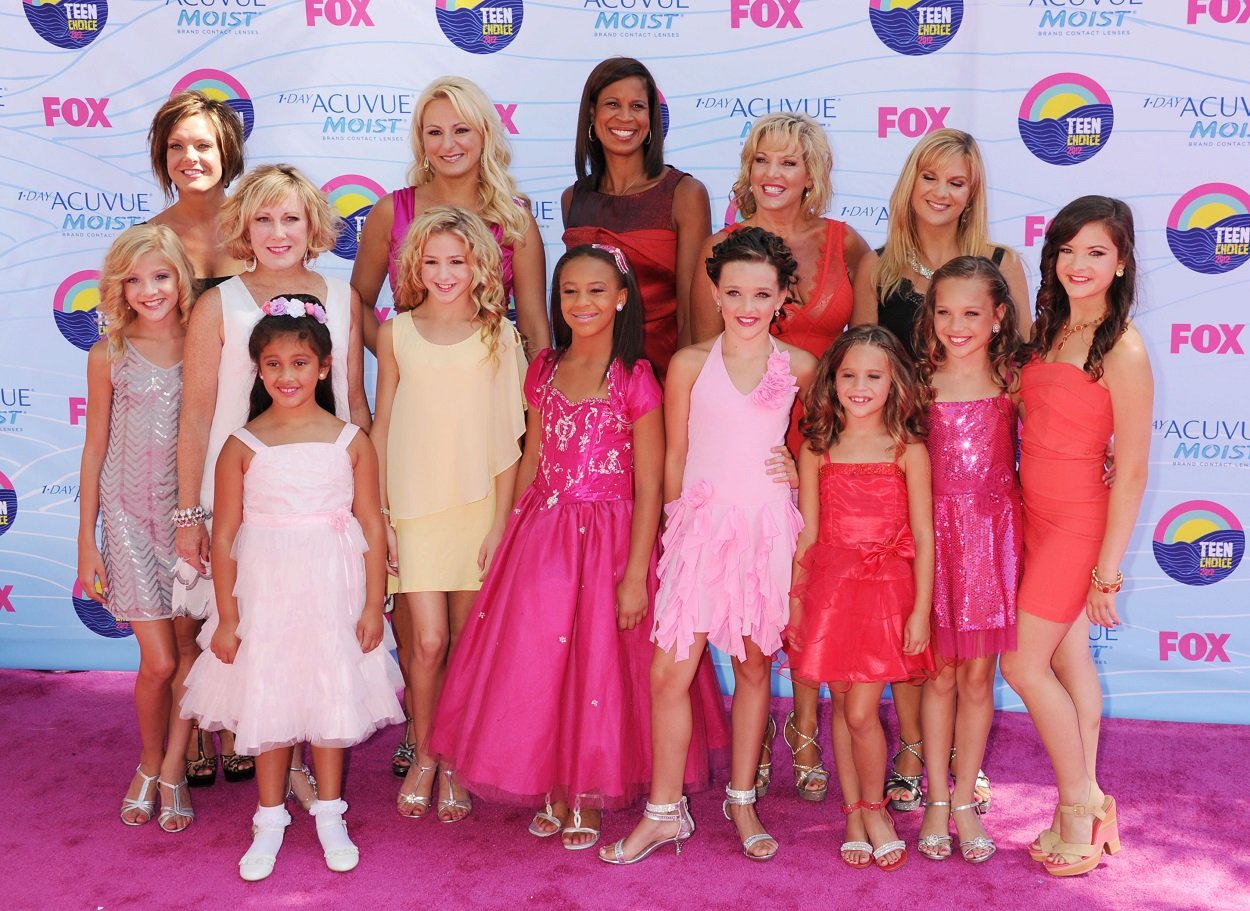 Though Dance Moms fans are often split on whether or not Miller's brutal teaching style was abusive, most everyone can agree that Miller wasn't for the faint of heart. Given some of the things that Miller said and did to the original cast, it's no wonder that they don't have a close relationship with her anymore. But lack of contact hasn't stopped Miller from giving her opinions about her ex-students.
Abby Lee Miller often throw shade at former student, Kenzie Ziegler
Kenzie Ziegler, in particular, has received no shortage of criticism from Miller. The dance teacher has made shady remarks about the 16-year-old's music career more than once. But now, it seems that Miller is casting her shade at a new target. In a recent Instagram comment, Miller seemed to throw shade at former cast member, Jill Vertes. Jill is, of course, the mother of Kendall Vertes, who joined the Dance Moms cast at the beginning of season 2.
RELATED: Maddie Ziegler Has Accomplished 'Her Biggest Dream' All Before Age 18
Kendall had a particularly strange run on Dance Moms. At times she seemed to be one of Abby's favorites, but she was also often cast to the side in favor of other dancers. However, Miller wasn't just Kendall's dance teacher, she also served as her music manager for several years and produced Kendall's video, "Wear 'Em Out." Recently, fans on TikTok were expressing that they really loved the song and music video for "Wear 'Em Out". When that conversation migrated over to Instagram, it caught the eye of Miller.
Miller is still talking about one of the videos she produced on 'Dance Moms'
Seeing that some Dance Moms fans were praising Kendall for the video, Miller felt it prudent to take credit for the video. In the process, she also seemed to throw shade at Jill for not contributing to the project financially. Furthermore, Miller seemed upset that she had never been fully compensated for the video, which currently has over 23 million views on YouTube.
"Thank you!" the Dance Moms leader shared in a comment under a clip of Kendall's aforementioned video. "This made over $200,000 – too bad I lost money on the deal! I paid for everything, approx $72,000! (Mind you that's a life savings for many people) I was only reimbursed $12,000 by one of the members of 'Jenga Productions' the company that I bought the song outright from! The song/ video bumped Taylor Swift off the #1 spot in the iTunes sales chart! Yay me! Yay all of us that worked so hard! Wear em out also went to #1 in the UK and the US! ***oh wait, Jill did pay for lunch for the cast & crew during the shoot!"
'Dance Moms' fans want Miller to leave Kendall Vertes and the OG cast alone
While some Dance Moms fans supported Miller and liked her comment, others felt it odd that she was still taking the time to shade the old cast. "Yeah, we get it but literally how is a kid supposed to manage the finances? And honestly, the fact that you still shade your old students is something else cause you're a whole adult," one fan wrote on Instagram. "Ma'am, are you aware that this was about Kendall and people don't care what you 'shade' you want to throw?" another person chimed in.
Though Miller may have gotten a brand new cast in Season 8 of Dance Moms, it's clear that she still has a lot to say about the OGs. Who knows if she'll ever stop talking about them entirely. But, we'd wager that if she still has been reimbursed for a video she produced over five years ago, shady Instagram comments are hardly going to change that.