Dance Moms: The Sweet Way The Original Cast Is Celebrating Today
After a long two years, Dance Moms finally returns to Lifetime tonight at 9/8C for its eighth season. But, the road to a new season has certainly not been an easy one. The show was put on an indefinite hiatus back in 2017 following Abby Lee Miller's (dance teacher and studio owner) one-year prison sentence for bankruptcy fraud and battle with spinal cancer. But, against all odds, the show is finally making a comeback. Though none of the original cast members are returning to the show, they are celebrating today for a very special reason.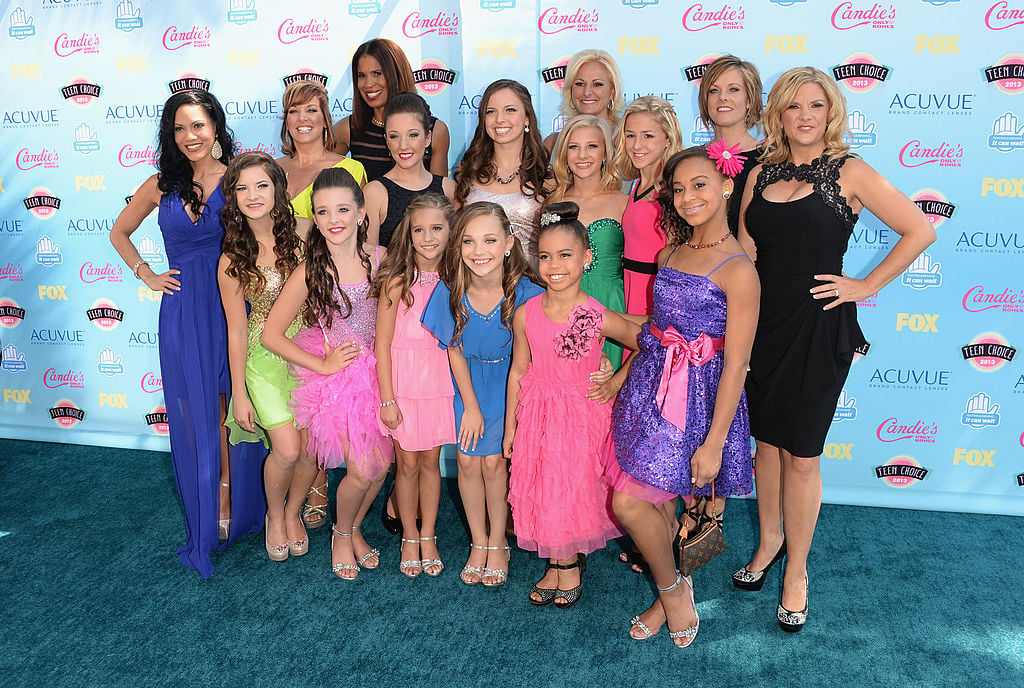 Mackenzie Ziegler
Mackenzie Ziegler, who was only six when the show first aired, was the youngest member of the original ALDC Junior Elite Competition team. Ziegler was the adorable and hardworking baby of the team with a penchant for tumbling and sassy, energetic, performances. Ziegler has grown up right before our eyes, performing on Dancing With The Stars: Juniors and pursuing a singing career. Today, the "Girl Party" singer turns 15 years old, and many of her former castmates sent sweet messages to celebrate her.
Maddie Ziegler
Though many members of the cast see Ziegler as their little sister, Maddie is able to claim that title by blood. The dancer took to her Instagram to share a sweet message of love and to wish her little sister a happy birthday. "My baby sis is 15 !!!! I don't think I've loved anything as much as you. I got so incredibly lucky to have you as my sister. I admire you in every way and I promise to always protect you. me and you for life. I love you to the moon and back. happy birthday little butthead 🥺💗💗" the 16-year-old actress wrote.
Nia Sioux
Former castmate, Nia Frazier, (stage name Nia Sioux) also joined in on the festivities by wishing Ziegler a happy birthday. The two have been friends for well over a decade and are still close today. Their special bond was enhanced throughout Dance Moms as they were long-time duet partners. Frazier took to Instagram to show the 15-year-old some love via pictures, old videos, and inside jokes. "Happy birthday big sis! Thank you for always being there for me since day 1. You are such a special person and I'm so lucky to have you in my life. I love you so much my big/little sis/duo partner! 15 never looked so good😘 (swipe to see the last 2 videos)😂" the Bold And The Beautiful actress wrote.
Kendall Vertes
Kendall Vertes also wished her long-time friend a happy birthday via her Instagram stories. Sharing pictures of herself, both Zieglers, Frazier, Kalani Hilliker, Jojo Siwa, and Brynn Rumfallo (who are all alumnae of the show), with various celebs like Gigi Hadid and Adam Sandler, she crafted this sweet message. "Major throwback for my girl's 15th. Happy birthday, Kenz :)) Love you forever."
Brooke Hyland
"Happy birthday to my not so little baby anymore. Ily @kenzie. So proud of all that your talented soul has accomplished." Brooke Hyland wrote in an Instagram story post, also sharing an aww-worthy picture of the pair. In the throwback photo, the eldest Hyland is holding Ziegler, who looks no older than six at the time. Hyland, who was the oldest member of the original cast, is six years older than Ziegler, and the pair shared a very sweet connection on the show because of that age gap.
OG Cast
It's sweet to see that the original cast of the show rally around each other to show their support and love. Dance Moms can bring out a lot of cattiness, competition, and drama, but the bond between the dancers remains a strong one. While we'll certainly miss watching them on the show, we're happy to see that they've moved on to bigger and better things.