'Dance Moms': Chloe Lukasiak and Brooke Hyland Reunite
Chloe Lukasiak and Brooke Hyland always had a special relationship on Lifetime's Dance Moms. Hyland was the oldest of the ALDC Juniors and often took on the younger girls almost as sisters. 
Hyland and her sister, Paige, left the show after their mother clashed with Dance Moms leader Abby Lee Miller, as did Lukasiak in 2014. Still, 21-year-old Hyland and 18-year-old Lukasiak have reunited several times over the years with one another and other Dance Moms veterans, such as former ALDC member Nia Sioux Frazier. 
Hyland and Lukasiak, both now social media influencers, recently teamed up on YouTube to talk about college life, Dance Moms, and more.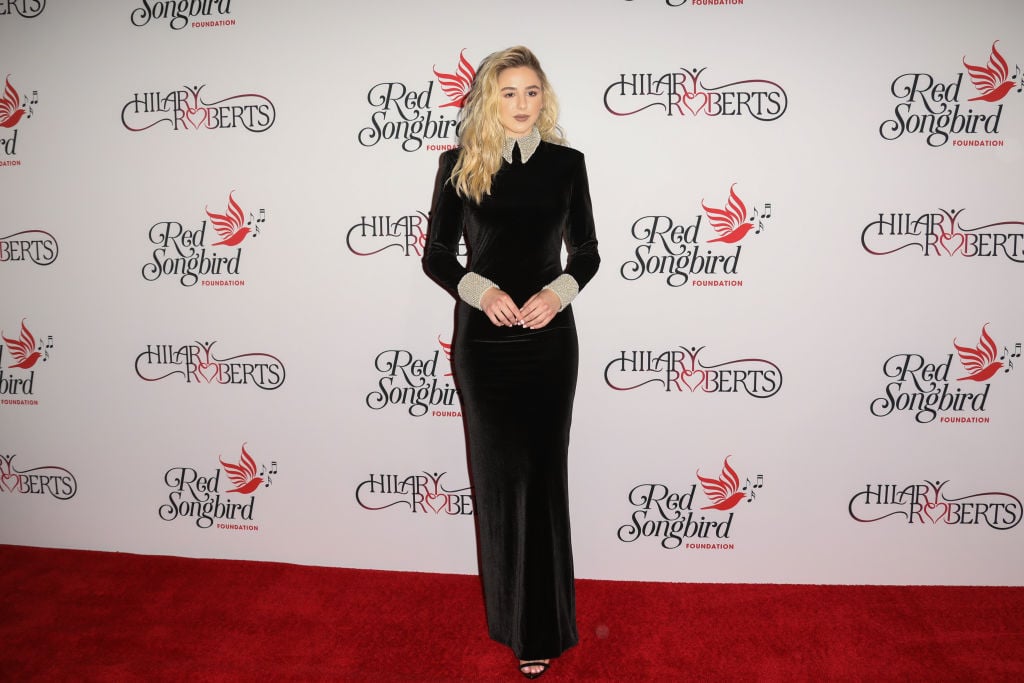 What do Hyland and Lukasiak do now?
Brooke Hyland stepped away from dance and acrobatics after quitting Dance Moms. She went to a local high school in her hometown of Pittsburgh, Pennsylvania. 
Hyland attended Ohio University in Athens, Ohio, and graduated in 2019 with a bachelor's degree in marketing and business. She now works in social media and has over 3 million followers on her personal Instagram. 
Lukasiak focuses on acting and social media
Lukasiak is also active on social media, boasting 6 million followers on Instagram and regularly uploading content to YouTube. However, unlike Hyland, she has remained in the entertainment industry, continuing to dance with Studio 19 and acting in films like Lifetime's Center Stage: On Pointe and in A Cowgirl's Story alongside Bailee Madison. 
She returned to Dance Moms later in her teen years for a recurring role and authored a book titled Girl on Pointe: Chloe's Guide to Taking Over the World. Next up, Lukasiak will start classes at Pepperdine University in Malibu in January. 
Some of the other Dance Moms girls have also decided on a college career. Brooke's sister Paige Hyland is in her first year at West Virginia University, while Nia Frazier (who goes by the stage name of Nia Sioux) attends UCLA.
Hyland gave Lukasiak's fans some college tips
On Nov. 4, Lukasiak and Hyland paired up for a YouTube video on Chloe's channel to discuss college life, including partying, dorm rooms, choosing a major, exams, dating, school/life balance, Greek life, and more. 
Hyland advised Lukasiak not to get overly involved in a sorority or fraternity right away, to be open to various possibilities for a major, and to make sure to spend quality time with friends outside of class. 
Of her ultimate decision to go into marketing, Hyland told Lukasiak, "I went in undecided. I love chemistry, but I didn't necessarily like the career options." She decided on marketing because of how open her career choices would be after graduation. Now, she works in influencer relations in the fashion industry.
And while Hyland said she put her studies first, she suggested that new college students avoid isolating themselves. "You have to love to learn, but you always have to make sure that you have a balance between your studying and your social life," the former Dance Moms cast member explained. 
She added that getting to know other college students could serve you well in your future career. "In the end, an employer that wants to hire you, you need to have social skills," said Hyland. "You need to be able to communicate. You need connections, and that's what you get from being out there and having a social life." 
The girls also shared advice about dating and relationships
Both Lukasiak and Hyland seem to be single and spent some time discussing dating and meeting college boys. "This is my reaction to boys in college," Hyland joked before rolling her eyes. She also suggested that college women not focus on their boyfriend and shut out other social opportunities in the process. 
"Now I'm looking for a husband," she added. "I'm taking boyfriend applications."
Lukasiak added that she'd love to be called for a date instead of texted, and that she liked the old-school style of dating. Both former Dance Moms stars advised college-aged girls, "Know your worth."
The pair opened up about 'Dance Moms' behind-the-scenes
Both Hyland and Lukasiak say being on Dance Moms gave them an unbreakable bond. 
"I know for sure if I needed anything I could call you or Nia, Paige, but she's not here, and just rely on you guys," said Lukasiak. 
Hyland agreed, saying that nothing could tear them apart after the childhood they'd shared together. "We could not speak after this, though, and you could call me in 10 years and be like, 'This boy was so rude!' And I'd be like, I'll be there in five minutes," she told her younger former co-star.
Lukasiak also said that many of her best memories of Dance Moms were more about her friendships than the time she spent onstage. 
"I always try to remember what we were doing off the show, because there was so much you didn't see," said Lukasiak. "Like, the sleepovers we had." She added that many of the girls had sought advice from Hyland and looked up to her because she was the oldest in the group, making her the leader.