'Dance Moms': The OG Cast Are Still Friends & Even Have a Group Chat
It's been a decade since Dance Moms premiered on Lifetime and became a phenomenon. But despite the passage of time, fans of the show are still invested in the original cast members. Nia Sioux Frazier, Chloé Lukasiak, Paige Hyland, Maddie Ziegler, Brooke Hyland, and Mackenzie Ziegler were the original members of the Abby Lee Dance Company Junior Elite Competition team and were friends long before the show began filming. And while there's been much speculation that the show permanently damaged some of the friendships, the dancers are all in a good spot with each other today.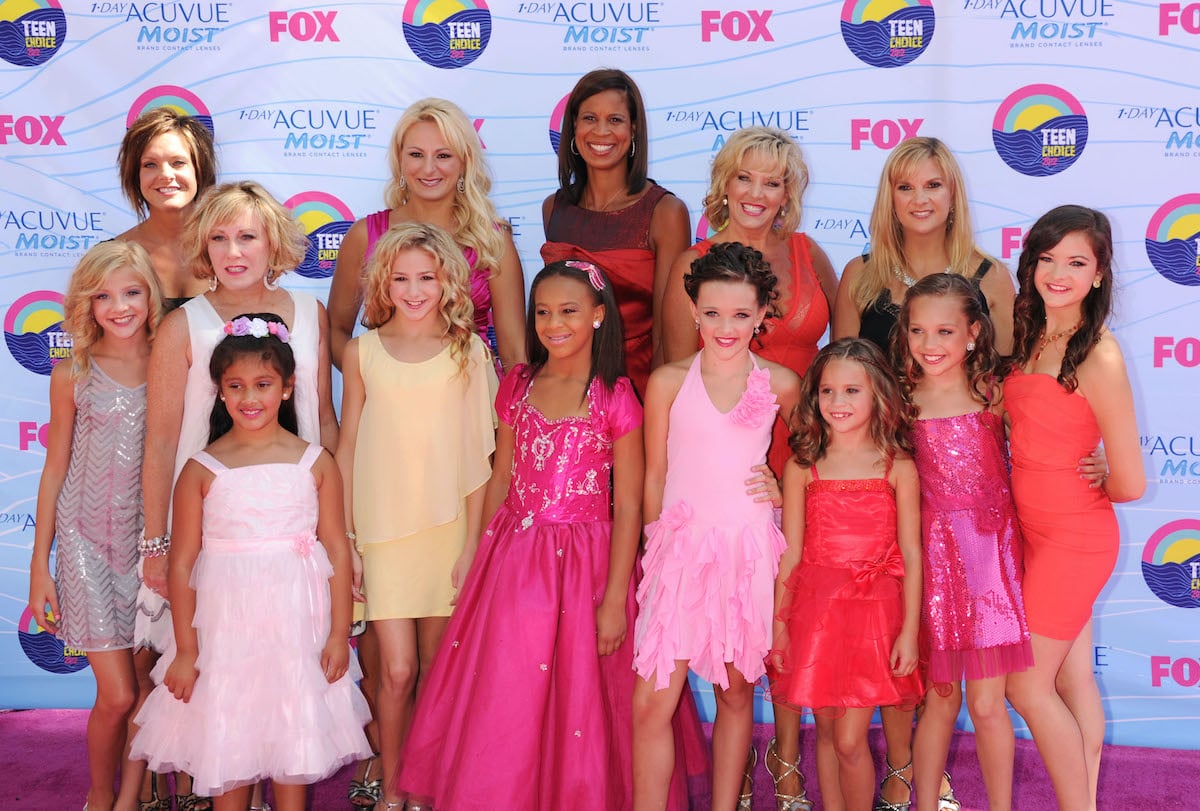 The 'Dance Moms' cast were constantly pitted against one another
It's no secret that the Dance Moms cast were constantly pitted against one another. Not only were they all striving for the first place win at dance competitions, but they were fighting for solos and the attention of their dance teacher. Chloé and Maddie, in particular, were often forced to face off on the show. And it certainly didn't help that fans of the show seemed to enjoy their rivalry and often took the side of one dancer.
The competitiveness at the ALDC was so intense that some members of the cast didn't even realize that it wasn't normal to always be competing against their closest friends. In an interview with Crazy Stupid Fangirls, Chloé revealed that it wasn't an issue for her to pursue a career in the competitive world of acting because she was so used to competing with her friends on Dance Moms.
"You know we're young like I didn't realize how not normal it was to be like so competitive with your friends," Chloé revealed about her Dance Moms experience. "Like that's really, that's why I have no problem acting now. Like I compete against my friends all the time now for parts and they're like 'That's so weird.' I like 'No, it's really normal honestly.'"
Chloé and Maddie occasionaly compete with each other for acting roles
Since Nia, Chloé, and Maddie are all pursuing acting careers, they still have to compete with each other for roles from time to time. However, they haven't let this affect their friendship. While most of the girls have gone through periods where they don't talk as much, Chloé revealed that she now talks to the original Dance Moms cast members on a regular basis. Maddie, Mackenzie, Nia and Chloé see each other more often because they all live in Los Angeles. However, all six of the girls are considering a trip in the near future.
The original memeber of the 'Dance Moms' cast are still friends today
"Yeah, I do actually," Chloé responded when asked if she is still in touch with the original Dance Moms cast members. "This is uh — we just starting talking a lot again recently. And then back in December, we had like our first — like everyone met up for the first time. It was crazy because everyone just happening to be in LA at the same time. And we were like 'Should we all just like get together?' And now we like talk a lot more. We have a group chat. So yeah. And uh, we might be going on a trip or something soon. We're trying to figure it out because it's been 10 years since the show."
We're sure that fans of Dance Moms are pleased to hear that the six original dancers are all still good friends today. Considering everything they went through with the show, it's great that they have each other to commiserate with.