'Dancing with the Stars': 1 Thing Martin Kove Taught Britt Stewart in Season 30 [Exclusive]
Discover the one thing Britt Stewart learned from her 'Cobra Kai' parter Martin Kove in season 30 of 'Dancing with the Stars.'
Actor Martin Kove was the first celebrity eliminated from Dancing with the Stars Season 30. After dancing with The Karate Kid legend, DWTS pro Britt Stewart learned so much. But there's one thing that sticks out about Stewart's experience dancing with Kove. Showbiz Cheat Sheet spoke with Stewart over the phone, where she shared the one thing she learned from her Cobra Kai partner this season.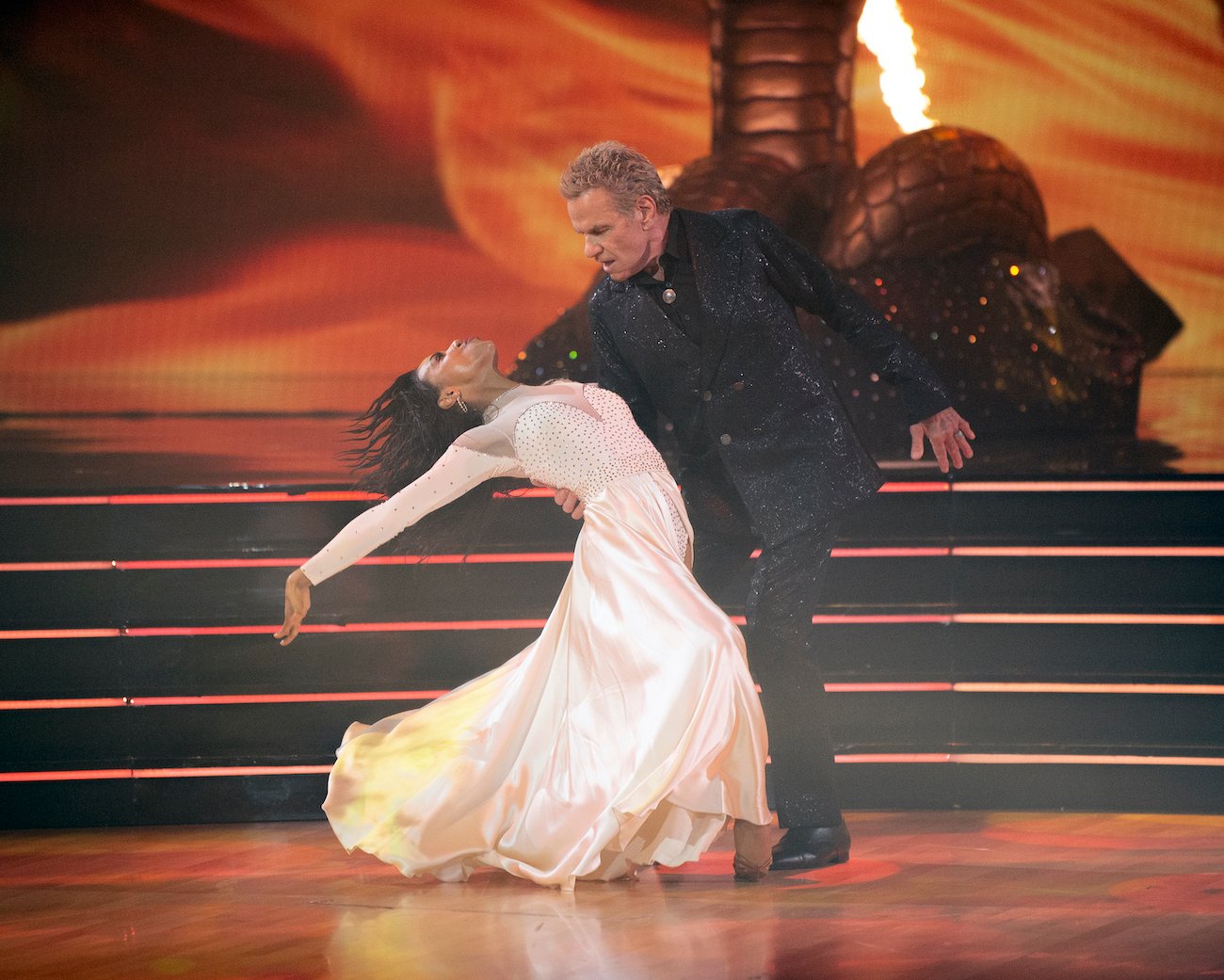 'DWTS' Season 30 competitor Martin Kove 'pushed' Stewart as a dance teacher 
Stewart has been part of the Dancing with the Stars troupe since season 23. Her first season as a pro dancer was season 29 when she danced with figure skater Johnny Weir. 
"I love my job on Dancing with the Stars so much [because] everybody that you get partnered with is unique," Stewart explained to Showbiz. "Martin couldn't have been more different than Johnny, but I love that. It pushed me as a choreographer and a dance teacher to really carry the experience for him and make sure, even though [it was] short-lived, it was really rewarding, exciting, and enjoyable for him." 
As a Dancing with the Stars pro, Stewart is always looking to grow. "I'm always looking to continue to learn. He absolutely helped me continue to develop my skills as a choreographer and a teacher," Stewart added.
Britt Stewart learns from all of her celebrity partners on 'DWTS' 
Stewart learned just as much from Weir when the duo made it to the semi-finals in season 29. Showbiz spoke with the pro in November 2020, where Stewart detailed everything the figure skater taught her that season. 
"Besides me being literally blessed for my first season with an Olympian figure skater and everything that comes with that — the passion, the hard work and dedication, the commitment to the process — the most special thing is now having him as a friend," Stewart told us at the time. "We really built this beautiful friendship and partnership that is irreplaceable." 
Stewart added how honored she was to work with Weir on breaking boundaries on Dancing with the Stars. As Stewart explained, DWTS had never had a couple like she and Weir before. She is the show's first Black female pro, and Weir represented those who consistently push the boundaries between gender, sex, and sexuality.
This season, JoJo Siwa and Jenna Johnson are following in Stewart and Weir's footsteps. They are the first same-sex partnership to compete in the ABC competition series. 
Britt Stewart is not done on 'Dancing with the Stars' 
Stewart and her partner may have been eliminated, but that doesn't mean she's done dancing this season. Dancing with the Stars did away with the troupe, but the pros whose partners are eliminated will still appear in season 30.
"There will be some performances," Stewart teased on our most recent call. "Last year we really cut back and there was no outside performances outside of the couples competing because of COVID. [But] this year, there will be a few performances, so you might see me dancing coming up pretty soon." 
Watch Dancing with the Stars Monday nights at 8 PM on ABC to see more from Stewart.