'Dancing With the Stars': Britt Stewart Doesn't Mind the Show Without Len Goodman
Britt Stewart's first season on Dancing With the Stars is complete. Showbiz Cheat Sheet spoke with Stewart over the phone about her first time performing as a pro and got her thoughts on the scoring this season without Len Goodman.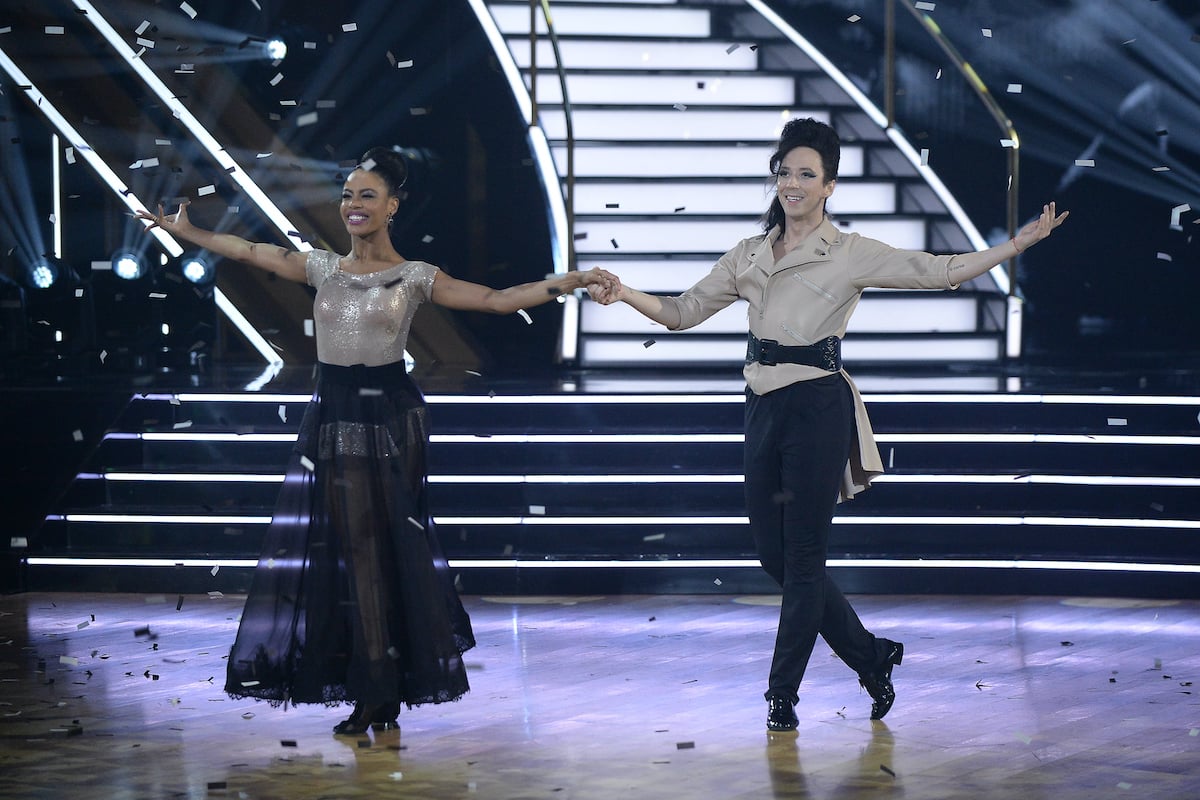 Cheryl Burke thinks 'DWTS' isn't the same without Len Goodman 
As a seasoned pro, Cheryl Burke has been on Dancing With the Stars since season 2, with a few breaks here and there. And as good television is wont to do, DWTS has adapted over the years to keep the competition fresh and exciting for viewers. 
Recently, though, Burke feels like something is missing from the way judges are critiquing and scoring — specifically Goodman. 
"I think that what's missing is just the consistency [in scoring]," Burke said during a phone call with Showbiz Cheat Sheet. "As I've said before, there [are] certain rules. We've always had [those rules] from day one when I started back in 2006." 
Burke pointed out on the Pretty Messed Up podcast how differently she feels the judges are scoring this season. And while that's not entirely because Goodman isn't there, Burke does feel he brought that level of consistency to the scoring process. 
Britt Stewart says without Len Goodman, there isn't 'one bad guy' on the judges panel 
Season 29 was Stewart's first season dancing as a pro. In years past, she has been involved with the show in other ways, dancing in the troupe and performing for the live tour, amongst her other dance ventures. As such, Stewart has an understanding of what Goodman brought to the judges' panel. 
"Len really honed in on the content of the style and which style was being performed," Stewart said. "[Like] if you were doing a foxtrot or a quickstep, how much you were in frame throughout that dance." 
Stewart hesitated to call Goodman "old school" and settled on labeling him as a "traditionalist" instead. 
"He was the traditionalist out of the judges," said Stewart. "I think a lot of people felt like that was missing this season." Burke was one of those people. 
For Stewart, it was more about the balance of judges. "I kind of enjoyed that there wasn't one bad guy or one person that was honing in on things," she said. "The judges really broke up [being the bad guy] between them."
Both Cheryl Burke and Britt Stewart commend Derek Hough for a stellar job 
Despite what they've noticed about scoring in Goodman's absence, Stewart and Burke both spoke highly of their colleague Derek Hough, who took Goodman's place on the judges' panel. 
"I have to say, Len Goodman is a staple of Dancing With the Stars, but I could not be more happy for Derek Hough," Stewart added. "I thought he was and still is an absolutely amazing judge [and] an amazing addition to the judging panel."
Burke echoed Stewart's sentiments on a separate call. "I think Derek's doing an amazing job, don't get me wrong at all," she said. 
With season 29 wrapping up, many fans are curious about which pros and which judges will return for season 30.