'Dancing With the Stars': Britt Stewart Thinks This Couple Will Take Home the Mirror Ball in Season 29
Season 29 of Dancing With the Stars is about to come to an end. Kaitlyn Bristowe, Nev Schulman, Nelly, and Justina Machado remain in the competition.
Britt Stewart and Johnny Weir were eliminated during the show's semi-finals. Showbiz Cheat Sheet spoke with the DWTS pro over the phone about her predictions for the season 29 finale.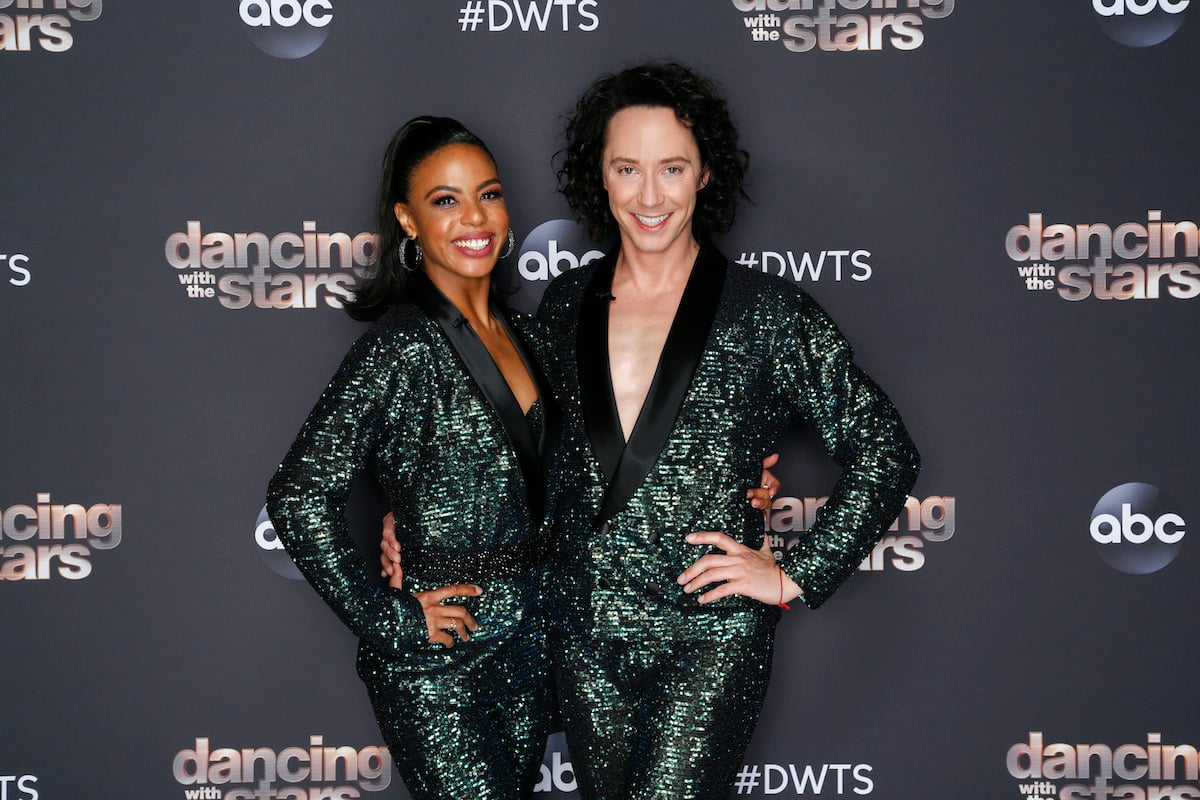 Johnny Weir and Britt Stewart made it to the semi-finals on 'Dancing with the Stars'
This season, many fans thought Stewart and her figure skating partner were going to take home the Mirror Ball. Just as many DWTS fans were, Stewart was shocked when she and Weir were eliminated from the semi-finals.
Despite being out of the competition, Stewart couldn't be happier with her first season as a pro. 
"We are both so grateful and so blessed to have the season that we had," Stewart told Showbiz. "I have zero regret [and] I would not take back one moment for anything. I am so pleased with how Johnny performed [in the] semi-finals, but also the entire season." 
Stewart enjoyed portraying her authentic self each week with Weir — a message she felt proud to bring to so many viewers.
Britt Stewart thinks the former Bachelorette might win
Now that she and Weir are out of the competition, Showbiz wanted to know who Stewart thinks will take home the Mirror Ball in next week's finale.
"Realistically, I think Kaitlyn [Bristowe] might win," Stewart admitted. "It's something that she has wanted for a really long time. And I absolutely love Artem [Chigvintsev]."
Stewart called Chigvintsev a "good friend" and an "amazing man." She would love to see him and Bristowe take home the Mirror Ball this season. 
"I am so happy for him to succeed anywhere in life, so for him to get that Mirror Ball would make me really happy," Stewart added. "This is his first time in the finals [and it would be the] first time that he's ever won before. I would love to see that happen." 
Britt Stewart could also see Nelly taking home the Mirror Ball on 'Dancing With the Stars'
Bristowe and Chigvintsev aren't the only couple Stewart can see coming in first this season.
"It's interesting," she added. "Nelly…I don't know if he will win, but he has this spirit in him as a human and as a man. It's so beautiful."
Stewart talked about how kind Nelly had been behind the scenes, calling her partner "Champ" and "J.I." 
RELATED: 'Dancing With the Stars': AJ McLean's Elimination Wasn't His Fault
"[Nelly] was so kind to Johnny and I the entire season," Stewart said. "They have [this] interesting friendship now that is so cute. That would make me happy [to see him win]. And then also my girl Daniella [Karagach] — fellow first time pro — to see her take the Mirror Ball would make my heart really happy, too." 
Realistically, Stewart sees Bristowe winning. "But I would love to see Nelly or even Justina [Machado win]," she concluded.