'Dancing With the Stars': Derek Hough Reveals Who Is Really Impressing Him This Season (Exclusive)
Derek Hough dished about the talent he's seeing this season on 'Dancing With the Stars.' Plus he addresses Suni Lee's sudden stage run off due to a stomach issue. He also shares if he likes being a judge on the show.
Dancing With the Stars judge Derek Hough said he is completely blown away by the talent this season, which makes his job harder than ever.
But he named a few dancers who are truly standing out, improving, and progressing. He also empathized with Suni Lee's stomach issues that sent her running for the bathroom after her routine was finished. "When I saw her dancing, I could tell I was like, Ooh, she's just getting through this," he recently told Showbiz Cheat Sheet. "Like, she's just trying to get through it. And I almost thought in the middle of it she was going to run off. But yeah, I totally understand."
Who from 'Dancing With the Stars' is really impressing Derek Hough?
Hough said he's loving the competition this year, sharing that everyone is great. "They're all so good this season," he dished. "They really, truly are. And I have no idea, you know who is going to be there in the end."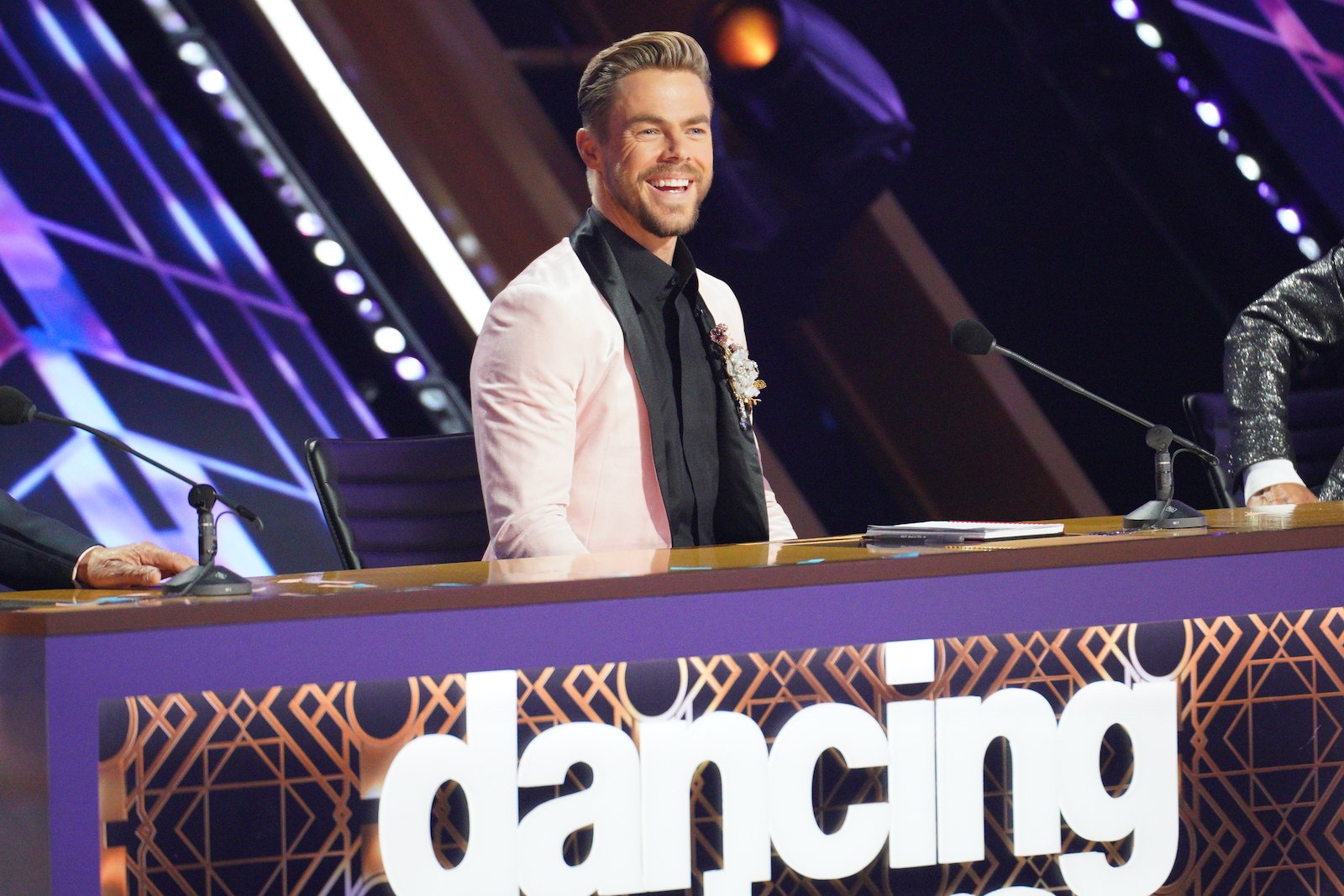 "Because, you know, you had Jojo [Siwa] who's a top scorer, she was in the bottom two last night," he said. "You have Iman [Shumpert] who I think has become a fan favorite. You got Jimmy Allen and Amanda [Kloots]. And Melora [Hardin] and Olivia [Jade]."
Hough admitted that Jade is one contestant who has truly impressed him. "Like Olivia's for me, is like, I'm so impressed with how good she's been this whole season and how much better she's getting," he said. "So I don't know. Who knows what's going to happen." Jade actually earned her top score with three perfect 10s on Monday's Dancing With the Stars "Queen Night."
Derek Hough would love to have training time with the 'Dancing With the Stars' dancers
Hough said he'd love to have a one-on-one session with all of the dancers if it was possible. "Honestly, if you asked me do you like being a judge or a dancer? I love being a judge," he said. But added, "I do wish though, I would love just to have an hour with each person, just an hour. It's just not even just for the dancing, just for the psychology of it, just for like the emotional part. You know, I know they have amazing coaches, amazing teachers, but I would love just to have a little bit of time with them and just to maybe add some value in that way."
"I don't think I get enough time when I'm judging," he reflected. Hough said his exchanges would be different with each dancer. "I think it would be different for each person. There would be some little tricks, little things that I think would help draw out certain performance elements. You know, for a Suni, for instance, you know, a little trick that I use the past for my gymnasts that I danced with and worked with. That helps them sort of break that sort of conditioning, you know, regiment. It's a little bit more freedom, a little bit more, you know, just yourself."
He shared a personal story of how nerves can play into any performance
Hough reflected on how performing under pressure can wear on any professional dancer or athlete. "You know, it's funny my sister [Julianne Hough] actually, she had incredible nerves and she would actually, you know, not be well before every competition," he shared.
"And I've been there before on stage or at a competition where I'm not …," he said "You know, and you just go on. But I felt so bad for her, but also totally understand and understood what she was going through. But hopefully, she'll feel better. We're sending our best wishes for her."
Derek Hough is also gearing up for the holidays
Beyond the show, Hough is gearing up for the holidays and plans to celebrate with his family. He teamed up with the American Egg Board to create #EggceptionalHolidays with Eggceptional Holiday Recipe Remakes. He dished about some of his favorite holiday treats. "I've been salivating during this whole interview," he laughed pointing at the enticing dishes next to him.
"These are eggnog waffle cookies," he said. "But also stuffing. I love spicy food and so jalapeno cornbread stuffing … so yeah I'm encouraging people to tag their different recipes @incredibleegg and share their recipes."
 Dancing With the Stars on ABC Monday nights at 8 PM EST.