'Dancing with the Stars': Most Horrific Celebrity Injuries
There have been many seasons of Dancing with the Stars and many celebrities who gave it their all on the dance floor. There have also been many stars who refused the offer to go on the show. Perhaps they declined because they didn't want to embarrass themselves, or maybe they were scared they'd get injured.
After all, there have been many celebrities who were taken away in an ambulance due to getting hurt on the show. Some of the stars got hurt before their season even premiered, while practicing for the show. Others got hurt in the middle of the season. So what's exactly happened in these contestants? Here are 16 of the most horrific celebrity injuries on Dancing with the Stars.
16. Debi Mazar tore a muscle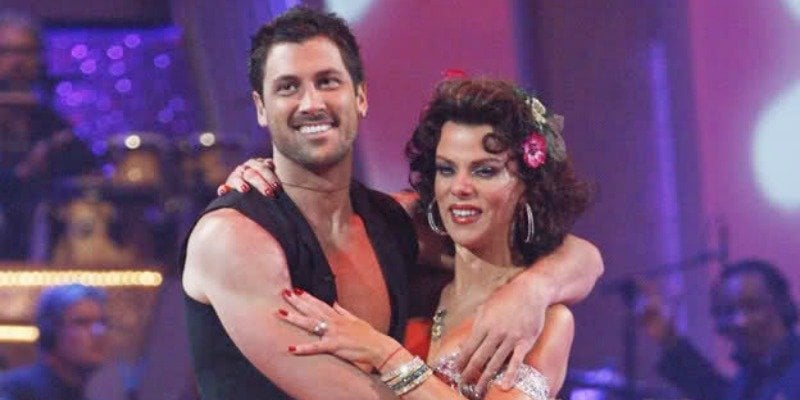 Like another famous TV star, this actress also had to go to the hospital after her season's premiere. She revealed later on Twitter that she tore a muscle from her neck to her chest. She then had to wear a neck brace. She tried to hang on, but she eventually was eliminated in the third week.
15. Susan Lucci injured her ankle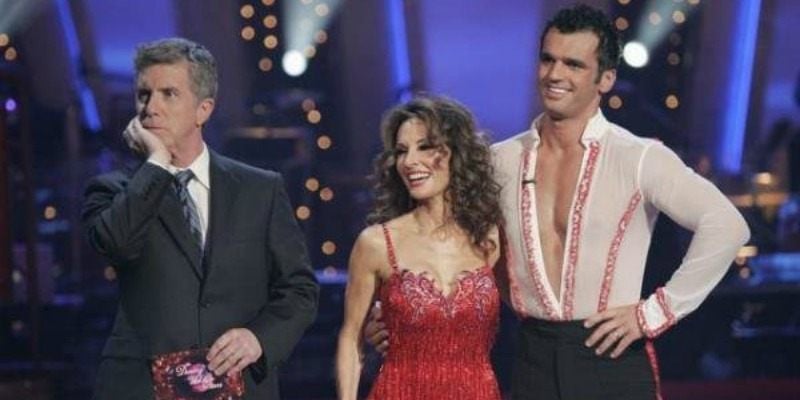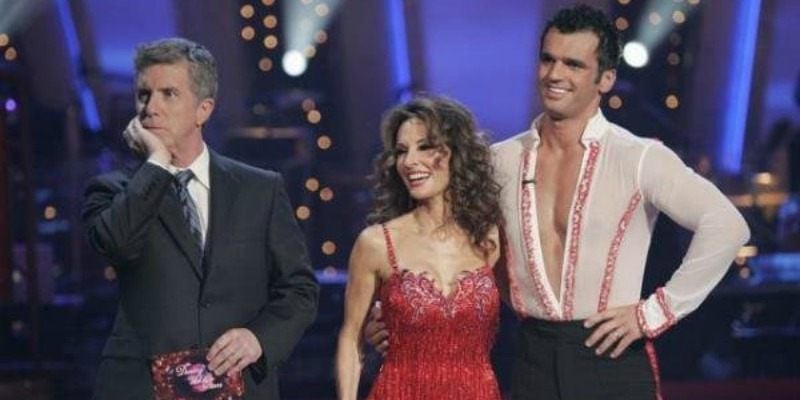 The All My Children star was also injured during rehearsals. She hurt her ankle, but luckily it didn't keep her from continuing in the competition. Susan Lucci stuck with it, but was eventually the eighth person to be eliminated. Luckily, her ankle wasn't further injured.
14. Katherine Jenkins had a back spasm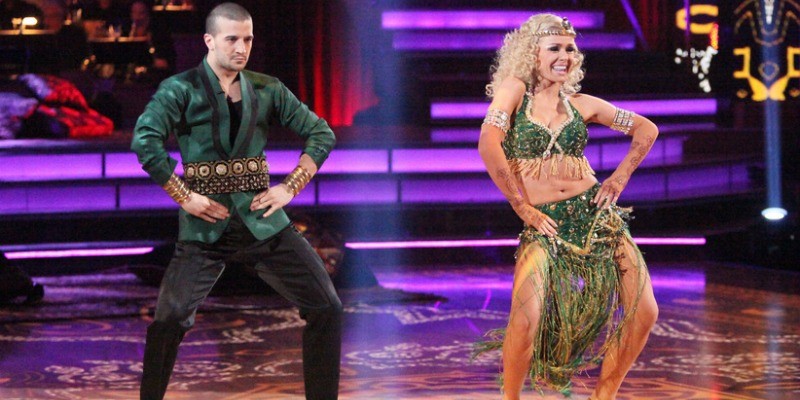 The singer struggled with a spasm in her lower back while competing on the show. "Thank you for all your concerned tweets… I'm with the Doctor, he says it was a reflectorical spasm in my lower back," she explained on Twitter.
The injury actually caused her to mess up during one of her routines, but she still had a high enough score to continue in the competition.
13. Gilles Marini had tendinitis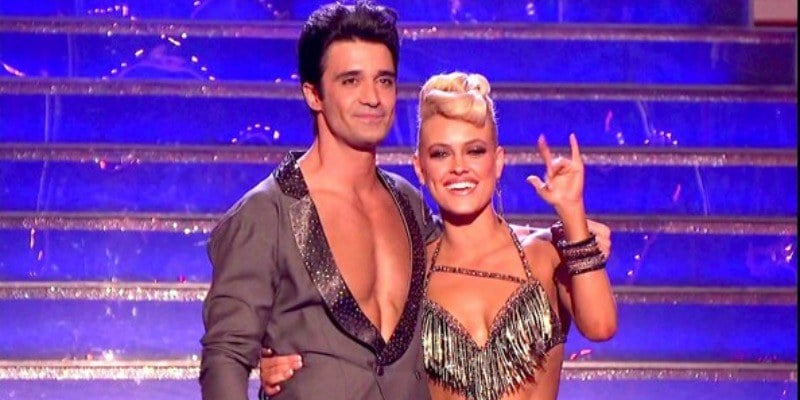 The actor had a really rough go of it on the show. "I pulled my groin the first week," he said according to E! News. "I got tendinitis here and there and I fractured my shoulder the first. I did it all and I'm going to do it again…I'll do it to the death."
During his second shot on the show, Gilles Marini also hurt his MCL before the season even started.
12. Cristian de la Fuente had a severe muscle cramp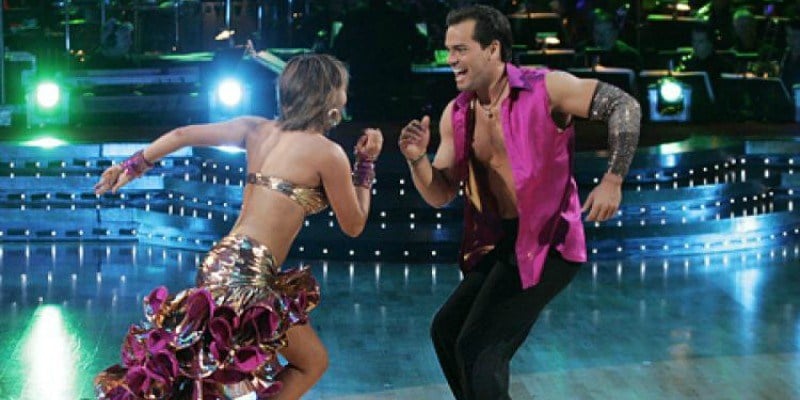 The soap star was sent to the hospital after performing the samba on the show due to a severe muscle cramp. "It hurts," he said backstage on the show. "It hurts the arm and it hurts that I couldn't do it, you know, it's tough."
Cristian de la Fuente stayed on the show and made it to third place during his season.
11. Nancy O'Dell had a knee injury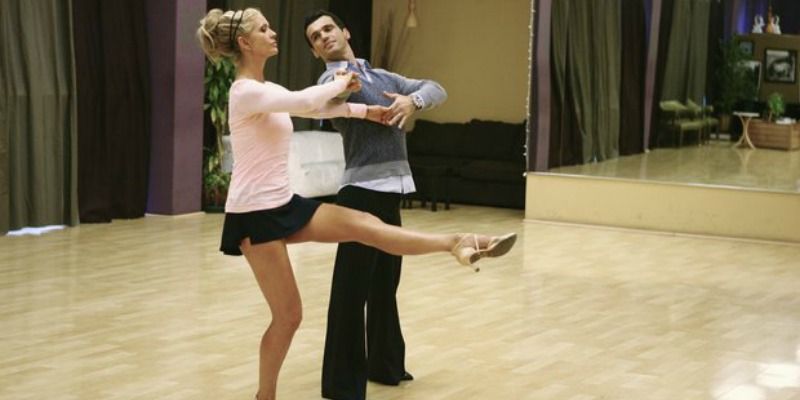 The television host had to drop out of the show due to a knee injury. The weird thing is she pulled out at the same time as Jewel. Her announcement of her need to leave the show was full of regret.
Beyond disappointment doesn't even being to describe how I feel about not being able to continue on Dancing With the Stars. It has been one of my favorite shows since season one! But I have torn the meniscus in my knee in two places, which requires surgery. According to the doctor, one is a 'significant' tear and it will require my getting knee surgery within the next couple of weeks.
10. Dorothy Hamill had nerve damage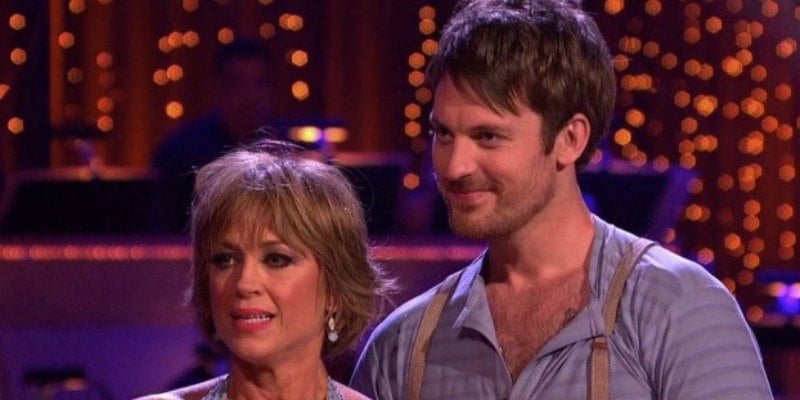 The Olympic figure skater sadly had to withdraw from the show due to an injury. She experienced "irreparable" nerve damage in her spine and bowed out in week two. "I realized this isn't just a muscle thing," she explained on the show. "It's radiating down my leg and my foot and I have no stability in my ankle and I can't pull my toes back."
9. Melissa Gilbert had a mild concussion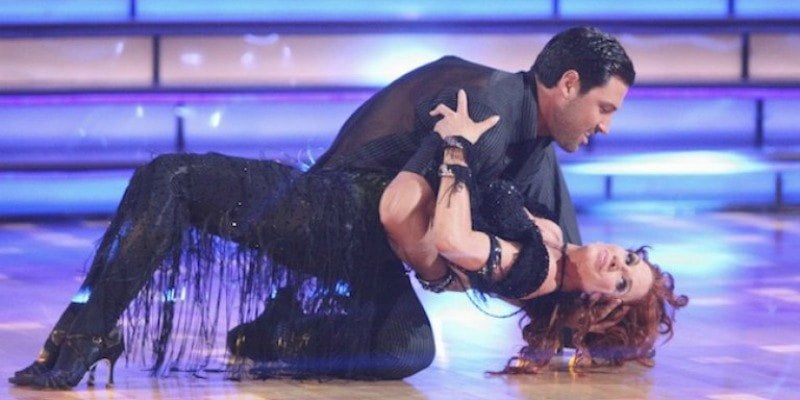 Melissa Gilbert went to the hospital after performing the pasodoble on the show. She later tweeted that she had a "mild concussion and whiplash" from performing and hitting her head on the dance floor. She performed in the next episode and was sent home.
8. Tom DeLay had a stress fracture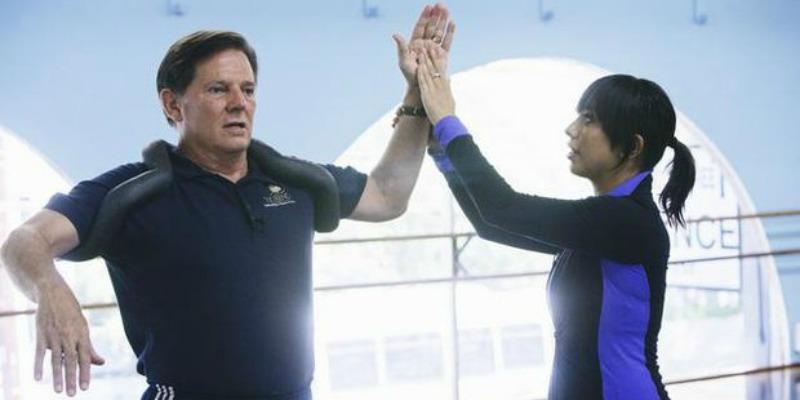 Once again a celebrity got injured before the show even aired. The former Texas politician got a stress fracture while practicing for the show. "Old age is catching up to me. May have a stress fracture in my foot. No worries, it'll take more than that to keep me off the dance floor," he tweeted.
Tom DeLay continued dancing through the pain and made it to week three.
7. Melissa Rycroft had a disc herniation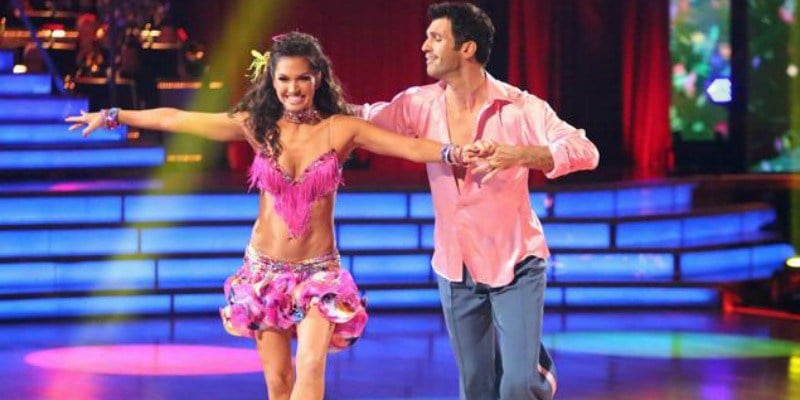 The winner of Season 15 was injured while rehearsing a group number for the show and had to be taken to the hospital. "Melissa was diagnosed with a disc herniation at the C4-C5 level of her cervical spine," a rep told People Magazine.
Melissa Rycroft stuck with it and still managed to win that season of all-star contestants.
6. Lisa Vanderpump fainted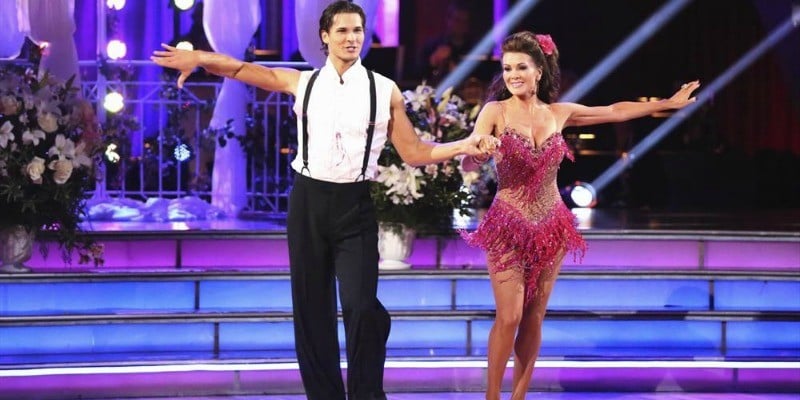 The Real Housewives of Beverly Hills star shocked many fans by fainting while rehearsing her cha-cha routine. "The doctor found that I had a viral infection with fever and swollen glands," she explained to People Magazine. "And between trying to fight that and all of the stress on my body from running around, I ended up with low blood pressure and a rapid heart rate, which is why I fainted."
However, Lisa Vanderpump stuck with it and was eliminated during the fourth week.
5. Mýa cut her hand on glass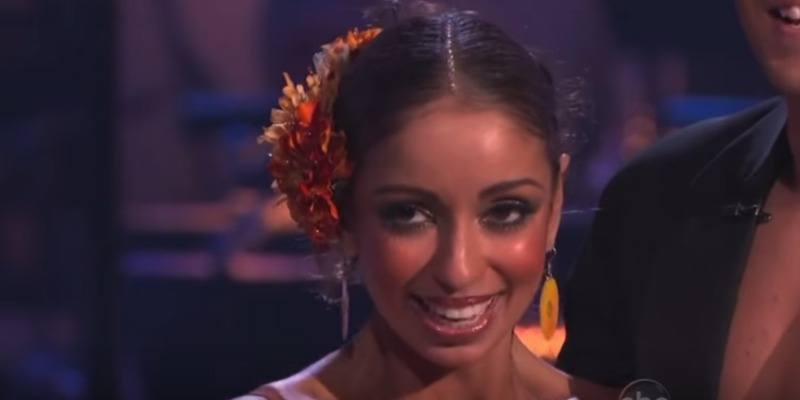 The singer's start on the show was rocky. Mýa accidentally cut her hand on broken glass before the series' premiere. She had to go to the hospital to get stitches, but things were pretty smooth sailing after that.
Mýa was runner-up that season.
4. Holly Madison had inflamed muscles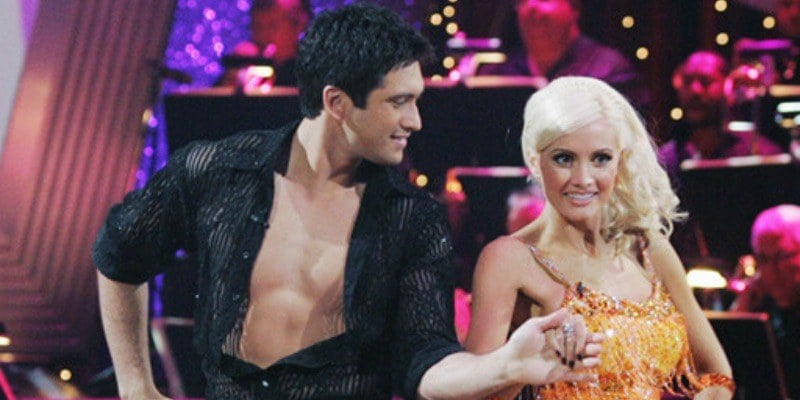 After Jewel bowed out of the show from an injury, she was replaced by Holly Madison. However, Madison also got injured during rehearsal and began experiencing discomfort in her ribs. "I had some inflamed intercostal muscles in my chest," she explained on Jimmy Kimmel Live! "That happened during the samba last week."
Madison continued dancing and was the third person to be eliminated.
3. Steve-O fell on his mic pack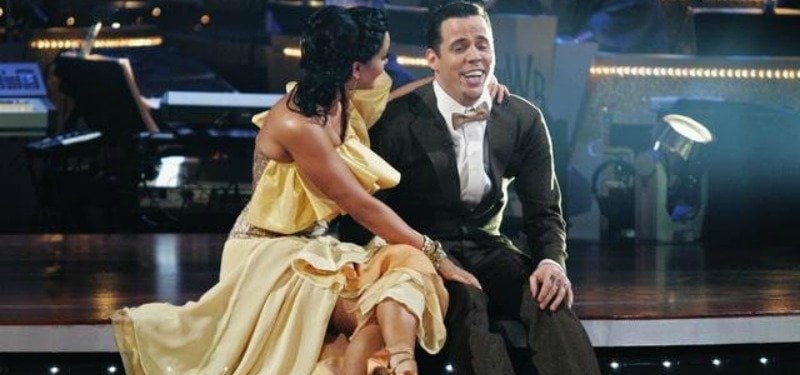 While practicing the salsa, Steve-O landed on his mic pack and needed an ambulance. "He was so bummed out going into the ambulance today. … Nothing's broken, but there are plenty of other things that could be wrong," explained his dance partner, Lacey Schwimmer.
Steve-O still stuck around, but was sent home after five weeks on the show.
2. Jewel fractured her tibia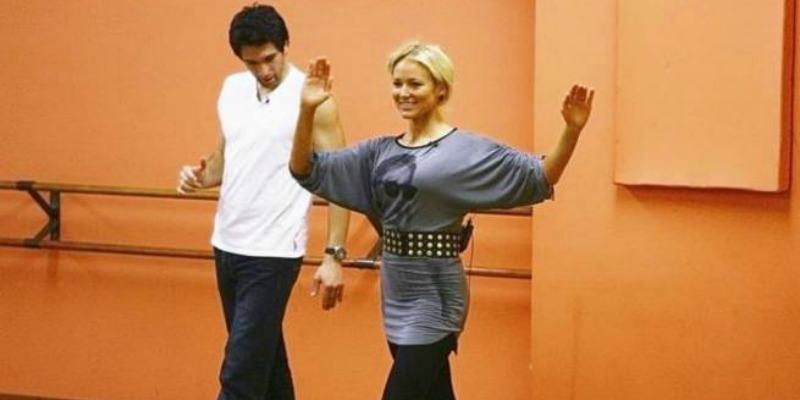 The singer pulled out of Season 8 of the show before it started, because she injured herself while practicing. She fractured her tibia in both legs. "When the doctors told me my injuries were so severe that I couldn't walk, let alone compete, I was devastated that I couldn't continue the show," she explained according to CMT. "I have every intention of being at Dancing With the Stars this season supporting my husband, Ty [Murray], and his partner, Chelsie [Hightower]. I hope to be back on the show in the future."
1. Bill Nye tore a ligament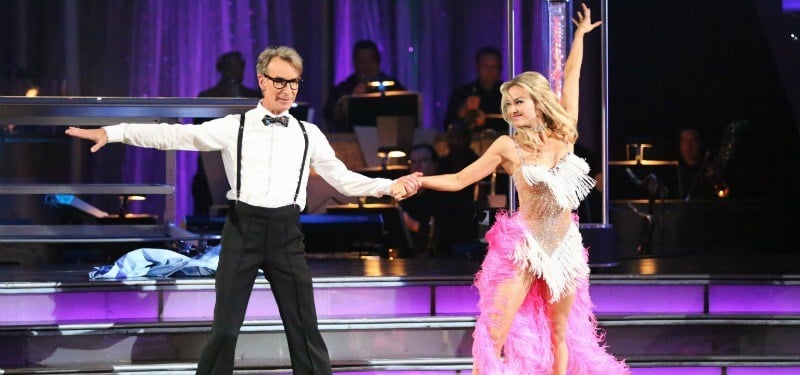 Bill Nye the Science Guy didn't have an easy run on the show in Season 17. He was the first celebrity to get injured that season. He fell during his routine on the show and tore a ligament, according to People Magazine. Nye went to the hospital to get medical attention, but surprisingly made it back to the show afterward.
His dance partner Tyne Stecklein came up with a low-impact routine for Nye, since his doctor wanted him to take it easy. "Short of a wheelchair, I wouldn't recommend any sort of dancing next week," his doctor said according to Today. So what did they do instead? A robotic jazz routine!
Sadly, it wasn't enough to keep him on the show. Nye only got 16 points and was sent home, but everyone recognized what it took for him to put himself out there again. "There's people here who are working hard, who are so good," the scientist said once it was announced he would be going home. "You see them improving every week. I'm not going to be able to keep up for that."
Follow Nicole Weaver on Twitter @nikkibernice.
Check out The Cheat Sheet on Facebook!