'Dancing With the Stars' Pro Britt Stewart Shares What Challenged Johnny Weir Most in Season 29
Britt Stewart and her partner Johnny Weir made it to the semi-finals of Dancing With the Stars Season 29 — but it wasn't easy. Showbiz Cheat Sheet spoke with Stewart over the phone about her first season as a pro, her partnership with Weir, and the challenges they had to overcome this season.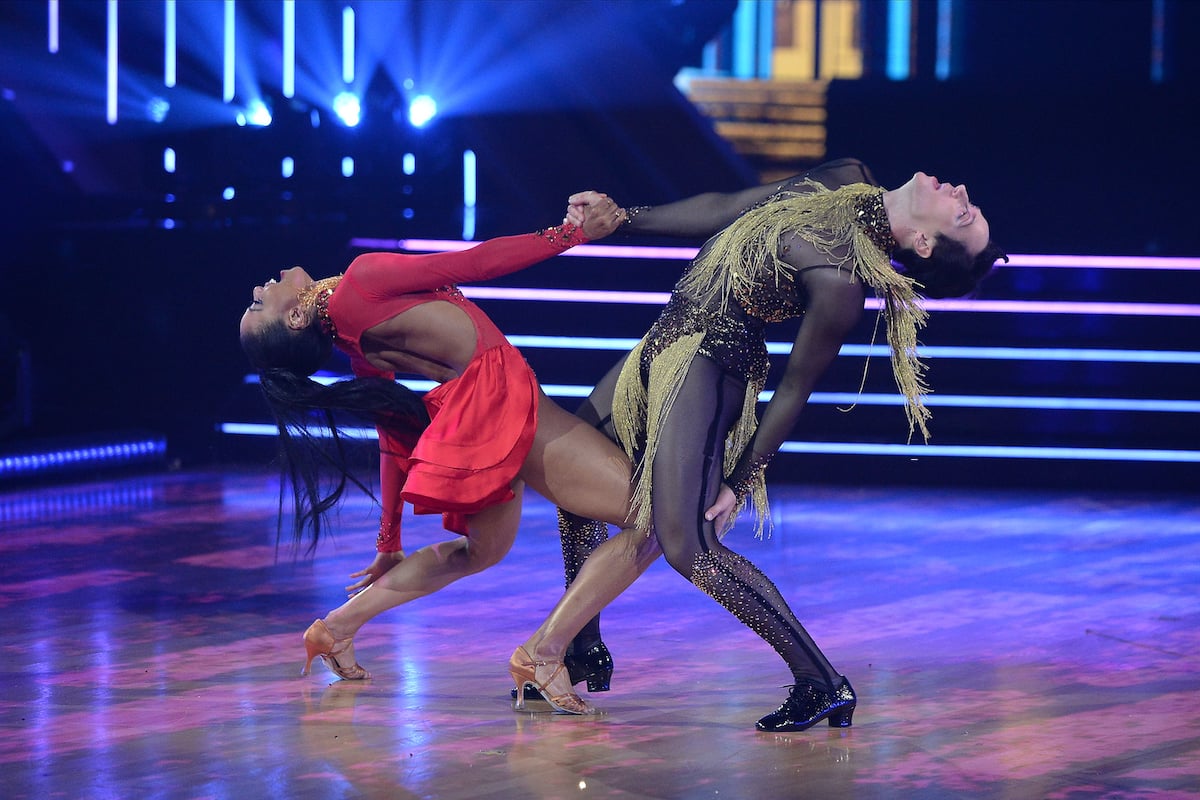 Johnny Weir and Britt Stewart were shocked at their semi-finals elimination
As Stewart described, she and Weir's partnership was "very 2020." Dancing With the Stars has never had a partnership like Stewart, the show's first Black female pro, and Weir, a male figure skater who consistently pushes the boundaries between gender, sex, and sexuality.
"We were very shocked [about the elimination]," Stewart told Showbiz. "First of all, we are both so grateful and so blessed to have the season that we had. I have zero regret [and] I would not take back one moment for anything. I am so pleased with how Johnny performed [in the] semi-finals, but also the entire season."
Of course, Stewart and Weir wanted to make it to the finale. But the expectations many fans had made it difficult for Weir to garner votes.
Britt Stewart says people's expectations created a challenge for Johnny Weir on 'DWTS'
"I would say the expectations that were put on Johnny was a challenge for us," Stewart explained. "People really expected him to be at a certain level because he's a figure skater."
As is often the case with figure skaters, boy band members, or anyone with the slightest dance background, many Dancing With the Stars fans assume they have a natural inclination for dance. But as Stewart explained, figure skating and ballroom dance are incredibly different.
"What people don't realize is that a lot of things that figure skaters are drilled into for their skating career don't translate onto the ballroom floor," Stewart said. "A lot of figure skaters have training. But Johnny has never had any dance training." 
RELATED: 'Dancing With the Stars': Why Cheryl Burke Feels Disconnected From the Show
Growing up, Weir's family could only afford skating lessons. Contrary to what many think, Stewart estimated Weir only ever attending three ballet classes in his life.
"We were really starting from nothing," she said. "Of course he has performance quality. And of course, he has his beautiful arm movement." But Weir still needed to work just as hard as the other competitors to get as far as he did in the competition. 
Britt Stewart says it wasn't 'necessarily fair' for viewers to mistake Johnny Weir's figure skating background for dance experience
In a given season, the competitors on Dancing With the Stars have varying backgrounds. Some are athletes with strength and balance. Others are actors who have zero rhythm. More often than not, viewers have higher expectations for the athletes or anyone with physical ability.
"I think sometimes people set him at a standard that wasn't necessarily fair," Stewart said. "Especially going up against people in the competition that have had serious dance training — not just performance experience, but actual dance training."
Stewart feels like many fans grouped Weir with those more experienced dancers. She feels those expectations gave her, Weir, and some of the other competitors a "rough start with the judges and the audience."
Regardless of how some fans felt Weir should have been able to perform, Stewart couldn't have dreamt of a better partner. 
"Johnny exceeded my expectations," Stewart concluded. "[Exceeding others' expectations was] the biggest challenge, but I think he overcame it."