What Daniel Radcliffe 'Got Away With' While Filming 'Unbreakable Kimmy Schmidt: Kimmy vs. the Reverend'
Despite all that he's done since, actor Daniel Radcliffe remains best known for portraying the titular wizard in the Harry Potter franchise. His role in the Unbreakable Kimmy Schmidt interactive special Kimmy vs. the Reverend drew upon that and gave him a unique experience, subverting audience expectations.
Daniel Radcliffe starred in 'Unbreakable Kimmy Schmidt: Kimmy vs. the Reverend'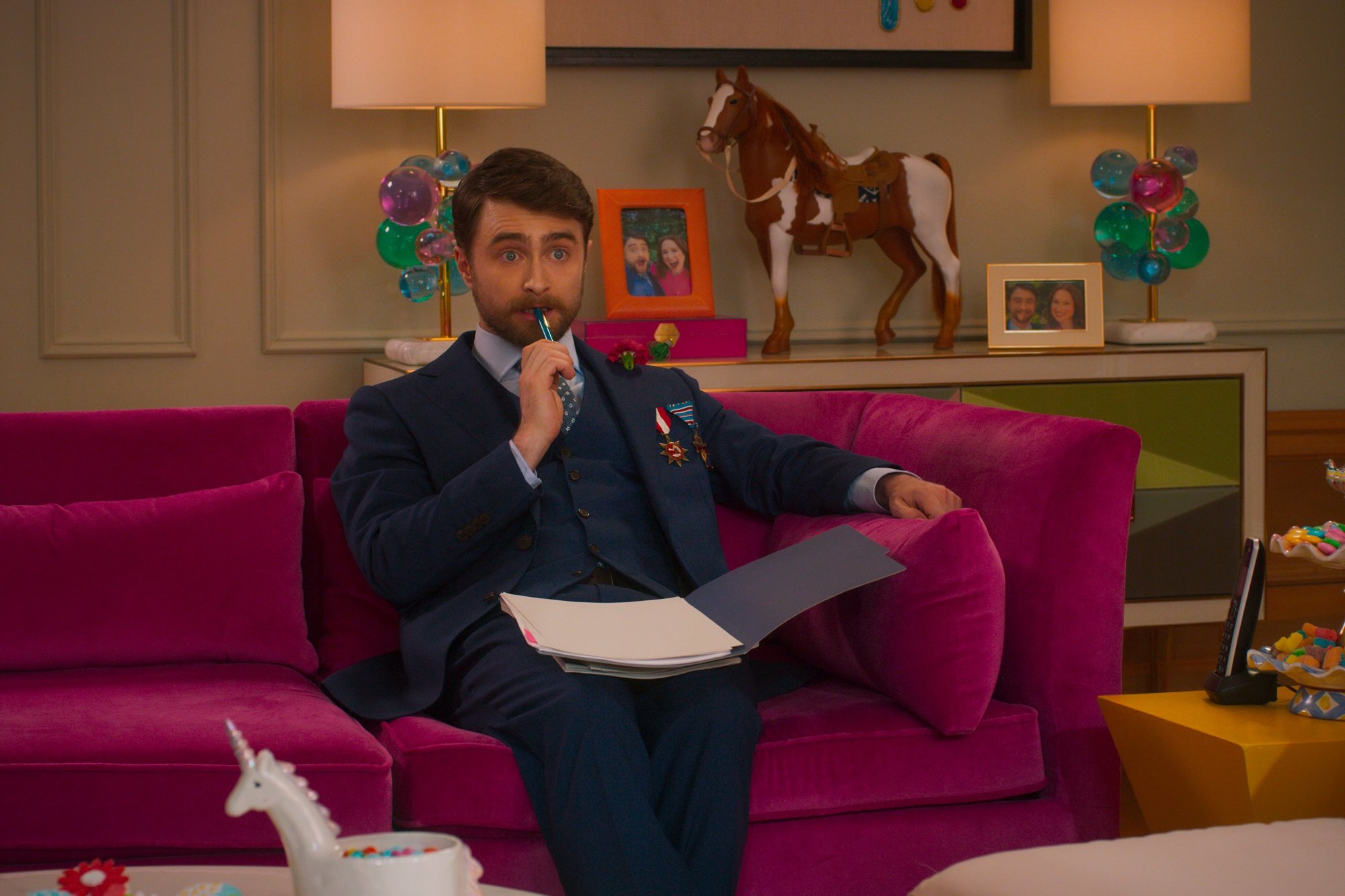 RELATED: Daniel Radcliffe Gives Hints to Find the Funniest Jokes in 'Unbreakable Kimmy Schmidt' Interactive Special 'Kimmy vs. The Reverend'
Radcliffe wasn't a part of Unbreakable Kimmy Schmidt, the Netflix comedy that aired for four seasons. But he joined the cast for the interactive special, Kimmy vs. the Reverend, which was released in May 2020. The actor portrays Frederick, a British royal (12th in line to the throne) who Kimmy is engaged to five years after the series came to an end.
In a Paley Front Row conversation for the Paley Center, Ellie Kemper (Kimmy), said she "was so happy that was the person that Kimmy ends up marrying because it was such a perfect match. They're both so strange. And they are the perfect compliment to each other. They're guileless, and they're just sincere weirdos."
Why he was perfect for the role
The character of Frederick came about when the special's creators Tina Fey and Robert Carlock decided to give Kimmy a love interest for this (possibly) final adventure. When asked why they chose to make him a royal, Fey said, "We thought of who else would have a very weird childhood. And [we came up with] both a prince and to be honest, Daniel."
Like his character, Radcliffe didn't exactly have a typical upbringing as a child actor starring in the Harry Potter films. Radcliffe agrees, saying, "Yeah, that totally fits." Kemper said, "The fact that Dan could play this part…everything came together perfectly. What an honor."
Radcliffe on making fun of royals
With Frederick, Unbreakable Kimmy Schmidt played on stereotypes about the monarchy. When asked if he was worried about offending the real members of the British royal family, Radcliffe said, "I don't. Everyone has the fantastic assumption that I know royalty." He added, "I think I've met Fergie [Sarah Ferguson] at one point." 
In general, Radcliffe believes the Brits take the jabs well. "I feel like even English people who love the monarchy, a lot of them can still acknowledge that it's a crazy institution with a lot of insane traditions and pageantry," he said. "It's very fertile ground for comedy. So I definitely don't think anyone would be offended by it. Although maybe I'm wrong."
His was one of the only characters who didn't die
Kimmy vs. the Reverend covered a lot of territory with its choose-your-own-adventure format that the series couldn't. As Carlock said, they "could do story things you could never do in a million years. Like, kill everybody." This isn't hyperbole: Most of the major characters die at one point if you go down certain paths.
When moderator Damian Holbrook asked, "Did you have a running list of the ways you could kill them?" Carlock answered, "I realized too late that we never killed Prince Frederick." Radcliffe replied, "I think I got away with it there." But then again, "[it's] never too late," chimed in Carol Kane, who plays Lillian.
Radcliffe also has an Easter egg in the film
RELATED: The 'Unbreakable Kimmy Schmidt: Kimmy vs. the Reverend' Easter Egg Jon Hamm Is Still Looking For
Another option available with the interactive special? A way to include discarded jokes and footage as Easter eggs. Carlock explained that there's a particular path you can follow to find many of these, saying, "We cut some really fun stuff. Including Daniel bah-ing like a sheep."
Radcliffe explained. "It was one of those things where the camera was picking off a lot of different people in one shot. And you'd done a bit with me and moved onto another character. But I just took that person's direction and bah-ed like a sheep."