How Daniel Radcliffe Starring in 'Horns' Helped 'The Black Phone' Get Made
Daniel Radcliffe always wanted to be an actor. His parents tried to discourage his acting dream, and we all know how that turned out. He starred in the Harry Potter franchise for a decade. Then, he embarked on a unique career he predicted for himself early on. The Black Phone would be another in Radcliffe's eclectic post-Potter roles, but he's not in the movie. Still, in a strange way, he had a hand in getting the film made.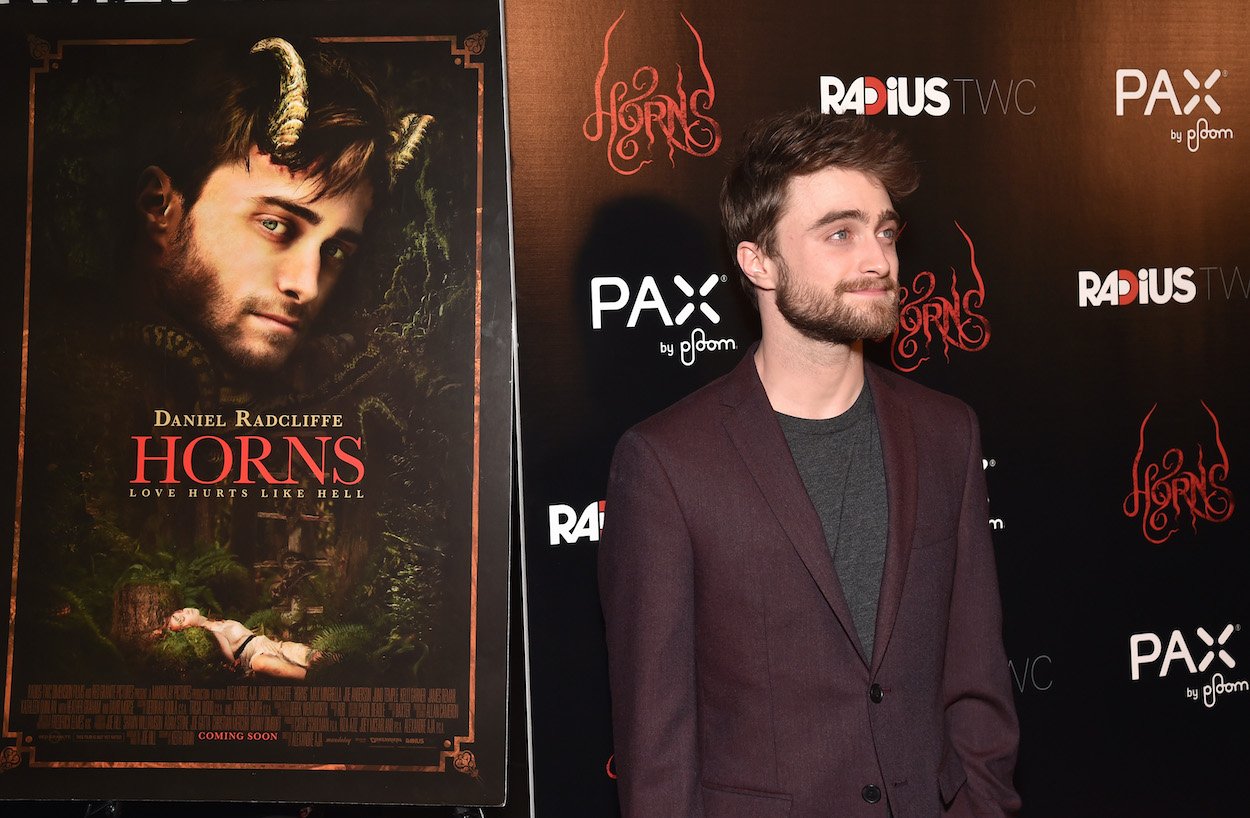 Daniel Radcliffe starred in 'Horns' in one of his first post-'Harry Potter' movies
Weird roles in offbeat movies don't scare Radcliffe. Quite the opposite, actually, as he admitted he enjoys pushing his boundaries in weird movies.
Radcliffe starred in The Woman in Black, Kill Your Darlings, and Horns in his first three post-Potter movies. In the latter film, he plays Ig Perrish, a man who grows ram-like horns on the one-year anniversary of his girlfriend's murder, which people think he committed.
On the heels of Harry Potter and ahead of more high-profile pictures, Horns might have been lost in the shuffle. Joe Hill saw its significance, though. He wrote the novel Horns was based upon and the short story that inspired The Black Phone. He said the latter wouldn't have happened without Radcliffe taking a chance on starring in the former.
'The Black Phone' writer Joe Hill shares how Radcliffe helped get the movie made
Horns was hardly a successful movie. It scored below 50% with both critics and audiences on Rotten Tomatoes, and it earned only $3.8 million in theaters. Still, if not for a notable actor like Radcliffe taking the lead role, there's a chance Hill's Hollywood career would have ended before it started, as he told Slash Film:
"I've been very lucky in terms of the adaptations in that I think everyone has approached them with good faith and love and energy, and that all of them have been pretty good. I'm especially grateful, I'll always be grateful to Daniel Radcliffe and Alexandre Aja for making Horns. I think if they didn't make that film, probably none of these other films and TV shows happen [without] this tremendous leap of faith."

Joe Hill on how Daniel Radcliffe had a hand in getting The Black Phone made
Radcliffe doesn't appear in The Black Phone. Still, the latest Hill movie might not have happened without the one-time Harry Potter starring role in Horns.
'The Black Phone' promises to be another freaky Blumhouse movie
The plot for The Black Phone reads like a psychological horror thriller movie typical of Blumhouse Productions. It might be the scariest movie ever made by the production house. It specializes in making those kinds of films (The Purge series, Get Out, M. Night Shyamalan's The Invisible Man, Glass, and Split). Per the movie's website):
"Finney Shaw, a shy but clever 13-year-old boy, is abducted by a sadistic killer and trapped in a soundproof basement where screaming is of little use. When a disconnected phone on the wall begins to ring, Finney discovers he can hear the voices of the killer's previous victims. And they are dead set on making sure that what happened to them doesn't happen to Finney."
Ethan Hawke stars as the villain in what might be the most terrifying role of his career. Newcomer Mason Thames plays Finney. Scott Derrickson (The Exorcism of Emily Rose, Marvel's Doctor Strange) produced, directed, and co-wrote The Black Phone, which is based on Hill's short story.
Even if Daniel Radcliffe never sees The Black Phone, Joe Hill will always be thankful the English actor said yes to Horns and helped the new movie get made.
The Black Phone comes to theaters June 24.
For more on the entertainment world and exclusive interviews, subscribe to Showbiz Cheat Sheet's YouTube channel.
RELATED: 'The Black Phone' Director Said Ethan Hawke Is Going Through a 'McConaissance,' Fans Clap Back