'Darcey & Stacey': Florian Sukaj Tells Stacey Silva to 'Shut' Her 'Mouth'
In the premiere of season 2 of 'Darcey & Stacey', Florian Sukaj tells his wife to 'shut' her 'mouth' more than once.
The 90 Day Fiancé spinoff Darcey & Stacey is back with season 2, and fans can see new episodes on Mondays on TLC and discovery+ as well. Stacey Silva and Florian Sukaj are newly married, and the premiere of the season shows Florian having some professional pictures taken. But during the moment, he actually tells his wife to "shut" her "mouth" more than once.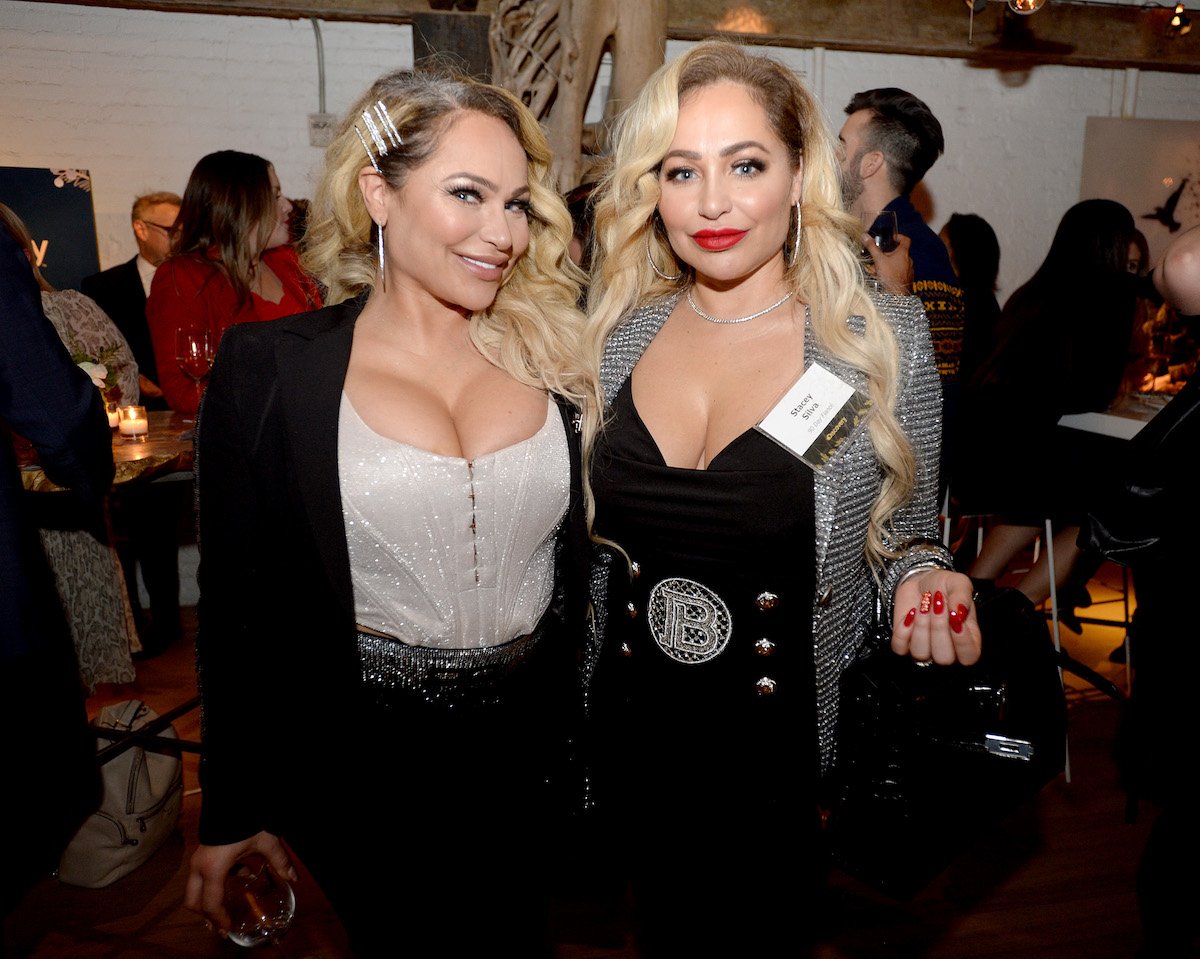 Florian Sukaj has some professional photos taken in episode 1 of 'Darcey & Stacey'
Florian, who is a model from Albania, is seen in the premiere episode taking professional photos with a photographer a couple months after marrying his wife. Stacey is there on the sidelines making comments and suggestions as well. 
"Florian and I have been happily married for a few months now and ready to start our new future," Stacey says to the camera. "Which for us, that's a photoshoot, and it's Florian's photoshoot."
Stacey reveals that she's trying to assist her husband in getting his modeling portfolio all ready so that when his work permit is approved, he'll be able to start working.
Stacey makes comments along with the photographer, saying things like, "Sexy, confident, fierce. Right there." She even mentions "a little more movement."
When the photographer tells Florian to put his "chin down" a little bit, Stacey adds, "Chin down, chin down." The comments continue, as Stacey tells him to "loosen up."
Stacey walks over to Florian showing him what to do. She takes a few pictures with the photographer with her jacket hood up, and Florian watches and adds, "Come on Stacey." Next, Florian is posing with a jacket on, but Stacey comes over trying to zip it off saying, "You need to show your abs."
Stacey insists she knows what she's doing, but Florian asks, "This photoshoot is for me or for you?" And she says it's for the both of them, which Florian questions. Stacey continues trying to get his shirt off, and Florian says, "Yeah but I don't go in gym, like one year."
Florian tells Stacey to 'shut' her 'mouth'
In another moment, Florian is posing and Stacey shakes her head, and Florian inquires further, to which Stacey replies, "I just think that shirt's too much. I'm the stylist, let me be the stylist." She insists there should be a "change of wardrobe."
"Oh my Stacey," Florian says.
Stacey insists that she knows what she's doing as she's worked on photoshoots before. She gets him to wear a suit in three pieces, telling the camera, "In this case, I am a little over top because he's my husband and you know, I want him to be the best."
Florian then poses for some shots in the suit, but Stacey asks for "more energy," continuing to give him suggestions.
"Are you like to come, are you like to come here?" Florian asks.
But Stacey's suggestions continue, and the photographer has his own as well. Florian tells his wife, "Stace, enough, enough."
She tells him he needs to "take direction," but Florian replies, "Shut your mouth, I'm serious." When Stacey asks, "Excuse me," he mentions it again, "Shut your mouth."
That comment prompts Stacey to walk over to him telling him, "You don't need to talk like that to me here. That's unacceptable. You stop it now."
But it doesn't stop. "Shut your f—— mouth, I'm serious though," Florian adds.
While talking to the camera, Florian adds, "I can say to you very soft, 'Stop.' First time, two times, three times. But sometimes, sometimes lose the control. This is the problem."
Stacey insists that she's doing the photoshoot for him, but Florian adds that she "can't control" him. He tells her to "stop," but she tells him, "You don't tell me to shut up and zip it in front of professional people. Don't do that in America, OK?"
She says he doesn't talk to her in that way. Florian again repeats for her to stop, saying "Stop my Stacey, stop kill-over." 
She says she's "not overkill." Then Florian adds, "We're done this kind of thing." Stacey tells him to "relax.'
The situation comes up again while they're seated in front of the camera, and Stacey insists that Florian "can't do that." She adds, "You can't talk like that. I only put up with it last year because we were dealing with our own drama. But now that we're married…"
She shakes her head, and Florian says, "It's no fly with you."
"No it doesn't fly with me," she says, and Florian mentions that he knows.
She tells him to "choose" his wording "wisely," adding, "Especially when other people are around in a professional setting. And I don't want that to happen on a real job one day. That can cost connections, and I need you to be the provider."
"Yes," Florian adds.
Before the situation cuts short, Stacey is still giving Florian direction, and Florian says, "Oh boy, Stace Stace."
It's a tense situation to be sure, and one that is sure to have fans of Darcey & Stacey talking.