'Darcey & Stacey': Georgi Rusev Explains the Money in the Sock
The 90 Day Fiancé series Darcey & Stacey is back, and the drama is just getting started. Fans can watch new episodes on TLC and discovery+ on Mondays. Season 2 began with a fight between Darcey Silva and her new fiancé, Georgi Rusev.
Georgi is finally now divorced from his former wife. In the premiere episode, Darcey reveals that she found money hidden in a sock. In episode 2, Georgi explains the situation to Darcey's father, Mike.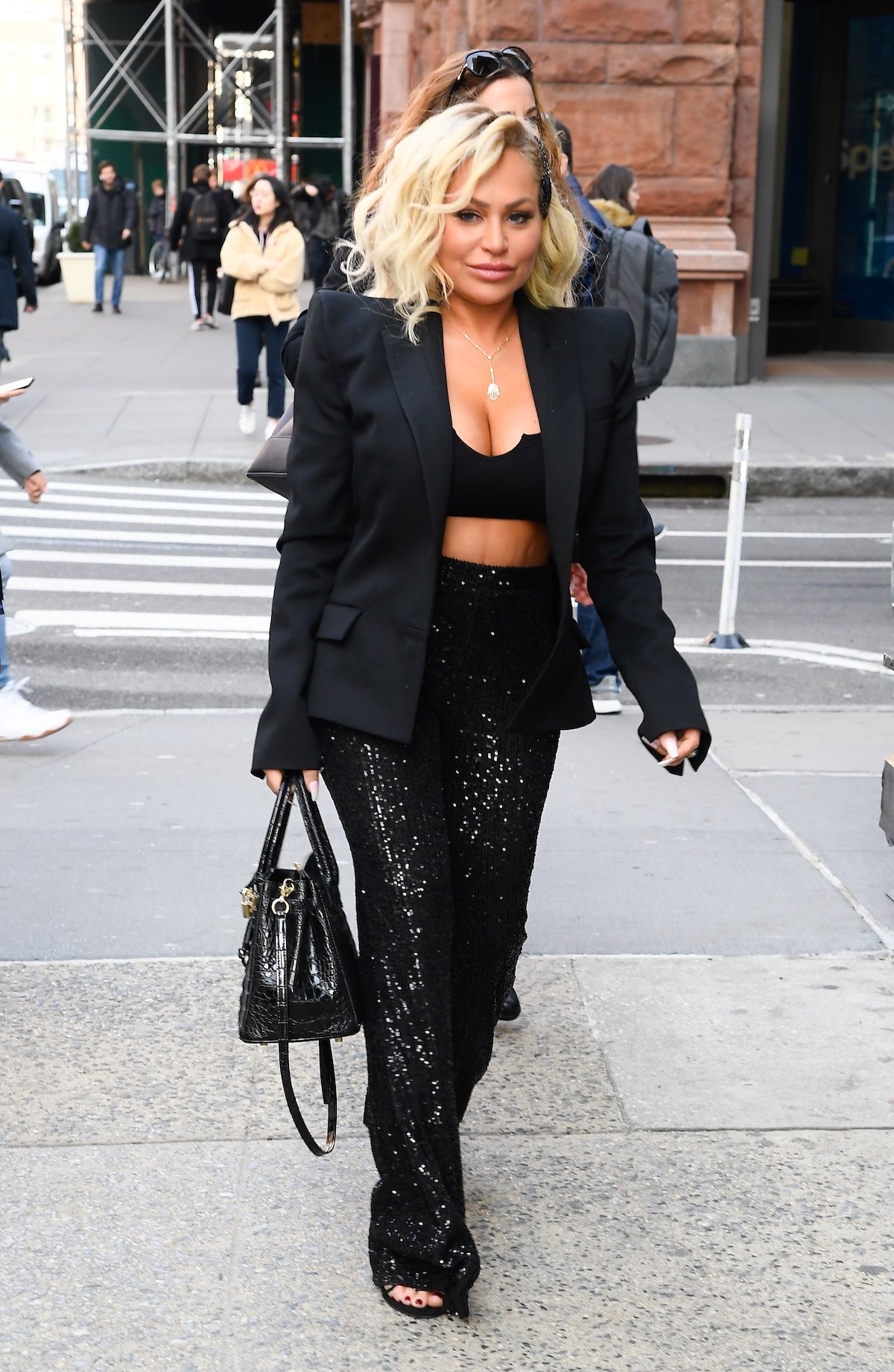 Darcey Silva from 'Darcey & Stacey' found money in a sock
The infamous money in a sock is brought up in the premieres episode Stacey Silva, Darcey's sister, mentions that Darcey found money in a sock in front of their two friends.
"When we were still in the studio apartment, I was cleaning up and doing some laundry, and I was putting away some of Georgi's underwears and socks, and I happened to found a white sock with money in it," Darcey tells the camera. "And there was about $1,400 in there, it was kind of hidden in the back like underneath other items."
Darcey obviously mentioned it to Georgi, who she said told her, "it was, you know, to pay his credit cards."
"You know, it kind of surprised me," Darcey admits. "You know, usually you put money in a bank." Darcey's friend Debbie calls it a "red flag."
Stacey Silva tells her parents about the money in the sock
RELATED: '90 Day Fiance': Some Fans Don't Appreciate Darcey Silva's Post of Her Derrière in a Thong: 'Is This Really Necessary?'
In episode 2, Stacey speaks with her father, Mike, and her mother, Nancy, about her concerns when it comes to Georgi. She mentions that Darcey is paying every bill.
"She's paying for everything," Stacey says. "He hasn't spent $1 since he's been here." She also tells them about the money Darcey found, adding that Georgi's "stashing money."
"He doesn't have a job," Mike adds, which Stacey repeats, adding, "So I don't know where he's getting the money from, but the fact that he's hiding it."
Mike says, "Those are some red flags," and he agrees to talk to Darcey, which he does, when it comes to his concerns.
"Not seeing Georgi looking for a job or having a job, I find it a little concerning," he tells the camera. "And knowing that Darcey is funding the relationship, I believe the reason he's not making an effort to find a job is Darcey's made it too easy for him."
Georgi Rusev explains the money in the sock to Darcey Silva's father
Mike also speaks with Georgi after telling his daughter that he will. On a rainy day, he picks Georgi up from the apartment, and they go somewhere by a lake and sit in the car and talk. 
Georgi actually is the first to bring up the fact that he isn't working, saying he wants to "provide." "The thing is I appreciate everything she's doing for us, but at one point I feel uncomfortable because I want to provide, I want to you know, to help her and it's killing me when I'm not doing anything because of the quarantine. I'm not able to work."
Mike mentions "a man's job is to support the family." He also brings up the money in the sock, and Georgi goes on to explain his side of the situation.
"Yeah, I mean I take out cash during the quarantine to give to her to help her with the bills. She was like, 'No, keep your money, I don't need this money.' You know? And the bank was closed, so I put the money in the socks and don't wash them. And she one day she wanted to wear a socks and she find the money and it was like, 'Why this money is here?'"
Mike admits to Georgi that Darcey's version of events isn't the same as his. He mentions that Darcey relayed that Georgi isn't "contributing," and that he was "hiding the money."
Georgi offers up an explanation that Darcey could have forgotten that he tried to give her the money, adding, "She forget that this money exists. She think I put the money back."
Mike relays to Georgi that "in some ways" he was "hiding that from her" when it comes to the money, but Georgi says there is "no point to hide the money." Georgi admits to the camera that he's "really upset" that Darcey told Mike about their issues.
Mike tells the camera that he's "hearing two different stories," and he "can see through him." He admits he's going to keep "a close eye on Georgi because from some of the things that I've heard today, it looks like my daughter's being taken advantage of."
We'll have to see how this issue with the sock with money in it gets resolved.