'Darcey & Stacey': How Does Stacey React When Darcey Shows Her the Videos She Was Sent by Shanti?
On the new TLC series Darcey & Stacey, there has been some major drama when it comes to Stacey Silva's now-husband, Florian Sukaj. Stacey's sister, Darcey Silva, found pictures of Florian online with another woman named Shanti, and the drama seems to be constant ever since. In one of the images, the woman is wearing a "lacy thing" as Darcey describes it.
Stacey herself recently found a video posted by Shanti of Florian. In it, he's lounging on a bed, and the woman says, "My sweet," from behind the camera. Florian gets up and says, "What f****** are you doing there?"
Darcey even called Shanti, who revealed that she didn't know that Florian was with Stacey at the time. But there is more drama when Darcey receives videos from her. This week, Darcey decides to show Stacey what she received, and Stacey doesn't react well.
Darcey Silva gets an email from Shanti with videos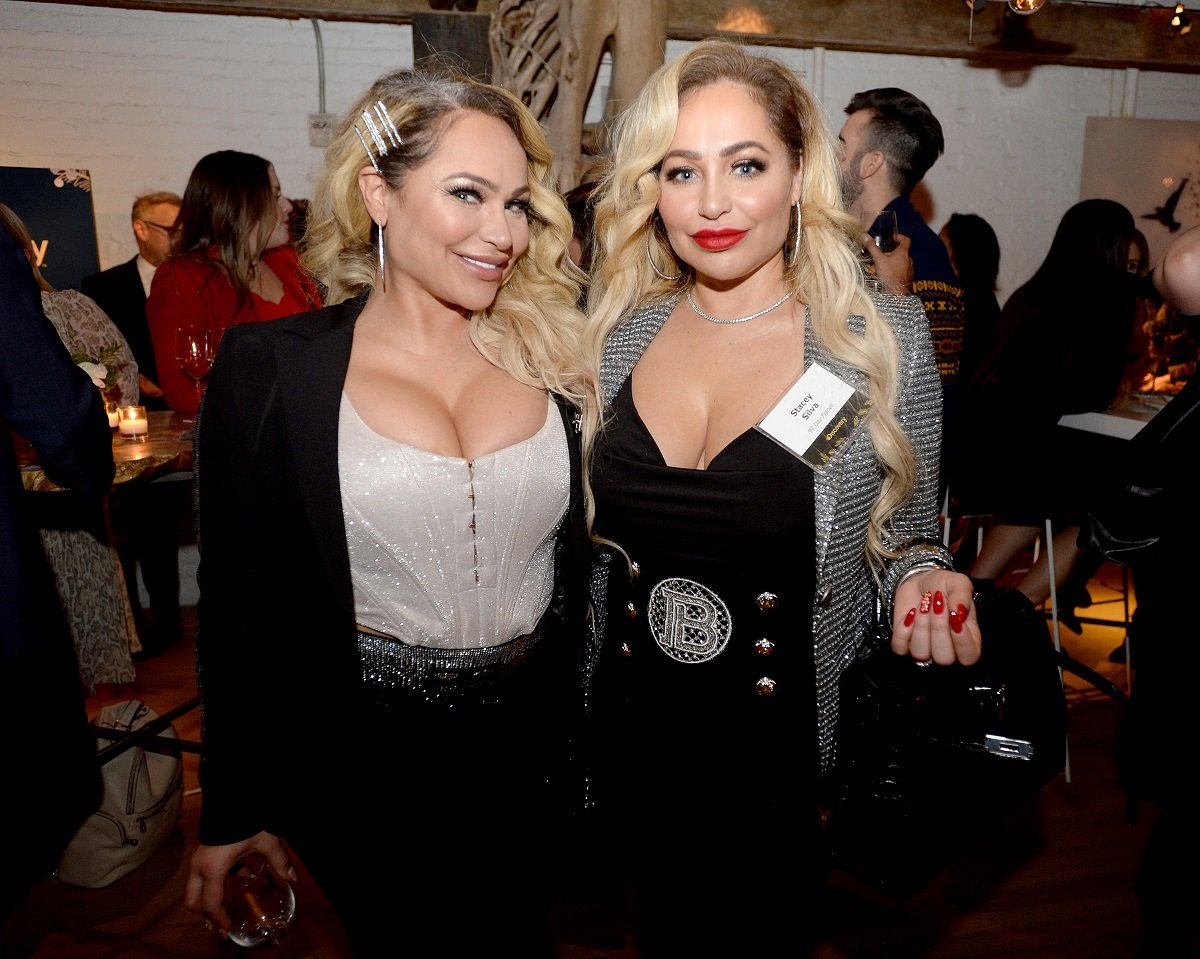 Darcey receives an email from Shanti complete with videos. "She's saying in an email that she has proof and videos of her and Florian being intimate and I should see it," Darcey says. The email details that Shanti isn't Darcey's "enemy" or Stacey's. She also says the video was made when Florian said he wasn't with Stacey.
In the first video, Shanti is laying with a man, and she's wearing the same "lacy thing" as before. They're really close to each other, and it's unclear if it's actually Florian or not based on what can be seen. The next video is clearly Florian and Shanti doing what looks like pretending to have intercourse while she films.
How does Stacey react when Darcey shows her the videos she was sent?
This week, Darcey introduces Stacey and Florian to her boyfriend that she's now living with, Georgi Rusev. Darcey also learns that Stacey has secretly gotten married to Florian in quarantine during the coronavirus (COVID-19). The twins walk off together, and Darcey eventually broaches the uncomfortable subject of the new videos with her sister.
Darcey asks why Stacey didn't tell anyone that they got married. "Because Darcey it was our choice," Stacey says. "And we felt like it was time. So now I just want to focus on our future…"
"So, I don't know," Darcey says. "I wasn't going to tell you. Knowing that you guys are married now, it's not really what I thought that you should see, and I didn't know what to do. But, she's reached out to me. There were a couple videos she sent…"
Stacey says she needs to catch her breath, and she's clearly upset by the news. Darcey pulls up the email and shows a video to Stacey. "Wait what?" Stacey says. "Let me see. What the f***?"
Darcey says, "She's faking like sex noises. Like they're trying to mock sex Stacey."
Stacey asks "what else" Shanti sent, and Darcey shows her the other video. In it, it's unclear if it's actually Florian the way it's shot, but Shanti and the man are really close and in each other's faces.
Stacey says she thinks she's going to "throw up."
"I wish I would have known about this sooner," she says while talking to the cameras with her sister. Darcey says that Florian should have told her everything before they got married. Stacey starts to cry, and Darcey consoles her.
Stacey mentions that she wants to "believe him." Darcey admits that she understands why her sister is upset, and she would be as well. Stacey tells her that she needs "time to process" her feelings. They walk back to where Florian and Georgi are seated by the lake, and Stacey addresses Florian.
"Well, Florian, what I just saw, was disgusting," she says. "I don't know how you could do that. So, I'm out of here and…just need some space."
Stacey drives off and leaves Florian behind. Luckily, Darcey takes Florian back to the apartment, but it's unclear where things go from here. Will Stacey be able to forgive Florian again? They just got married, and this is the last thing their relationship needs. Only time will tell where things go from here.