Daredevil Charlie Cox Was 'Embarrassed' About His 'Spider-Man: No Way Home' Scene
Daredevil actor Charlie Cox wasn't sure his 'Spider-Man: No Way Home' cameo would work out so well. And he was admittedly embarassed about it early on.
Fans were thrilled to see the star of Netflix's Daredevil, Charlie Cox, reprise his role for Sony and Marvel Studio's joint venture, Spider-Man: No Way Home. But the actor wasn't sure his cameo would work. And he admitted he was a little embarrassed about it early on.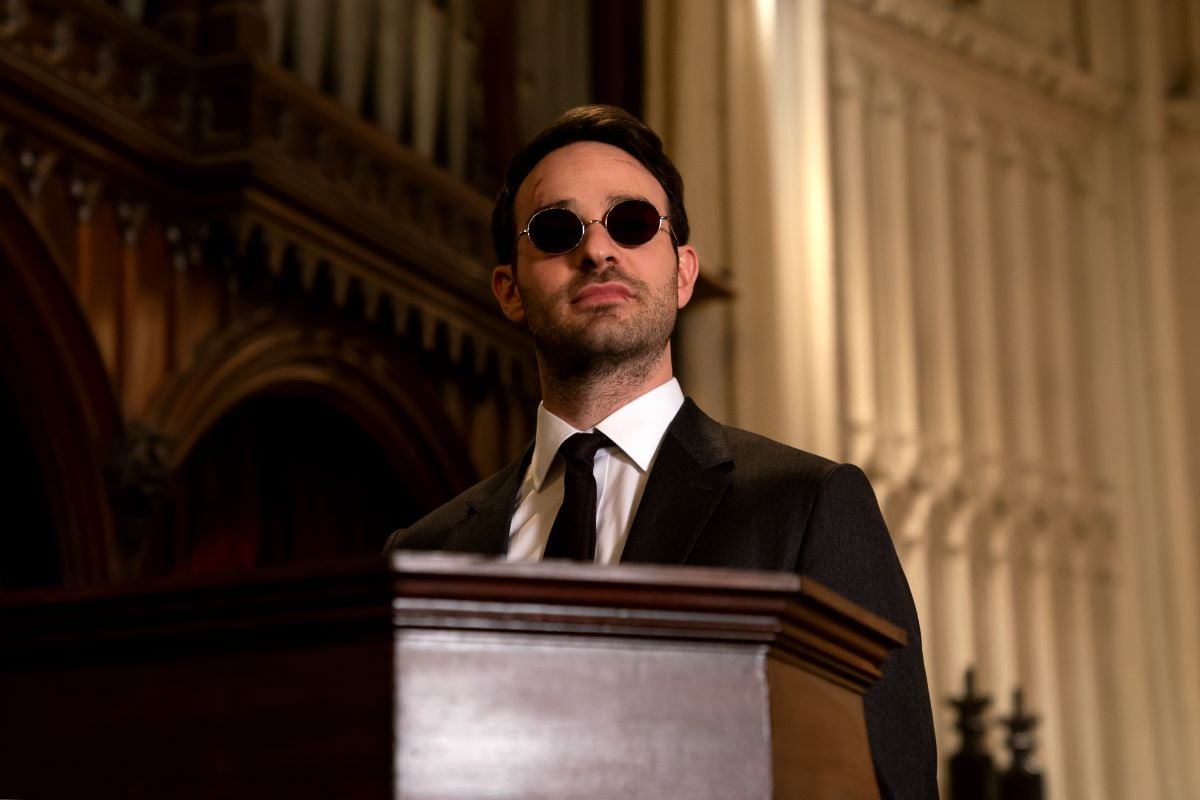 After 'Daredevil,' Charlie Cox didn't hear from Marvel for a while
When Daredevil was nixed at Netflix in 2018, Cox waited to hear something from Marvel for months. He was sure his time portraying the Hell's Kitchen superhero was over. But when Marvel Studios boss Kevin Feige finally reached out, the actor presumed it was a joke. 
"It was a pretty surreal moment, I'm not going to lie," Cox told The Hollywood Reporter. "Bear in mind that it's been a few years. And I was pretty convinced it was over."
"Kevin said, 'We've got some ideas, but I wanted to make sure that you, in principle, are interested," he recalled. "And I was like, 'I'm very interested.' And then I didn't hear from anyone for two months. And I got to the point where I wondered if I dreamt it."
When Cox did hear back, it was about his brief cameo in Tom Holland's third franchise film, Spider-Man: No Way Home. And when the actor got on set, he said he eased back into the role of Matt Murdock with just a few nerves. 
"I played the character almost every day for four years," Cox said. "I feel like his essence is deep within me now, I didn't worry too much about it, but I was still pretty nervous on the day, which I haven't been for a while."
Charlie Cox was admittedly embarrassed about the Daredevil cameo in 'Spider-Man: No Way Home' early on
In Cox's Spider-Man: No Way Home scene, Holland's Peter Parker, Marisa Tomei's Aunt May, and Jon Favreau's Happy Hogan sit in May's apartment discussing legal issues. Then after a moment, the camera pans to Cox's Matt Murdock, sitting in a chair in front of them, donning his signature round, red-tinted glasses. 
Cox said when he was filming the scene, director Jon Watts added a brief pause between dialogue to ramp up the audience's reaction. But worried his comeback may not elicit such a big response, he admitted he felt a little embarrassed. 
"Jon said, 'I have built in this moment where we reveal you, and no one speaks for a few beats because the audience will have a big reaction," Cox said in his chat with The Hollywood Reporter. "I was a bit embarrassed, like, 'Are you sure?' I was going with the flow, but thinking, 'I hope it's not a letdown.'"
But when the film was released, fans went wild over Cox's appearance. And after talking to friends, he was relieved the scene worked out. 
"I got a lot of texts from friends who were at the premiere or saw it opening weekend, who told me there was a cool vocal reaction when that scene came on," the actor revealed. "It's a strange feeling, but I am so grateful."
The star wants to do more MCU crossovers 
Fans would love to see Cox and his Daredevil co-star return for another exclusive series. But until that comes to fruition, Cox hopes to see his superhero crossover into other MCU projects. 
"The one thing that being in the MCU allows that we couldn't really do with the Netflix stuff, is that I can now interact with other MCU characters," he told Supernova. "Crossovers is the thing I would like to do next — there are some really interesting stories there that I'd love for the character to explore."