'Dark Winds' Series Premiere Preview: Release Date, Plot, Where to Watch, And More
A new AMC series is set to premiere this weekend. Dark Winds is a psychological thriller following two Navajo police officers in the 1970s Southwest. The show is based on a book series by Tony Hillerman titled Leaphorn and Chee and features an impressive cast and creative team. Here's everything you need to know about the series premiere.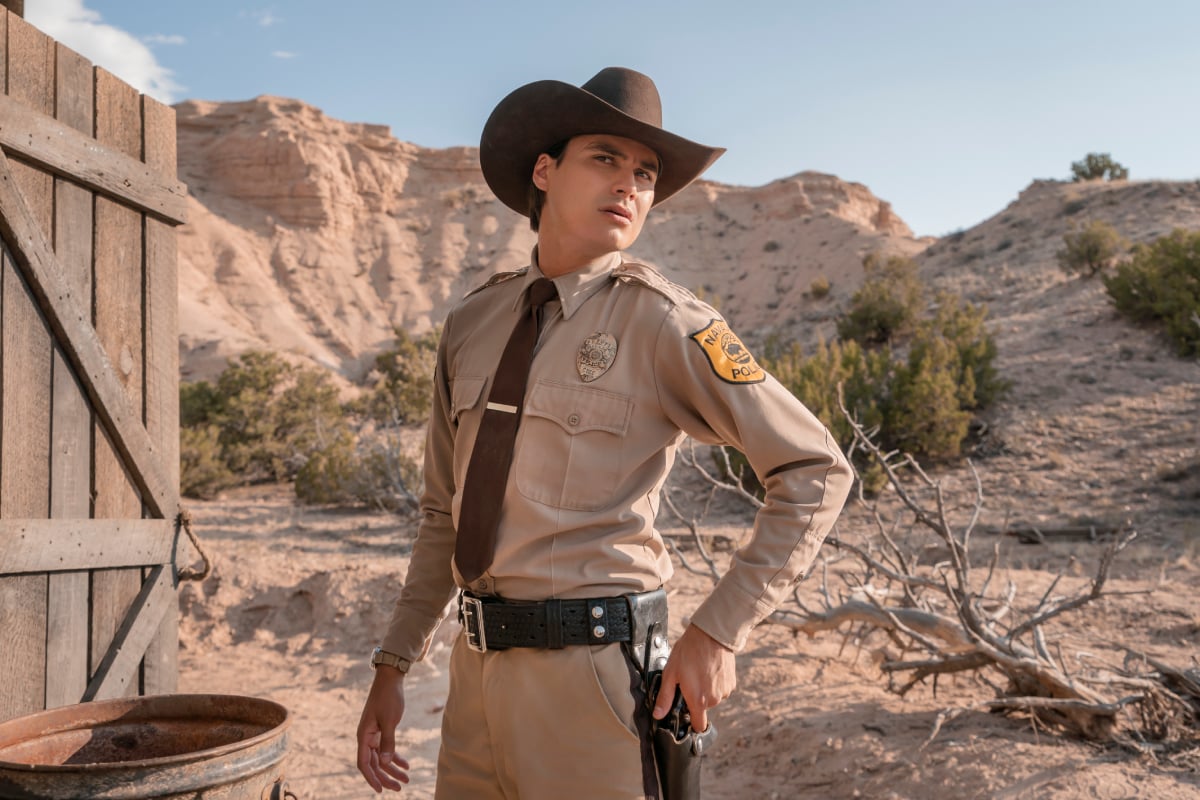 What is 'Dark Winds' about?
According to Rotten Tomatoes, Dark Winds takes place in a remote outpost of the Navajo nation, close to Monument Valley which lies on the Arizona/Utah border. Lieutenant Joe Leaphorn of the Tribal Police investigates a series of bizarre deaths. Deputy Jim Chee soon arrives and joins Leaphorn in the investigation. The new show is based on the Leaphorn and Chee book series by Tony Hillerman. The writer published the first book in the series in 1970.
The Rolling Stone gave Dark Wind's first season a pretty favorable review. "On the whole, though, the experience of getting to traverse those desert highways, dusty hills, and other corners of this vast, beautiful, dangerous place — and to do it with these rich characters embodied by this excellent cast — makes this a terrific first season," the outlet wrote.
Meet the 'Dark Winds' cast and creative minds
Dark Winds stars Zahn McClarnon as Joe Leaphorn and Kiowa Gordon as Jim Chee. McClarnon is known for appearing in shows such as Longmire, The Son, and Fargo, while his co-star Gordon has had roles in Roswell, New Mexico and The Red Road.
Jessica Matten, Deanna Allison, and Elva Guerra are also included in the cast list. The Office star Rainn Wilson has a role in Dark Winds as well. His character Devoted Dan is a "pious missionary who relies on his divine faith to recruit followers to the gates of his used car lot, rather than the gates of heaven," writes Collider. "He is a degenerate and practitioner of every Biblical sin he condemns others for."
The series is developed by writer Graham Roland and mostly directed by Chris Eyre. According to The Rolling Stone, "both Roland and Eyre have indigenous roots." Roland is known for producing the series Jack Ryan, while Eyre directed the 1998 film Smoke Signals.
How to watch the 'Dark Winds' series premiere
Dark Winds premieres Sunday, June 12 at 9 p.m. ET on AMC. The first season will consist of six episodes in total, and new episodes will air every Sunday. This places the series finale on July 24 if there are no breaks in the schedule. The series will also be available for streaming for subscribers to AMC+.
The show's official press release states that AMC+ subscribers will also have advanced access to an additional episode each week, starting on June 19th. According to Decider, viewers can also use subscriptions such as fuboTV, Philo, Sling TV, DIRECTV STREAM, and YouTube TV to watch Dark Winds.
RELATED: 3 Gruesome Crime Drama's on Scale With AMC's 'Ragdoll'