Darren Criss Stars As a Songwriter In New Series 'Royalties': What Are His Best Musical TV Moments?
Add show creator to actor and musician Darren Criss' credits. Ahead of his Quibi series 'Royalties,' here's a look back at some of his TV musical moments.
Actor Darren Criss is known for his musical talents. He broke out with Glee, and since then, has continued to work in the entertainment industry. He is best known for his work on the small screen and has even taken on an executive producer role with frequent collaborator Ryan Murphy's new Netflix show, Hollywood.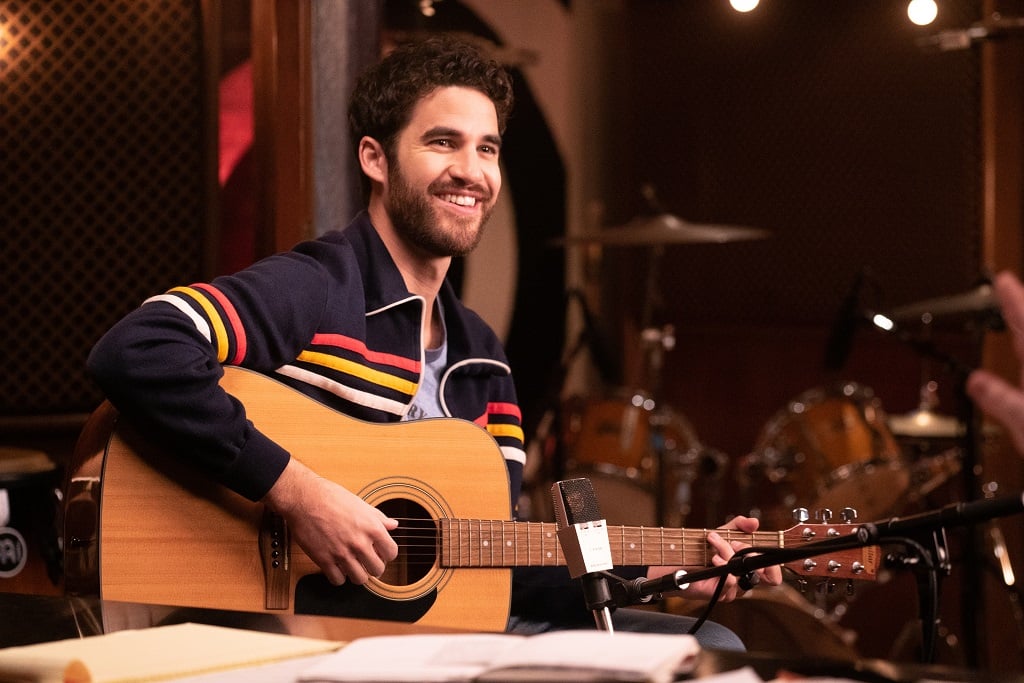 Now, Criss has a show of his very own. He is the co-creator of Royalties, a Quibi series premiering on June 1, 2020. Criss also stars as a songwriter, Pierce. Naturally, Criss himself wrote all of the songs for the show, as well as co-writing the bite-sized episodes. In preparation, here's a look at some of his best musical moments from other series.
'Teenage Dream' in Glee
Criss first became a household name for his role as Blaine Anderson in the musical dramedy Glee. He began recurring on the series with Season 2 and was later upgraded to the main cast for the remainder of the series. During this time, he put on countless notable performances, but none ever topped his very first.
Kurt Hummel (Chris Colfer) meets Blaine while touring the Dalton Academy. Blaine is the leader of the Warblers, the school's choir group, and they begin to serenade Kurt with a rendition of Katy Perry's "Teenage Dream." The Glee cover was the fastest-selling single in the show's history.
'Opening Doors' in Six by Sondheim
When he isn't scoring leading roles in Murphy series, Criss spends a lot of time focusing on music, especially when it comes to his theater roots. As a child, his second foray into musicals was in a production of Do I Hear a Waltz?, the lyrics of which were written by Stephen Sondheim.
Criss must have felt a strong connection to the songwriter, as he was one of many high-profile performers who participated in the HBO documentary Six by Sondheim. Along with America Ferrera and several other actors (including Jeremy Jordan, who was in "Duets") sing "Opening Doors" from the musical Merrily We Roll Along.
'Put a Little Love in Your Heart' in The Flash
Following Glee, two of the show's cast members went off to join the DC TV universe on the CW. Grant Gustin, who played fellow Warbler Sebastian Smythe, stars in The Flash as the titular superhero. Years later, Melissa Benoist (late Glee addition Marley Rose) was cast as the lead in Supergirl.
With all this talent, there was a perfect opportunity for Criss to make a guest appearance in the crossover musical episode, "Duet." He played the Music Meister, a sort-of villain who manipulates people through music. Criss was one of a few sings on a cover of "Put a Little Love in Your Heart."
'Whip It' in The Assassination of Gianni Versace: American Crime Story
After his guest spot in American Horror Story: Hotel, Criss and Murphy got back together for real with The Assassination of Gianni Versace: American Crime Story. The actor portrays serial killer Andrew Cunanan, who was responsible for the central murder.
Criss doesn't do much singing (aside from belting out "Gloria" while driving) in the show, but he does get to dance quite a bit. While the scene in which he dances in his underwear to "Easy Lover" may be more popular, this quintessential '80s flashback dance to "Whip It" is more fun.