'Dave' FX: Benny Blanco Was Sent the Sex Toy From 'Antsy'
Dave "Lil Dicky" Burd is a rapper, but he's also the star of the FX comedy series Dave. Burd's connections in the industry often guest star in the series, including Justin Bieber, Kourtney Kardashian, and producer Benny Blanco. Thanks to a recent episode of Dave, Blanco received an interesting package in the mail that's totally NSFW.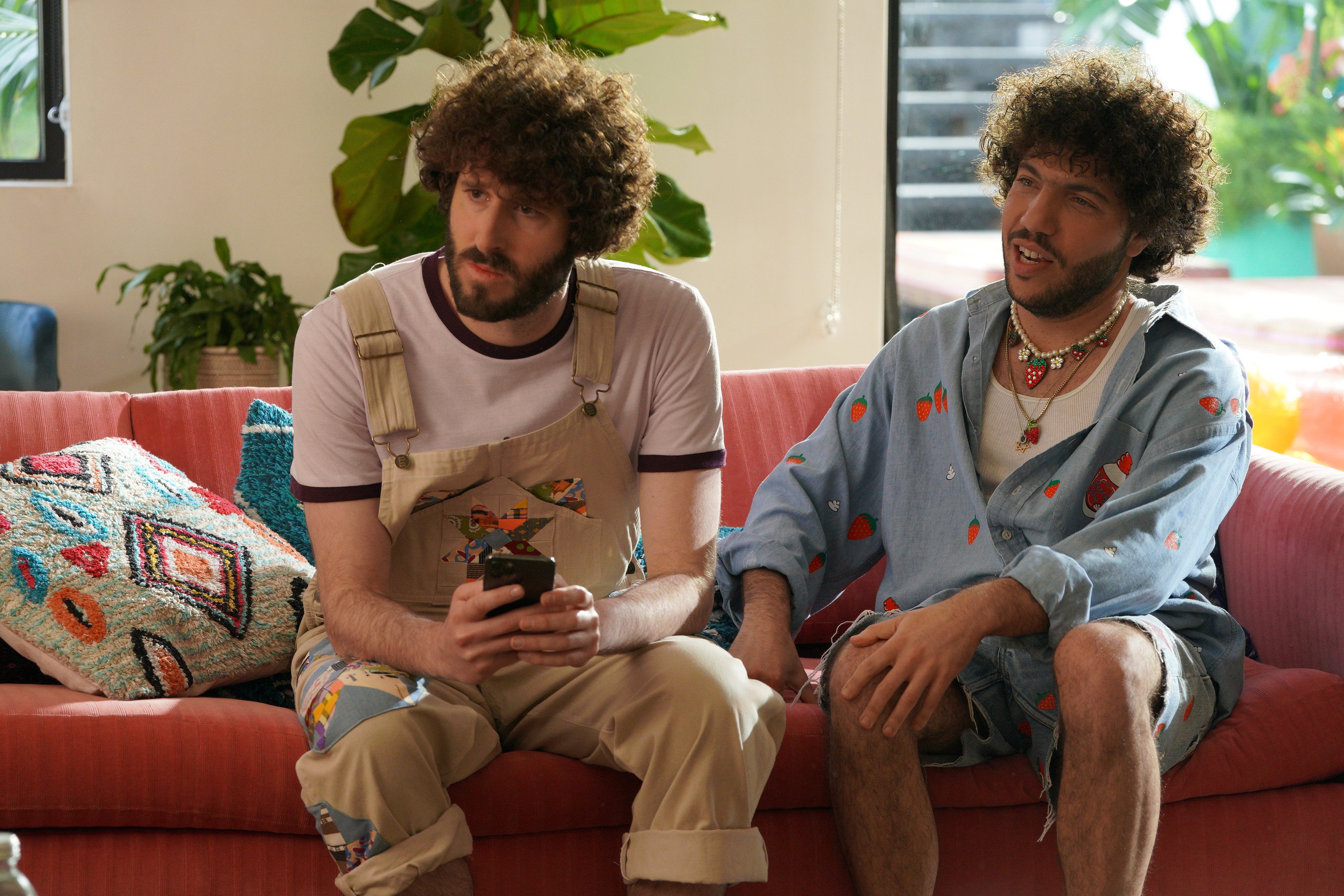 Benny Blanco stars in Lil Dicky's FX series 'Dave'
Blanco first appeared as himself in season 1 of the FX series. When the network renewed the show for a second season, many fans were hopeful about the producer's return.
So far in season 2, fans have seen Blanco and Lil Dicky's relationship strengthen. Struggling with writer's block, Dave will find any excuse to avoid working on his debut album. That includes hanging out with Blanco. 
RELATED: 'Dave': Lil Dicky's Birth Defect is 'Totally Real'
During the season 2 episode "Antsy," Burd spends the day poolside with Blanco and some of his impressive friends, including Keeping Up With the Kardashians star Kendall Jenner, Hailey Bieber, and Elsie Hewitt. They talk about Dave's lacking sex life, which leads Blanco to explain Dave's latest sex toy — the Autoblow.
"It's like a box with a motor in it," Blanco says in the episode. Dave claims he has "borderline reinvented masturbation" while using the device.
Later in "The Observer" episode of season 2, Blanco and Burd take their "bromance" to the next level. Without getting too graphic, it involves a lot of frolicking in the nude and discovering hemorrhoids. 
'Dave' FX season 2 leads inventor to send Benny Blanco the Autoblow sex toy
After "Antsy" aired, Blanco received the oral sex-simulating device highlighted in the episode in the mail. "On the show, I talked about this thing called an Autoblow," Blanco explains in a TikTok post. "The actual inventor wanted to send me some." 
According to Business Insider, Brian Sloan quit his job as a lawyer to start a sex toy business that generated over $1 million in 2014. "I used to go to garage sales at 6 AM on the weekends and make as much or more money than I was making in the firm," Sloan explained to the outlet.
"At that point it really became clear that if what I wanted was more money and a fun lifestyle — working as a lawyer would offer a poor return on my time investment," he continued. Now, Sloan is sending his product to Blanco. 
In the video, Blanco turns the device on for his TikTok followers to see. "How the hell do you stop this thing?" he laughs at the end of the post. 
'Dave' FX show streaming now
In the first season of Dave, fans learned of his desire to become successful as the rapper Lil Dicky. But when Dave's relationships start to suffer, his selfish ways take over. 
By season 2, Dave must acknowledge his narcissism and ultimately try to come to terms with it. "What we really wanted to explore in this season was pressure and success, and how a little bit of success breeds a lot of pressure," co-creator Jeff Schaffer tells The Hollywood Reporter.
"This moment where Dave is feeling the utmost pressure he's ever felt in his life because he's expected to create a full album, and all of his people aren't just there for him," Schaffer adds. Tune in to season 2 of Dave to see how things play out for Lil Dicky. Stream new episodes every Wednesday at 10 PM EST on FX and find new episodes the next day on Hulu.