'Dave' FXX Is Proof Dave 'Lil Dicky' Burd and GaTa Have a Raw, Authentic Friendship
Dave "Lil Dicky" Burd plays a version of himself in the FXX show Dave. Many of the characters and relationships, in the comedy series are rooted in truth. That includes Burd's friendship with hype man GaTa. For Dave fans wondering how much of Lil Dicky's friendship with GaTa is real, we're here to tell you it's 100%.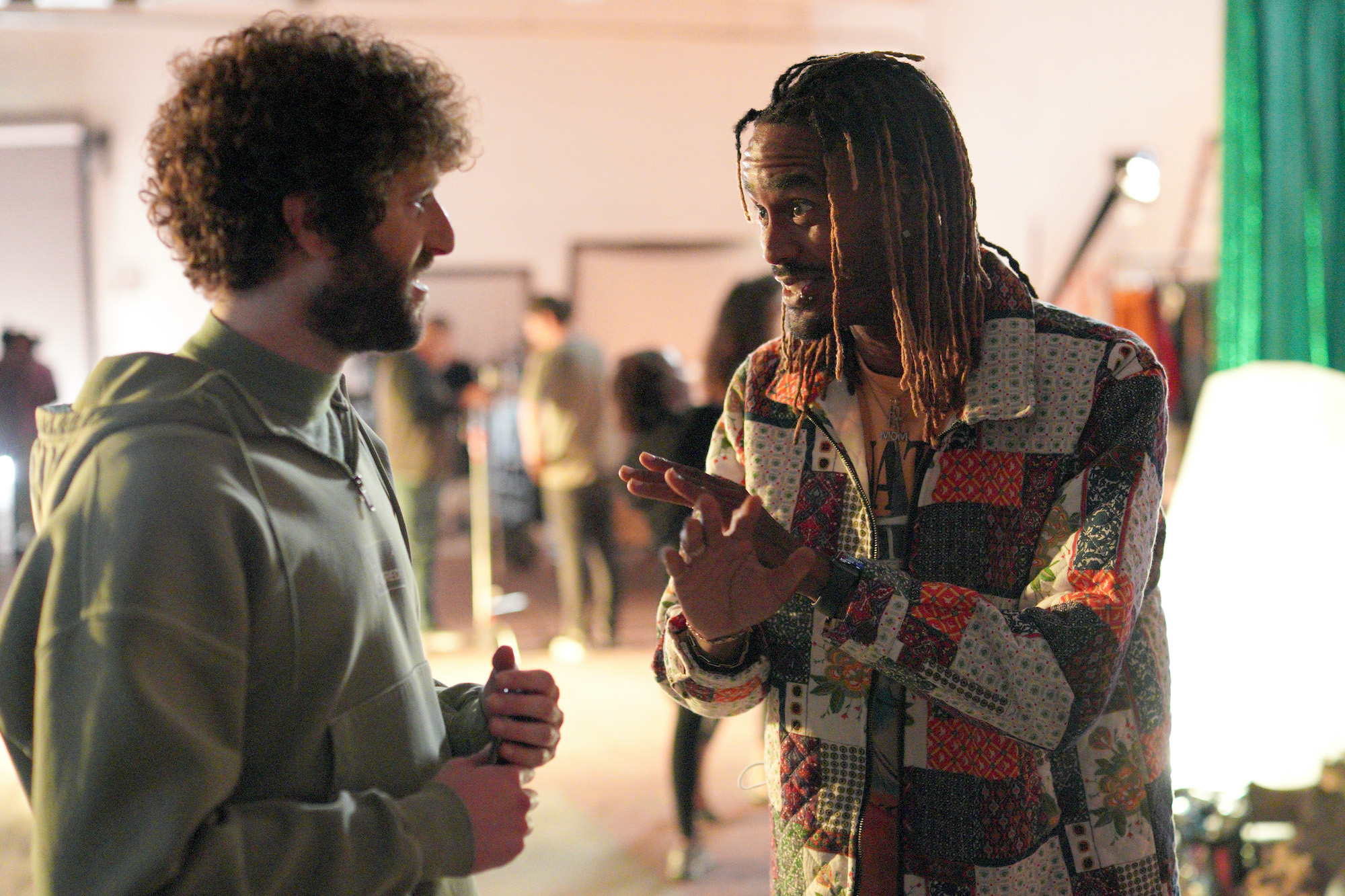 'Dave' Season 2 is about 'Lil Dicky's interpersonal relationships 
In the first season of Dave, fans learn of Dave's desire to be the best rapper of all time. By the season 1 finale, we see his relationship with his girlfriend Ally (Taylor Misiak) fall apart. When season 2 picks up, it's evident Dave's career has started taking its toll on the other relationships he has. 
 "What we really wanted to explore in this season was pressure and success," Dave co-creator Jeff Schaffer told The Hollywood Reporter in an interview. "And how a little bit of success breeds a lot of pressure."
As Dave climbs the ladder of success, his relationships with Mike (Andrew Santino), Elz (Travis "Taco" Bennett), and Emma (Christine Ko) start to dwindle. But one thing remains a constant for Dave — GaTa's support. 
GaTa and Lil Dicky are friends IRL 
Davionte "GaTa" Ganter has been Lil Dicky's hype man since 2013. "I didn't create GaTa," Burd told Deadline. "A lot of other characters are just characters, [but] GaTa is an actual guy. He's actually one of my best friends." 
Dave is a show that's "loosely" based on Burd's life, but it has also become GaTa's story, too. "He's been gracious enough to allow me to tell his story," Burd added. GaTa is bipolar — a diagnosis he and Burd masterfully touch upon in the FXX series. 
"I really wanted to make him proud," Burd explained. "Because I love GaTa — everyone loves GaTa. He's the most lovely man in the world." 
'Dave' Season 2, Episode 10 is a first for 'Lil Dicky' and GaTa 
Even as Dave continued ignoring the needs of those around him, GaTa remains a source of positivity for the rapper in season 2. That is until GaTa couldn't take Dave's narcissism anymore. 
"I always knew we had a lot of inner character struggles this season," Burd told Deadline. "But you've never seen it from me and GaTa. It's like me and GaTa are always an unbreakable duo. I knew I wanted to save that tension and drama for the end."
'Dave' Season 2 finale captures Lil Dicky's friendship with GaTa growing stronger 
GaTa's desire to be a successful rapper came secondary to anything Dave did in season 2. But that's because the show tells the story from Burd's perspective — one in which GaTa's aspirations aren't important.
"Even if you think that you came up destined to be a great entertainer, that doesn't excuse you from minimizing someone else's dreams," Burd added in his interview. "[The finale] had a lot of conflict between me and GaTa, but at the end of the day, we're on the same team and GaTa is Dave, too." 
He means that literally and figuratively. GaTa's family refers to him as "Dave," and he's also a rapper like Lil Dicky. 
Burd calls the season 2 finale "GaTa's hero story." For him, ending the season by making GaTa the star of Lil Dicky's VMA performance — which was otherwise solely about him — demonstrates the ultimate character growth. 
"Both my character and GaTa's character, the whole season, [have felt like] there's all this clutter for both of us to just independently reach our own goals," Burd concludes. "I think the finale is about us cutting through the clutter and getting back to the root of why we love each other in the first place, and that's our relationships and our friendships."