Dave Grohl Said the First Rock Song He Ever Heard Was The Beatles' 'Hey Jude'
Dave Grohl has had a deep relationship with The Beatles for most of his life. The first rock song he ever heard was The Beatles' "Hey Jude." After it blew his mind, he stayed awake all night with it stuck in his head. Now his daughters have had a similar experience with the band Grohl loves so much.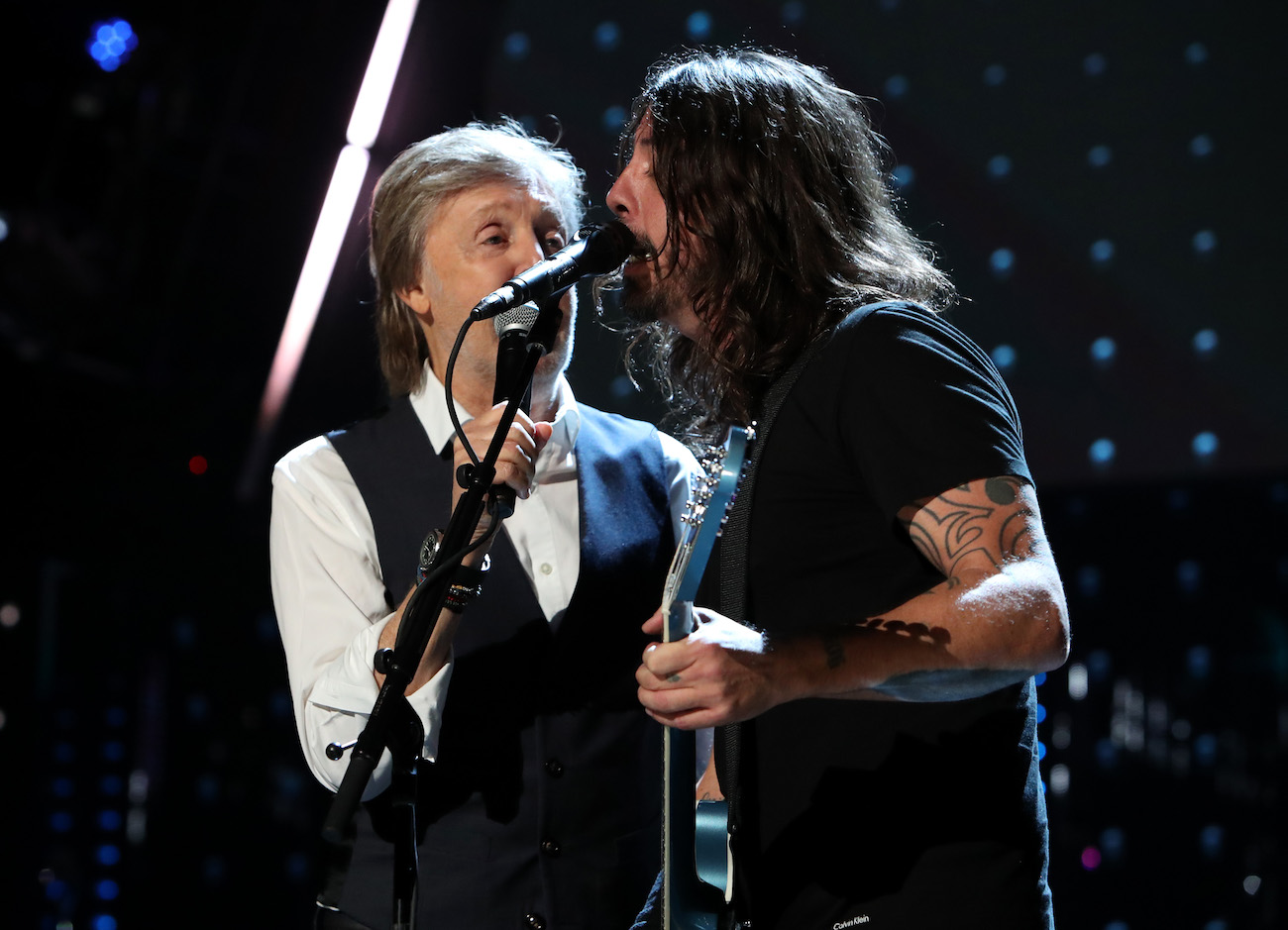 Dave Grohl said the first rock song he ever listened to was The Beatles' 'Hey Jude'
The Foo Fighters frontman played some of his favorite Beatles songs on the BBC's Radio 2 Beatles. He played "Hey Bulldog," "I Want You (She's So Heavy)," "All My Loving," "Eight Days A Week," "Blackbird," and more.
However, Grohl saved a specific Beatles song for the middle of his hour-long radio special. Grohl played "Hey Jude," possibly one of The Beatles' most popular hits because it was the first Beatles song and rock song he ever heard.
"I'd like to play the first Beatles song I ever heard, and it might be the first record I ever listened to," Grohl explained. "I remember having a sleepover at a friend's house when I was four or five years old and listening to 'Hey Jude.' I don't think I'd ever listened to a rock and roll record. This was my introduction and it's stuck with me ever since.
"I remember that night, laying in my sleeping bag and singing along to the na-na-nas at the end of the song. It was stuck in my head so much I couldn't sleep."
Grohl thought The Beatles sounded like a 'mini-army' when he first heard them
Hearing The Beatles was a profound experience for Grohl. That moment changed his life forever. Suddenly, he knew what he wanted to do with his life at a young age. Grohl wanted to be in a band. However, The Beatles weren't just a band; they were a team, or as Grohl said, a "mini-army."
"I think I really fell in love with the idea of being a musician when I heard the Beatles for the first time," Grohl told the Washington Post. "There was something about the four of them together as a group that I thought was cool – like they were a gang, or they were brothers, or they were a team or something.
"It wasn't just a person with an instrument, it was like this mini-army. When you're a kid growing up in the suburbs, playing soccer and playing in the creek with your friends and spray painting walls with your little neighborhood gang, being in a band seemed like something similar. All I wanted to do was be in a rock band with my best friends."
The Foo Fighters frontman fell in love with a Beatles song again thanks to his daughter Violet
Grohl's daughters fell in love with The Beatles early, just like him. Opening his special, Grohl played "Hey Bulldog," his daughter Violet's first favorite Beatles song. Because his daughter loved it so much, he heard it a lot, making him fall in love with it again.
"We open the show with a track I performed alongside ELO's Jeff Lynne at a Grammy celebration of The Beatles in 2014," Grohl introduced the song. "It was to mark the 50th anniversary of their first performance on 'The Ed Sullivan Show,' and although it wasn't one of The Beatles' greatest hits, to me, it's a quintessential Beatles rock 'n' roll song.
"To be honest, one of the reasons why I picked this song is because it was my daughter's first favorite Beatles song. When Violet was young, maybe six, seven years old, for some reason, she connected to 'Hey Bulldog' more than any other Beatles song.
"Of course, I'd heard it before, but I'd never listened to it as deeply as I did with her. I started to notice George's guitar; I started to notice the bass line, the drums. It's one of my favorite Beatle songs of all time now; thank you to my daughter Violet."
Now Grohl is family friends with The Beatles. He's come full circle.