Dave Grohl Said Taylor Hawkins Came Into His Life Like an 'F5 Tornado': 'We Are Absolutely Meant to Be'
Dave Grohl wrote about the first time he met Foo Fighters' drummer, Taylor Hawkins, in his memoir. He said Taylor came into his life like an F5 tornado.
When Dave Grohl met Taylor Hawkins, Grohl was still mourning the death of his Nirvana bandmate, Kurt Cobain, and Hawkins was drumming for Alanis Morissette. Before they'd even played music together, they knew they had a bond.
Both musicians felt heavily connected. So, when Grohl had an open drum seat in Foo Fighters, it was obvious who would fill it. It didn't matter if Hawkins was as good as Grohl.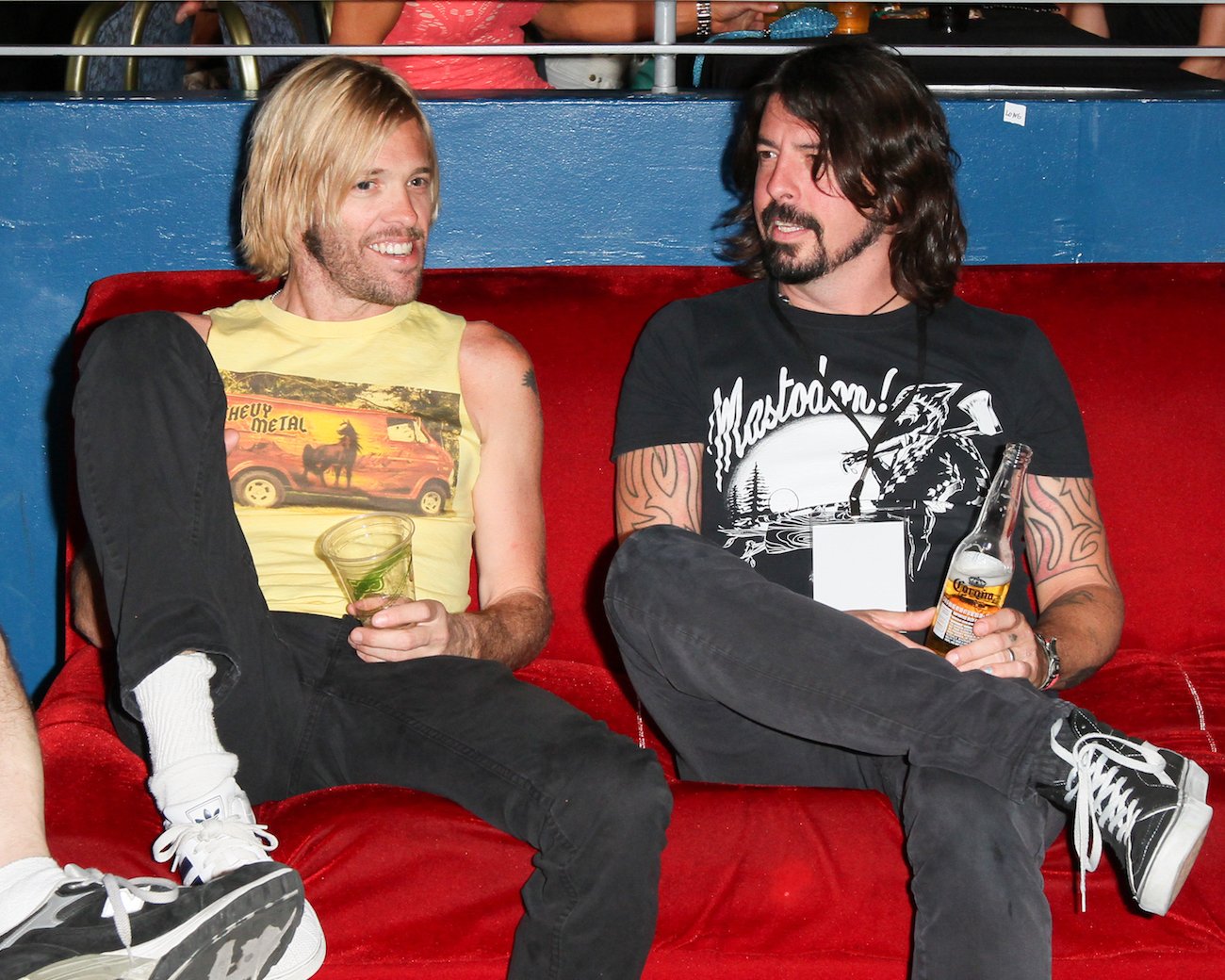 Dave Grohl said Taylor Hawkins came into his life like an F5 tornado
In his 2021 memoir, The Storyteller: Tales of Life and Music (per Loud Wire), Grohl explained he and Hawkins had a profound first meeting. It was almost as if they'd been twins separated at birth.
"Tearing through the room like an F5 tornado of hyperactive joy was Taylor Hawkins, my brother from another mother, my best friend, a man from whom I would take a bullet," Grohl wrote. "Upon first meeting, our bond was immediate, and we grew closer with every day, every song, every note that we played together.
"I am not afraid to say that our chance meeting was a kind of love at first sight, igniting a musical 'twin flame' that still burns to this day. Together, we have become an unstoppable duo, onstage and off, in pursuit of any and all adventure we can find. We are absolutely meant to be, and I am grateful that we found each other in this lifetime."
Grohl said in an interview last year, "I was like, 'Wow, you're either my twin or my spirit animal or my best friend.'"
Hawkins told NME he felt the same way. "Me and Dave just looked like long lost brothers in a weird way. We had a similar vibe and I don't know why."
Grohl did ask Hawkins to join Foo Fighters because he was the best drummer
Hawkins told NME that Grohl mostly asked him to join Foo Fighters (named after a term coined by World War II allies) because his drumming skills meshed well with Grohl.
"I wasn't picked because I'm the best drummer in the world, that's for sure," Hawkins said. "I was picked because my drumming somehow fitted in with Dave's edge. It's like when you watch The Strokes – the drummer is turned around weird, but when he's playing everything is rad as f*** and all the guitar players are rad in their own weird way.
"I like to think that we're one of those bands where those f***ed-up limitations make sense."
Grohl, meanwhile, thought it was more about their emotional connection. He cared less about Hawkins' drumming. Grohl said that "there's no such thing as a musical audition to join the Foo Fighters. It's a much more emotional, personal thing. You could be the best drummer in the world, but you'd never be in this band if you didn't fit.
"Everyone in this band fits for a reason. When I met Taylor, it took two-and-half minutes before we became best friends. It just happened. It's that way in life, whether it's a best friend, a lover or someone you know you'll carry for the rest of your life.
"When he joined the band, his drumming was the least important factor – I just thought I want to travel the world with this guy, I want to jump on stage and drink beers with this person. That was my biggest concern."
Unfortunately, the brothers from another mother won't be traveling or drinking beers together anymore.
Hawkins was found dead in a hotel room in Bogotá, Colombia
On Mar. 25, Foo Fighters shared a statement on their social media revealing Hawkins had died.
"The Foo Fighters family is devastated by the tragic and untimely loss of our beloved Taylor Hawkins," the band wrote. "His musical spirit and infectious laughter will live on with all of us forever. Our hearts go out to his wife, children and family, and we ask that their privacy be treated with the utmost respect in this unimaginably difficult time."
Hawkins had played with the band days before on the South America leg of their tour. He was found dead in his hotel room in Bogotá, Colombia. Colombian authorities have since released a preliminary toxicology report claiming that Hawkins had 10 substances in his body at the time of his death, including marijuana, opioids, and antidepressants.
When Hawkins slipped into a coma after a heroin overdose in 2001, Grohl contemplated leaving music behind. Let's hope he's not thinking that now.
How to get help: In the U.S., contact the Substance Abuse and Mental Health Services Administration helpline at 1-800-662-4357.