Dave Grohl Said Taylor Hawkins Demoted Himself by Joining Foo Fighters
Dave Grohl didn't think Taylor Hawkins wanted to join Foo Fighters in the late 1990s. He was drumming for Alanis Morissette, who was more popular than Foo Fighters.
Foo Fighters frontman Dave Grohl and drummer Taylor Hawkins knew they wanted to be friends immediately. They connected like long-lost brothers during their first meeting. Then, they kept bumping into each other on the touring circuit. It was as if fate was reminding them they'd be great bandmates.
However, they had no idea they'd make music together one day.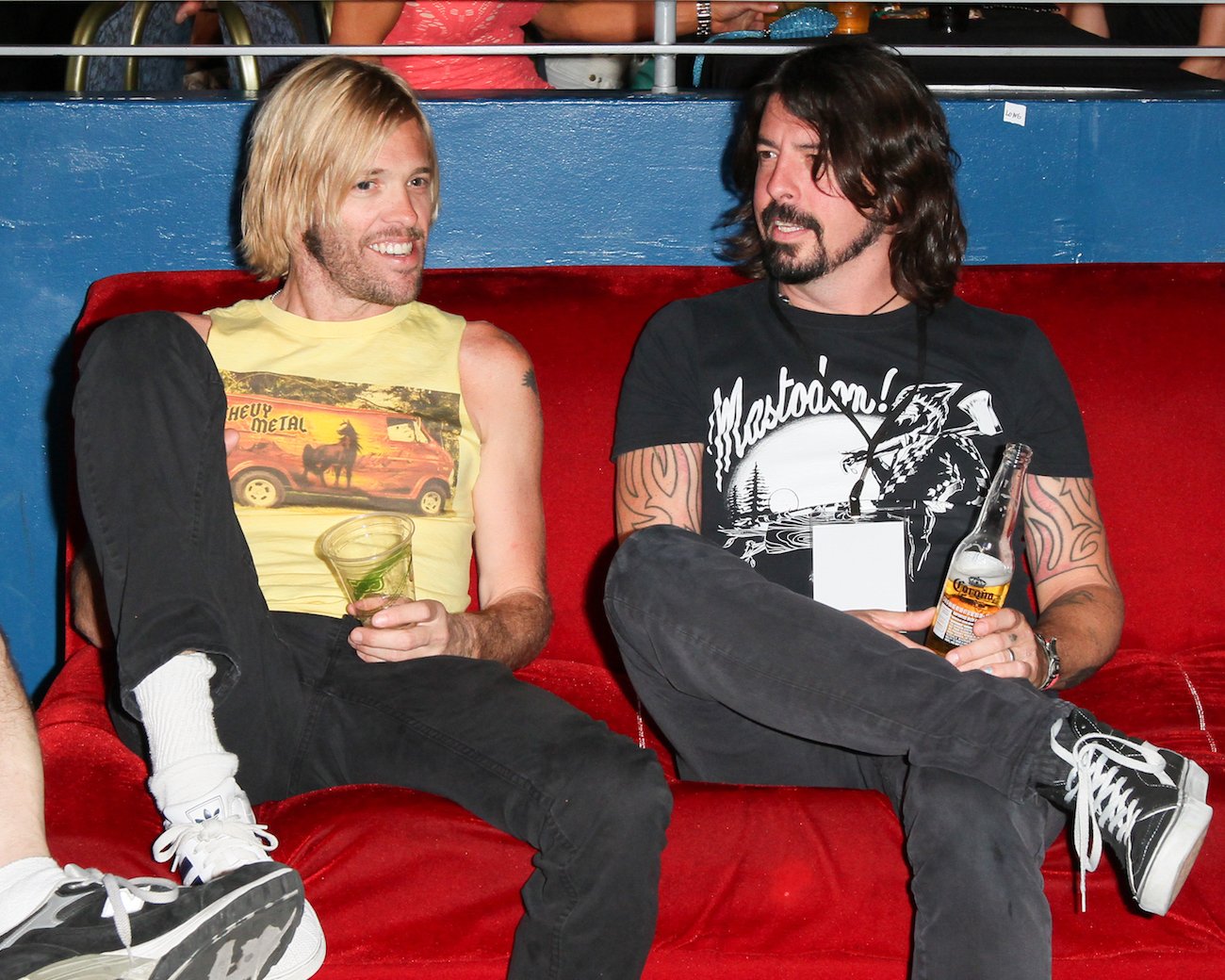 Dave Grohl and Taylor Hawkins connected during their first meeting
In 1995, Hawkins became Alanis Morissette's touring drummer for her 18-month Can't Not tour supporting Jagged Little Pill.
"It was so much fun," Hawkins told Kerrang. "That tour was very special, and I owe her a lot of gratitude. She gave me a lot of space to do what I wanted." It was a life-changing experience for Hawkins. Plus, touring with one of the most famous artists allowed Hawkins to cross paths with Grohl eventually.
When they met, the musicians felt a connection between them. So it was evident to Morissette that Hawkins would leave her to join Foo Fighters at some point.
"I'd met Dave at this [US radio station] K-Rock Christmas show because Foo Fighters were on their way up and Alanis Morrissette was through the f***ing stratosphere at that point," Hawkins told NME. "Me and Dave just looked like long lost brothers in a weird way. We had a similar vibe and I don't know why.
"And sure enough, when we met, we just thought, 'We're brothers from another mother!' It was instantaneous – so much so that Alanis Morrisette just said 'What are you going to do when Dave asks you to be the drummer in the Foo Fighters?'"
Grohl said Hawkins demoted himself by joining Foo Fighters
In 1997, Foo Fighters' drummer left. Hawkins heard the news on the radio. So, he called Grohl immediately.
"I didn't really ever think there was going to be an opening," Hawkins told Entertainment Weekly. "Never. Nor did I necessarily think I was the right drummer. But I did love the music so much. And at that time, I knew Alanis was probably thinking about going in a slightly less aggressive direction, especially the way we were playing live.
"I heard that the Foo Fighters' drummer had quit and they're looking, so I called a friend who knew Dave; this was before cell phones. I got ahold of his number and I said, 'Hey, I heard you guys are out of a drummer right now.' And Dave said, 'Yeah. Do you have any good recommendations?' And I was like, 'Well how about me you a******?' [Laughs]."
However, Hawkins' willingness to join surprised Grohl. Hawkins was Morissette's drummer. Why would he join Foo Fighters, who weren't nearly as famous as the singer?
"I thought he would never leave Alanis's band," Grohl added. "At the time, they were packing stadiums around the world. And what, he's going to jump in our red Dodge van and play the f***ing Viper Room again?"
Grohl told Radio X, "Taylor was playing with Alanis Morissette, who was selling out stadiums all over the world. I imagined that for him to play drums in the Foo Fighters would be considered a demotion. So they're playing stadiums all over the place, why the f*** would he want to join our band that was playing the Astoria on a Tuesday night? So that's why I asked if he knew anyone."
Hawkins wanted to be in a rock band with Grohl, his brother from another mother.
The drummer's audition lasted minutes
Hawkins told Radio X that he had the job before he sat at the drums to audition for Grohl. The frontman sent Hawkins Foo Fighters' latest album and went to see Hawkins play. It took Grohl minutes to realize it was pointless. He knew he wanted Hawkins in the band.
"He sat down and played for three seconds, and the first time he hit a snare drum, I knew it," Grohl told Entertainment Weekly. "I was like, 'That's all I need to f***ing hear. I love you as a person. You've just given me hearing damage for the rest of my life in three seconds. You have to be in the band.'"
Despite it being intimidating being the drummer for one of the best drummers of the 1990s, Hawkins knew he wanted to be in the band because of his connection with Grohl. It was also their connection that made Grohl want Hawkins in the band.
Grohl told NME, "There's no such thing as a musical audition to join the Foo Fighters. It's a much more emotional, personal thing. You could be the best drummer in the world, but you'd never be in this band if you didn't fit.
"When I met Taylor, it took two-and-half minutes before we became best friends. It just happened. It's that way in life, whether it's a best friend, a lover or someone you know you'll carry for the rest of your life.
"When he joined the band, his drumming was the least important factor – I just thought I want to travel the world with this guy, I want to jump on stage and drink beers with this person. That was my biggest concern."
Grohl initially doubted whether Hawkins wanted to join, but Hawkins proved him wrong. They both wanted to work with each other. Now, after Hawkins' death, Grohl is figuring out how to continue without his best friend.