Dave Grohl Said Watching David Bowie Perform for the First Time Was Like Seeing an Alien
David Bowie said watching David Bowie perform for the first time was like watching an alien. Bowie seemed like he was from outerspace.
Every time Dave Grohl has gotten the chance to meet his music idols or see them perform, it's felt as if he's experienced a supernatural event. When Grohl met Paul McCartney, he said it was like seeing Bigfoot or alien's coming down from space. However, Grohl got to see an alien perform when he saw David Bowie in concert for the first time.
Bowie was the man who fell to Earth. Grohl didn't know where he came from.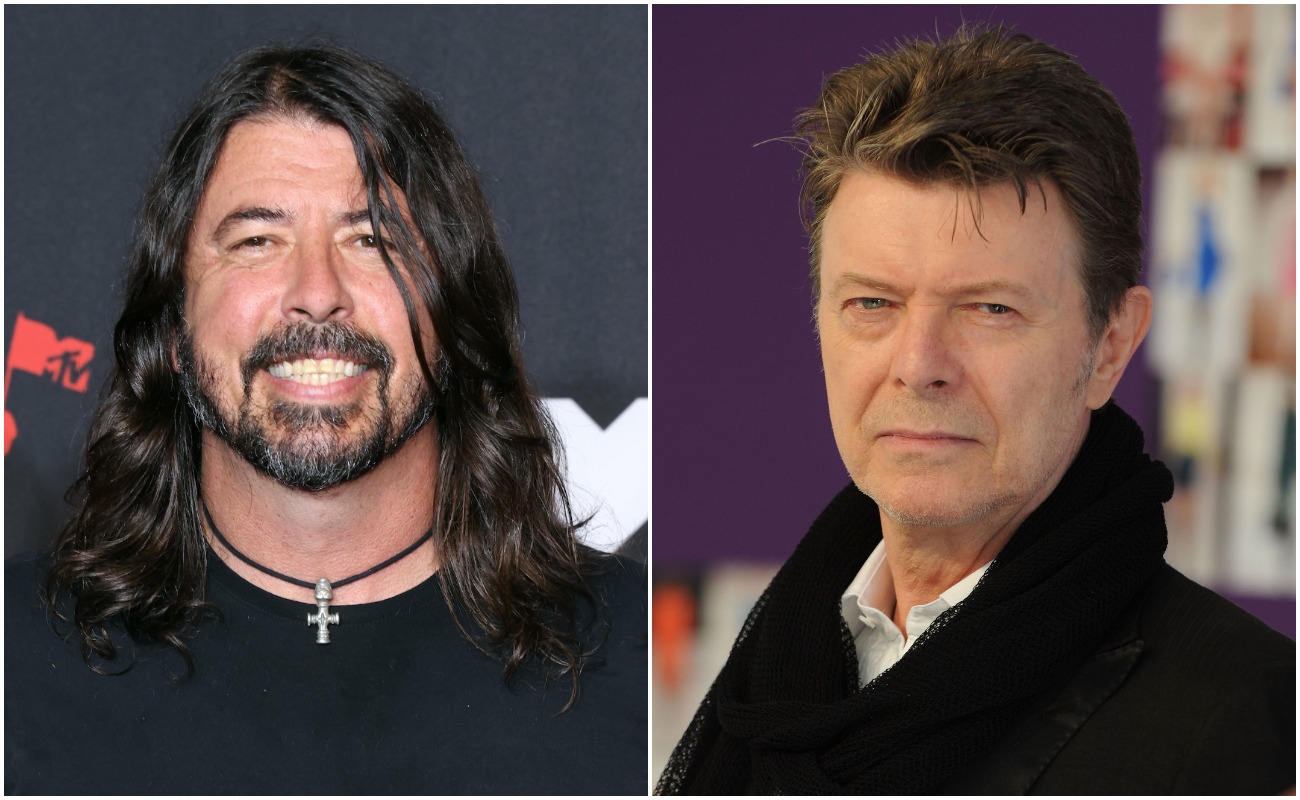 Dave Grohl grew up listening to David Bowie
Grohl has vivid memories as a kid listening to Bowie. He shared his history with the singer on his blog, Dave's True Stories.
"Like most red-blooded rock musicians, David Bowie provided an indelible addition to the soundtrack of my life from an early age," Grohl wrote.
"His first live album, 'David Live' was on regular rotation in my living room when I was a kid. His classic track 'Suffragette City' was quite a hit at the backyard parties I played with my nerdy high school band in the early 80's (I sang the 'Hey Man!' background vocals with the best pre-pubescent shriek I could possibly squeeze out of my skinny little neck).
"Come to think of it…I can still vividly remember the time I vomited Kung Pao chicken all over my sister's VW bug after drinking too much cheap beer at a high school party, while the sweet sounds of 'Space Oddity' crooned in the background. Ahhhh…..the memories."
Grohl's favorite Bowie record is one that hardcore Bowie fans tend to hate.
"The album that really stole my heart, and I know that I'll be drawn and quartered by hardcore Bowie fans for admitting this, was his 1983 masterpiece 'Let's Dance.' As much as I want to pretend to be in love with his deeper, darker Krautrock/Berlin phase, I really just want to do the Molly Ringwald dance to 'Modern Love' everyday for like, 8 hours a day."
Grohl said watching Bowie perform for the first time was like seeing an alien
The "Rope" singer got to see Bowie perform when they ended up on the same bill at a summer festival. Grohl said it was like watching something other-worldly.
"Years later, I noticed on our tour itinerary that Foo Fighters were to share a stage with Bowie at an outdoor European summer festival," Grohl wrote. "Ground control to Major Tom!!! LIFE MADE!!!
"Having never actually seen him in the flesh, I counted the days until I could physically reel in his presence, singing along to the songs that had inspired me so much over the years. Mind you, I still considered him to be almost more than human, practically alien.
"So when he walked (levitated?) onstage that night, I felt as if I were being visited by another life form. The kind of 'Starman' I searched the night sky for as a child, waiting for his gilded spacecraft to descend upon my front yard and take me away from my banal, suburban life.
"It was my first time witnessing Bowie's grace and power live, and provided me with a surprising revelation: It's not the volume, nor the lights, nor the number of instruments onstage that transforms a muddy festival into a field of magic. No. It's the human being onstage that fills the field with joy.
"With just the flick of his cigarette, David Bowie had 40,000 people under his spell, dangling their hearts by a string, transporting them into another, more enchanted reality. Myself included. I felt as if I were witnessing history, and I was changed forever."
Grohl explained the experience on the Australian Broadcasting Corporation's 7.30 program (per Billboard). "I stood in the photo pit and looked at him and it was like seeing an alien," Grohl recalled. "You know, it was like seeing a UFO for the first time, like, 'Oh, my God, it's real.'"
The Foo Fighters frontman got to perform with Bowie
Bowie also transported Grohl to another enchanted reality when they performed together at Bowie's 50th birthday party in 1997.
"Now, if there were ever anyone truly qualified to hold their own 50th birthday party at Madison Square Garden, it would be David Bowie," Grohl wrote.
"And what better way to celebrate such a momentous occasion than to invite Lou Reed, Robert Smith, Frank Black, Billy Corgan, Sonic Youth, and…….us???? (Crashing the party, anyone?).
"It was January 9th, 1997, and we were on a short holiday break from recording our second album, 'The Colour and The Shape' with producer Gil Norton. Arriving at rehearsals the day before, I had the incredible honor to meet David for the first time. I was pleasantly surprised (shocked?) to find that he wasn't an alien space being after all!!
"He was a kind, funny, strikingly handsome human specimen. For all of my nervousness and annoying social tics, I thought we got along quite well. And when we strapped on our instruments to perform 'Hallo Spaceboy' and '7 Years in Tibet,' we made one hell of a noise together.
"On the night of the show, I remember glancing over mid performance to see his iconic eyes as the crowd roared…and they were looking right into mine. Gives me chills, still to this day…"
Later, Grohl and Bowie recorded a song together. They also wound up having a hilarious email exchange for years. Like all of Grohl's other idols, you can hear Bowie's influence in Grohl's music. However, Bowie's music transcended the stars.