Dave Grohl Says This Foo Fighters Song Was Inspired by Kurt Cobain's Death
While Dave Grohl was still the drummer of Nirvana, he was stock-piling music for a potential solo career. It's a good thing he did because Nirvana's frontman, Kurt Cobain, suddenly died in 1994. Cobain left behind his bandmates, who were shocked and saddened by his death. But Grohl had a choice to continue. He started Foo Fighters, then a one-man band, but soon recruited Nirvana's touring guitarist Pat Smear, Nate Mendel, Chris Shiflett, Rami Jaffee, and Taylor Hawkins. When the band was together, they released their self-titled debut album in 1995.
Unfortunately, we had to lose Cobain and Nirvana for Foo Fighters to begin. However, Cobain influenced certain Foo Fighters songs, even if Grohl has denied it for years.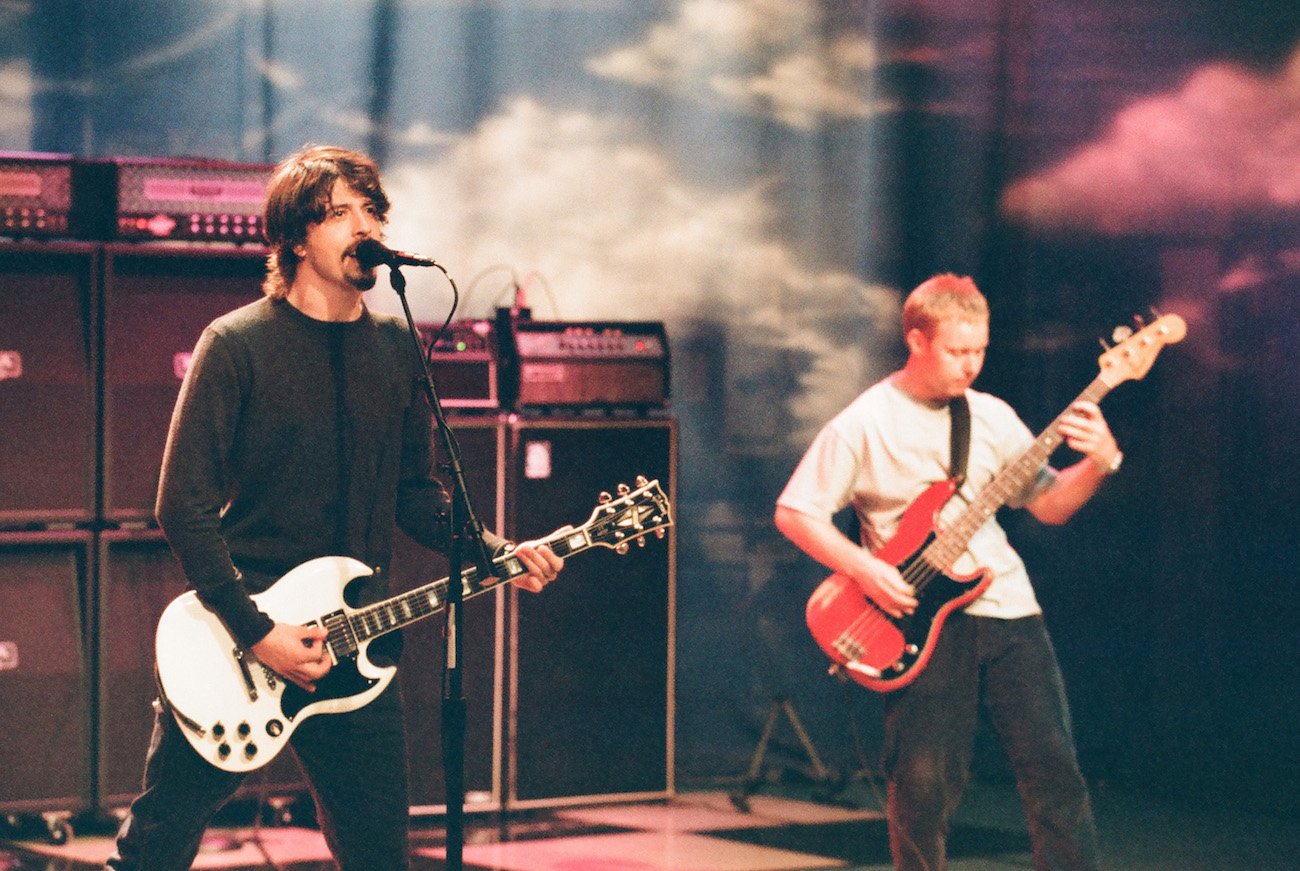 Dave Grohl hates talking about which Foo Fighters song is about Kurt Cobain
Grohl hates when journalists ask which Foo Fighters songs were written about Cobain. Grohl already hates talking about Cobain's death. Before that, there were tensions in the band concerning the frontman's drug use. So why would Grohl want to dredge up painful memories?
Many fans theorized which Foo Fighters songs were about Cobain. But many were under the impression that Grohl wrote Foo Fighters' 1997 hit, "My Hero," about him. That doesn't seem to be the case, though. Grohl said it's about the common man. However, Grohl has said that "Friend of a Friend" is about him. Grohl wrote the song about meeting Cobain for the first time. It appears on Foo Fighters' 2005 album, In Your Honor.
Now, Grohl has gone against his personal rule of not talking about Cobain's death. "Friend of a Friend" might have been inspired by Grohl's first reactions to Cobain. But Grohl has just revealed which Foo Fighters song was inspired by Cobain's death.
RELATED: The Foo Fighters Tie for No. 1 in Most Rock and Alternative Airplay With an Interesting Band
Dave Grohl wrote a Foo Fighters song about Kurt Cobain's death
For a recent Rolling Stone cover story, Grohl revealed which Foo Fighters song was written in response to Cobain's death. It's the band's 2011 song "Walk."
"It kind of comes from the day after Kurt died," Grohl explained. "Waking up that morning and realizing, 'Oh, s–t, he's not here anymore. I am. Like, I get to wake up and he doesn't. I'm making a cup of coffee. And he can't. I'm gonna turn on the radio. And he won't.' That was a big revelation to me."
The lyrics read: "Learning to walk again. I believe I've waited long enough. Where do I begin? Learning to talk again. Can't you see I've waited long enough? Where do I begin?" The lyrics show Grohl's internal struggle. Kurt was dead. Then, he had to start over.
"I think also in life, you get trapped in crisis, where you imagine there's no way out," he continued. "When really, if you dare to consider that crisis a blip on the radar, it's easier to push through. And, yeah, I was just like, 'I don't want anyone to have that feeling that I had that morning.'"
Smear said that he always looks at Grohl when he sings the line "I never want to die" because Cobain was, "I hate myself and I want to die." He said that's "the opposite-ness" of Grohl and Cobain. "I do so love being with life lovers." The song speaks for itself. Grohl doesn't want to die.
RELATED: Where Is Kurt Cobain Buried?
Dave Grohl still has live-performance anxiety dreams
Even though Grohl has spent most of his life on the road, he still has "live-performance anxiety dreams." He still dreams about his days on the road with Nirvana.
"I've always had these live-performance anxiety dreams," he continues to Rolling Stone. "They're usually Nirvana-related. Like, Kurt's still alive. And we're doing a show, and I'm so excited that people get to see this once again. And I walk onstage. My drumsticks are the size of telephone poles. Then the audience just kind of begins to scatter." In a little voice, Grohl says, "No, no, wait!"
It doesn't seem as if Grohl can escape Nirvana. After Cobain died, Grohl fled to Ireland for a bit only to see some kid wearing a Nirvana shirt. Then when his daughter Violet grew up and began playing music, she started to ask him about Cobain.
However, Grohl isn't angry about being asked about the legend anymore. He's come to terms with it all. "Walk" may have started out as a reaction song to Cobain's death. Now, the meaning has changed for Grohl, just like his reaction to mentions of Cobain has changed.
How to get help: In the U.S., call the National Suicide Prevention Lifeline at 1-800-273-8255. Or text HOME to 741-741 to speak with a trained crisis counselor at the free Crisis Text Line.