Why Dave Grohl and Taylor Hawkins Weren't Allowed Entry Into Pantera's Strip Club
Foo Fighters Dave Grohl and Taylor Hawkins once went on a road trip and decided to stop by Pantera's strip club, The Club House. The two bands made completely different music, but they were friends. However, when Grohl and Hawkins arrived at The Club House, they were embarrassingly barred from entry.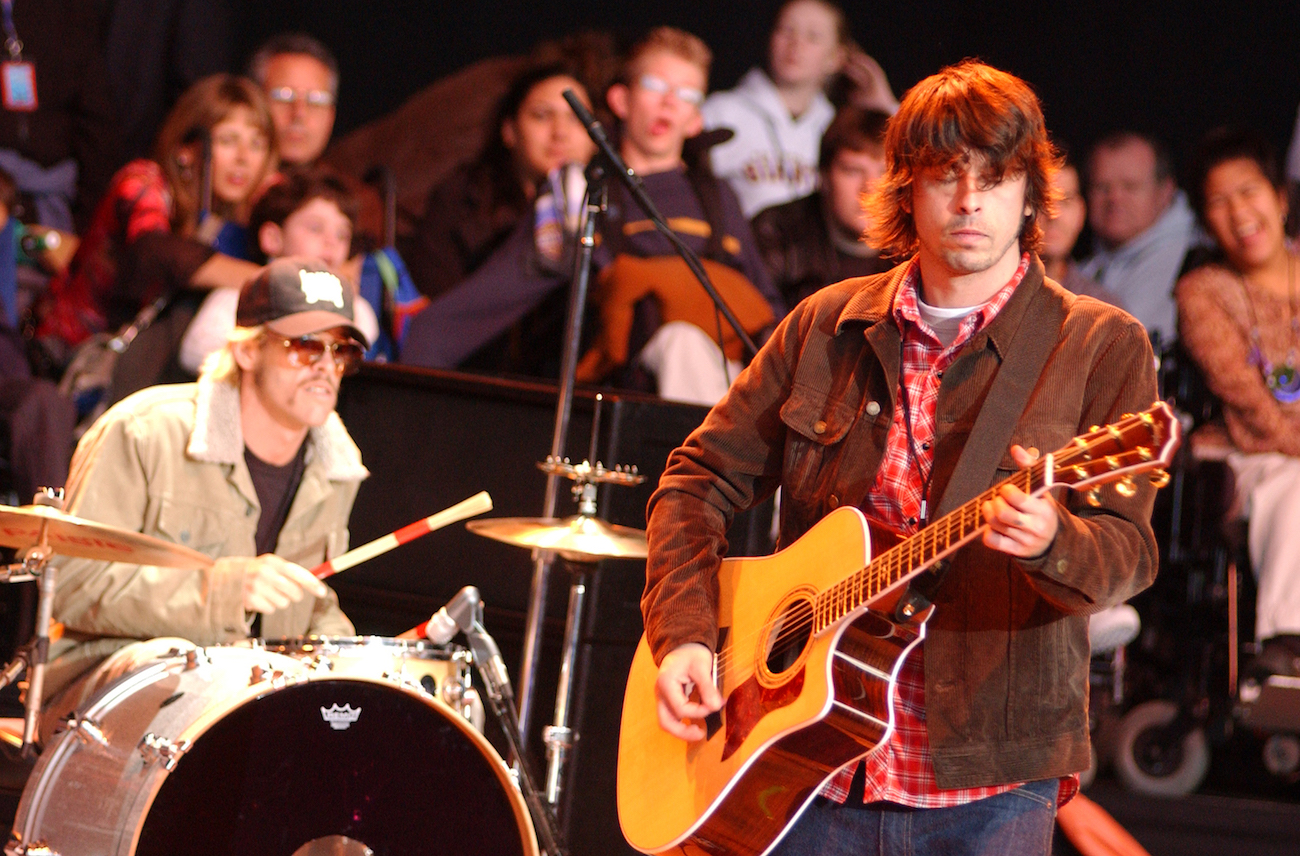 Dave Grohl and Taylor Hawkins became friends with Pantera after Foo Fighters played Ozzfest in 1998
In 1998, the promoters of Ozzfest asked Foo Fighters to replace Korn at the heavy metal festival. They were terrified because they knew the audience wouldn't like it, especially if they played after Pantera. However, they agreed. It wasn't as bad as they thought it was going to be. During their performance, Pantera sang along to their songs and showed their support.
That instantly made Grohl and the band feel "a bit less like Pee Wee Herman in the biker bar." The two bands then bonded backstage.
"Anyone who ever had the honor to hang out with Pantera knows that it was not for the faint of heart," Grohl wrote on his blog, Dave's True Stories. "First of all, there was never a band more welcoming, more hospitable, more down to earth than Pantera.
"It didn't matter who you were, what you did, where you were from, they would welcome you in, stuff a beer in your hand, a shot in your mouth, and make you laugh harder than you've ever laughed before… We got along like a house on fire."
Before Grohl, Hawkins, and the rest of Foo Fighters left, Pantera drummer Vinnie Paul gave them his business card. He also invited them to come to Pantera's Dallas strip club, The Club House, whenever they were next in town. "That takes the cake," Grohl wrote. "That's like me owning a Starbucks coffeeshop. Danger."
RELATED: Prince's Comments on Foo Fighters' 'Darling Nikki' Cover Were Misquoted, Claims His Ex-Assistant
Grohl and Hawkins planned to visit Pantera at their strip club, but security barred them from entry
Shortly after Ozzfest, Grohl and Hawkins planned a "dumb and dumber" road trip, moving Grohl back to Virginia, and wanted to stop by Pantera's strip club. Grohl told Triple M that they were routing their trip around where their friends lived and where the strip clubs were. The Club House ticked both boxes.
Both musicians were excited, but that all changed when they stopped for gas in Barstow, and Grohl forgot his wallet at the station.
"Windows down, speakers distorted from blasting classic rock at 90 mph, just two best friend/drummer guys racing down the highway without a care in the world," Grohl wrote. "I called and left our Texan friends excited messages from my Flavor Flav sized cell phone. Be ready, we're on our way."
Grohl realized he'd left his wallet in Barstow at a hotel in Phoenix. They continued on. However, Grohl and Hawkins' dreams were crushed when the security guard outside Pantera's strip club asked for I.D. at the door.
"All the blood rushed from my face," Grohl wrote. "Tears welled up in my eyes. I began to tremble with fear."
Grohl continued, "I stuttered the only words I could muster, 'B-b-b-b-b-b-Barstow…….I lost my wallet in Barstow, sir.' Silence. A long, pregnant pause that made the ice age seem like a Tik Tok video.
"Then, the words I most dreaded, more than the grim reaper himself, spilled from the doorman's sneer, 'Sorry, bud. Can't let you in without ID.' Taylor jumped in and pleaded, 'But, but, but……we're friends with Pantera!' The man looked up with his cold, dead eyes and growled, 'EVERYONE'S friends with Pantera. Sorry.'
"And…..that was that. 3 days, 1,400 miles and a dream, stomped out like a dirty old Parliament Light in the parking lot of an industrial complex outside of Dallas. No candy coating here, it f***ing crushed my soul."
RELATED: Taylor Hawkins on the Worst Foo Fighters Song: 'It Was a Total Cop Out'
The Foo Fighters frontman got his wallet back 10 years later
Grohl called his and Hawkins' attempt to get into Pantera's strip club an "epic fail." However, there's a silver lining in every bad situation; 10 years later, Grohl somehow got his wallet back.
He was shopping in a surf shop in California when the girl behind the counter asked if he was Dave Grohl. She asked if he lost a wallet in Barstow in 1998. "People of the internet, I could not make this s*** up," Grohl wrote.
The girl told the Foo Fighters frontman that her parents owned the gas station and still had his wallet. She took his information and mailed it to him.
Grohl concluded his story by saying, "It's a small world." He wrote, "I stopped trying to understand fate and destiny a long time ago, but dumb luck seems to be my specialty."
When Grohl got his wallet back, perfectly intact, he looked at his old license, his "key to the Clubhouse. Like a knife twisting in my back, I had to smile. This now made it all worthwhile." Grohl reflected on his friendship with Pantera and said everyone would have been friends with them, even if they couldn't get Grohl and Hawkins into The Club House.
RELATED: Dave Grohl Said Taylor Hawkins Demoted Himself by Joining Foo Fighters