Why Dave Grohl Turned Down Joining Tom Petty and the Heartbreakers After Nirvana
Dave Grohl turned down an invitation to join Tom Petty and the Heartbreakers after Kurt Cobain's death and Nirvana disbanded.
After Nirvana frontman Kurt Cobain died in 1994, Dave Grohl was at a crossroads. What do you do after your band, one of the most famous grunge bands of the 1990s, suddenly disbands? Grohl knew he wanted to stay in music. He just didn't know how he was going to pull it off. Then, Tom Petty approached him with a proposal few would've been able to turn down.
However, Grohl did.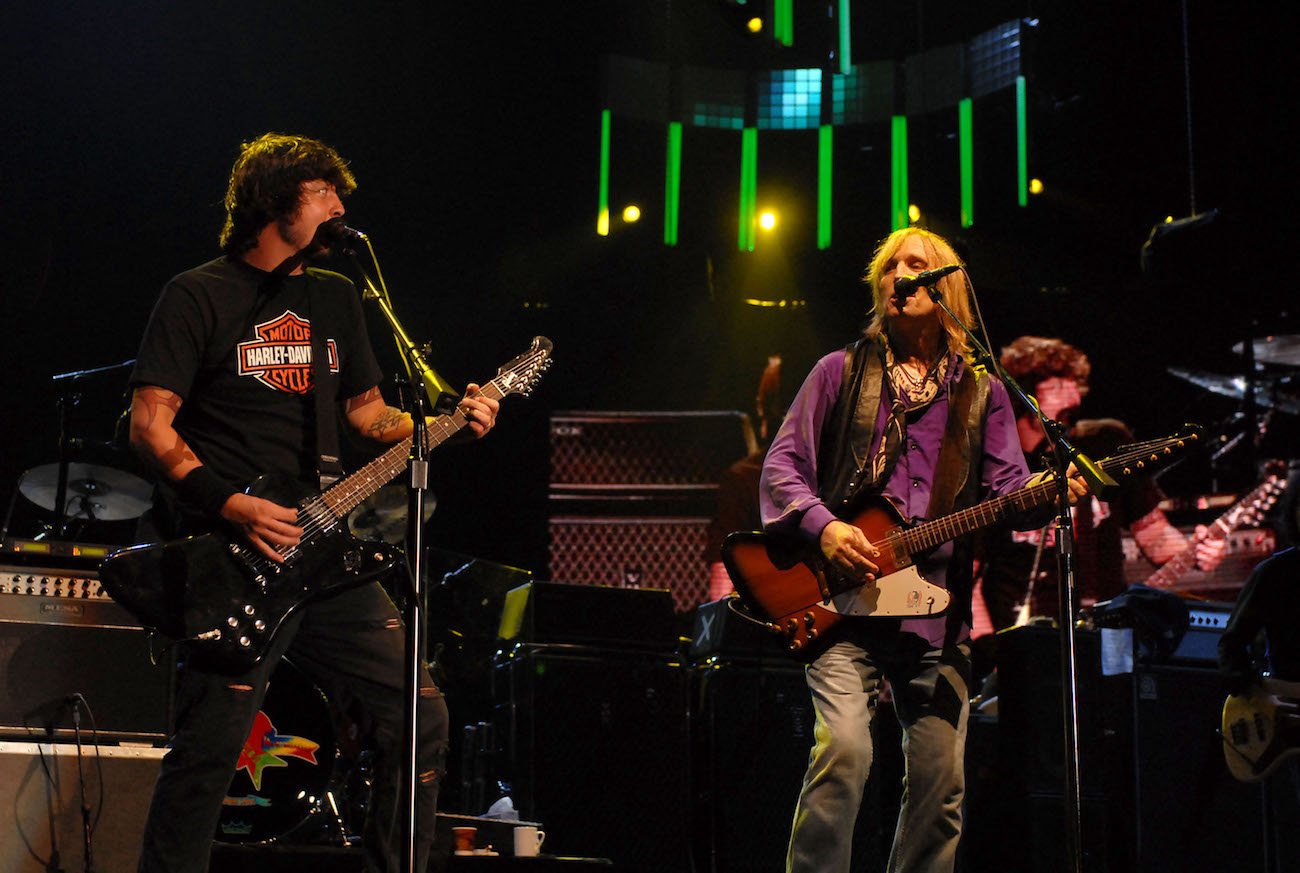 Dave Grohl played with Tom Petty and the Heartbreakers on 'SNL'
After Nirvana disbanded, Grohl got a call from Petty's management asking him to join Tom Petty and the Heartbreakers during their performance on Saturday Night Live. The Heartbreakers' drummer, Stan Lynch, had left, and they wanted to know if Grohl would jump on the drums.
In the documentary, Runnin' Down A Dream, Grohl said he was shocked by the call. He couldn't understand why they were calling him. "He couldn't find a good drummer?" Grohl said. Despite his shock, Grohl agreed.
"No question, I'll do it. It was the first time that I'd really looked forward to playing the drums since Nirvana had ended," Grohl added. "I was really excited to play both songs but mostly 'Honey Bee' because 'Honey Bee' is just such a rocker. It's like the kind of thing a bunch of 16-year-olds would play in the garage to get off; it's killer, a barnburner."
Grohl said he turned down joining Tom Petty and the Heartbreakers
After that performance on SNL, Grohl got the shock of his life. It was one thing to perform with Tom Petty and the Heartbreakers on one of the best comedy shows. However, it was another thing to be asked to join the band.
Grohl talked about Petty asking him to join the band during an appearance on The Howard Stern Show.
"I played 'SNL' with Tom Petty, and we had so much fun, and we all got along so well," Grohl said. "I was like, 'Yeah, wait, why me?' He could get like a world-class drummer, like any dude. But then I came down and jammed.
"He was very cool, very low key, down to earth. He was really really cool. We played SNL, and afterwards, he basically was like, 'Man that was good, and it'd be a shame if that's the only time we do it.'
"And then he called me at home, and he was like, 'If you want, here's how we do it. You get your own bus, and we don't tour too hard and blah, blah, blah.' He was explaining if you're into it, come out and let's do it for a little while.
"I had just started doing this thing, and I just felt weird going just going right back to the drums because it would have just reminded me of being in Nirvana.
"It just would've been sad for me personally. It would've been an emotional thing to be behind the drumset every night and not have Kurt [Cobain] there, so I was like, 'Nah, f*** it. I'm gonna try this other thing."
Foo Fighters began as a one-man band
Grohl couldn't even listen to music after Cobain's death because it broke his heart. He was in mourning and felt lost. It was a dark period. Grohl received many job offers, but he did what nobody expected. Instead of being a drummer for the rest of his life, Grohl entered the recording studio and recorded an album entirely by himself.
He played all the instruments but wanted to stay anonymous. He didn't want people to think a certain way after Cobain died.
In an interview with Clash, Grohl explained, "Around the time that I recorded the first FF tape (that became the first record), I was reading a lot of books on UFOs. Not only is it a fascinating subject, but there's a treasure trove of band names in those UFO books!
"So, since I had recorded the first record by myself, playing all the instruments, but I wanted people to think that it was a group, I figured that Foo Fighters (WW2 term for UFOs) might lead people to believe that it was more than just one guy. Silly, huh?"
In 2021, Grohl told Howard Stern, "I called it 'Foo Fighters' because I didn't really want everyone to know it was me. I thought maybe if I give someone a cassette, maybe they think it's a band, they'll be surprised when they find out it was just one person and that it was me. Coming out of Nirvana, I didn't want to, like, say, 'Hey, I got a solo project!' So I called it Foo Fighters."
Shortly after, Foo Fighters formed and became Grohl's second chance. He's even returned to the drum seat here and there.