'Dave': Lil Dicky Reveals His Favorite Celebrity Cameo From Season 1: 'It Was a We Made It Moment'
In the first season of Lil Dicky's hilarious yet endearing 30-minute FXX comedy, Dave, several known celebrities made cameos on the series. According to the creator and actor, getting them to appear on the show is a "complex maze" as their schedules don't always align.
Nonetheless, they were able to obtain countless rappers and celebrities, including YG, Justin Bieber, Kourtney Kardashian, and Trippie Redd. In a virtual Deadline panel, Lil Dicky revealed his favorite celebrity cameo from Season 1.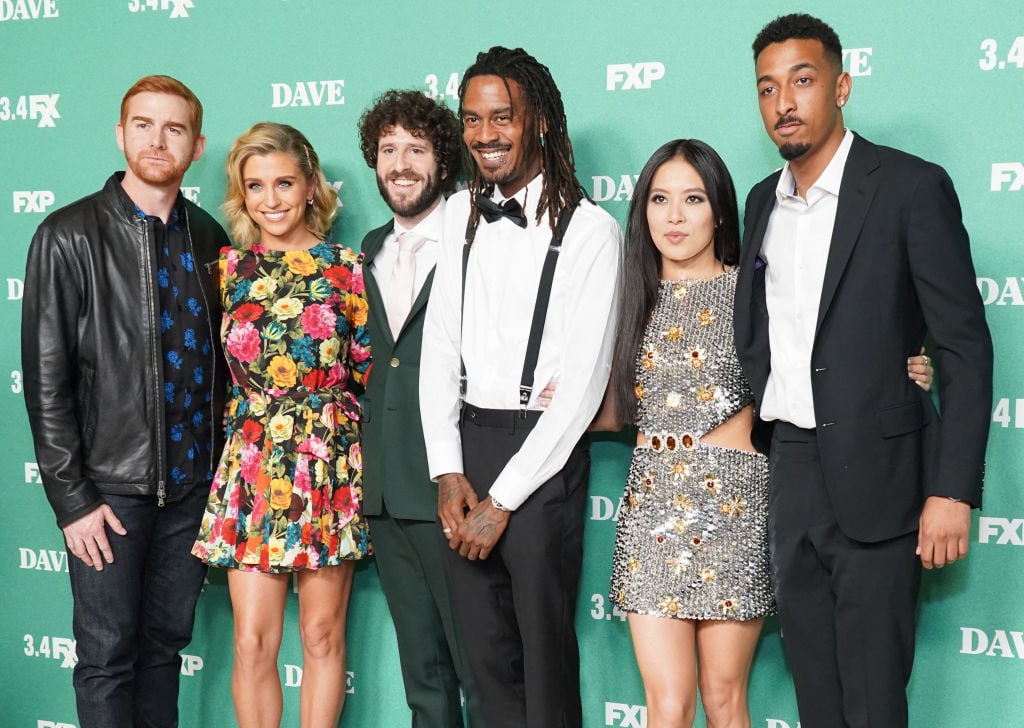 All the celebrity cameos on 'Dave'
The comedy series kicked off with Dave paying West Coast rapper YG for a feature on one of his songs. Even though they have yet to collaborate, the "Toot It and Boot It" rapper posted a video of Dave freestyling to his Instagram account. "Thrift Shop" artist Macklemore made a guest appearance in "Dave's First" when he crashed the upcoming rapper's first live performance.
In the fourth episode, Dave went to a party and met rappers Young Thug and Gunna while his engineer Elz introduced himself to "Topanga" artist, Trippie Redd. In the guest star-packed eighth episode, "P.I.B.E.," Dave met successful producer and songwriter Benny Blanco and famous singer, Justin Bieber.
RELATED: Why Kourtney Kardashian Did a Cameo On Lil Dicky's FXX Series 'Dave'
He then attended a house party at the "Yummy" singer's crib, where he had an interesting conversation with known reality personality, Kourtney Kardashian. His producer Elz later crashed the party by getting into a fight with electronic music producer, Marshmello.
In the finale, Dave freestyled on hip hop radio station The Breakfast Club, gaining the respect of critical host Charlamagne Tha God as well as Angela Yee. Rappers Pacman da Gunman and O.T. Genasis also appeared in "Hype Man," and gamer Ninja and sports commentator Rich Eisen participated in the Somebody Suck Challenge.
RELATED: Lil Dicky Says Kourtney Kardashian Is as 'Charming' in Real Life as She Appeared in the Show
Tierra Whack of "Mumbo Jumbo" fame also made an appearance at Elz's studio in "What Wood You Wear?"
Lil Dicky reveals his favorite celebrity cameo from 'Dave' Season 1
A couple of months after the season aired, Lil Dicky, co-creator Jeff Schaffer, executive producer and writer Saladin Patterson, as well as actors GaTa and Taylor Misiak, who portrays Ally, appeared on a Deadline panel to dish on everything about the series.
While Lil Dicky noted he "hates to pick favorites," he revealed Young Thug as his favorite celebrity cameo of Season 1. The comedian called himself a "huge fan" of the artist and had no idea the rapper knew of his existence before they met.
The 32-year-old also admitted he didn't believe his crew when they told him Young Thug would come to the set. Therefore, he was "so happy" when the "Stoner" rapper showed up.
RELATED: Lil Dicky's Dream Job Wasn't Becoming a Rapper
Young Thug also told Lil Dicky, "you're on your s**t now," which are words the self-professed fan noted he would never forget. The comedian and his hype man GaTa both considered it a "we made it moment" because both were huge fans of the eccentric rapper.
Lil Dicky also pointed out that Young Thug made his acting debut on their show, which made it a bigger deal for them. Viewers can expect to see more rappers and celebrities and the upcoming second season.