'Dave' Season 2 Episode 5: 'Bar Mitzvah' Brings Healing for Dave 'Lil Dicky' Burd and Gata
Fans have seen Dave "Lil Dicky" Burd decline deeper into his narcissistic tendencies so far in Dave Season 2. But in the episode "Bar Mitzvah," his relationship with childhood friend Elz (Travis "Taco" Bennett) reaches an all-time low. Yes, Lil Dicky is a rapper with a career based on jokes about his genitalia. But the FX series is an emotional, albeit comedic, look at Burd's life — particularly "Bar Mitzvah."
[SPOILER ALERT: Spoilers ahead for Dave Season 2 episode "Bar Mitzvah."]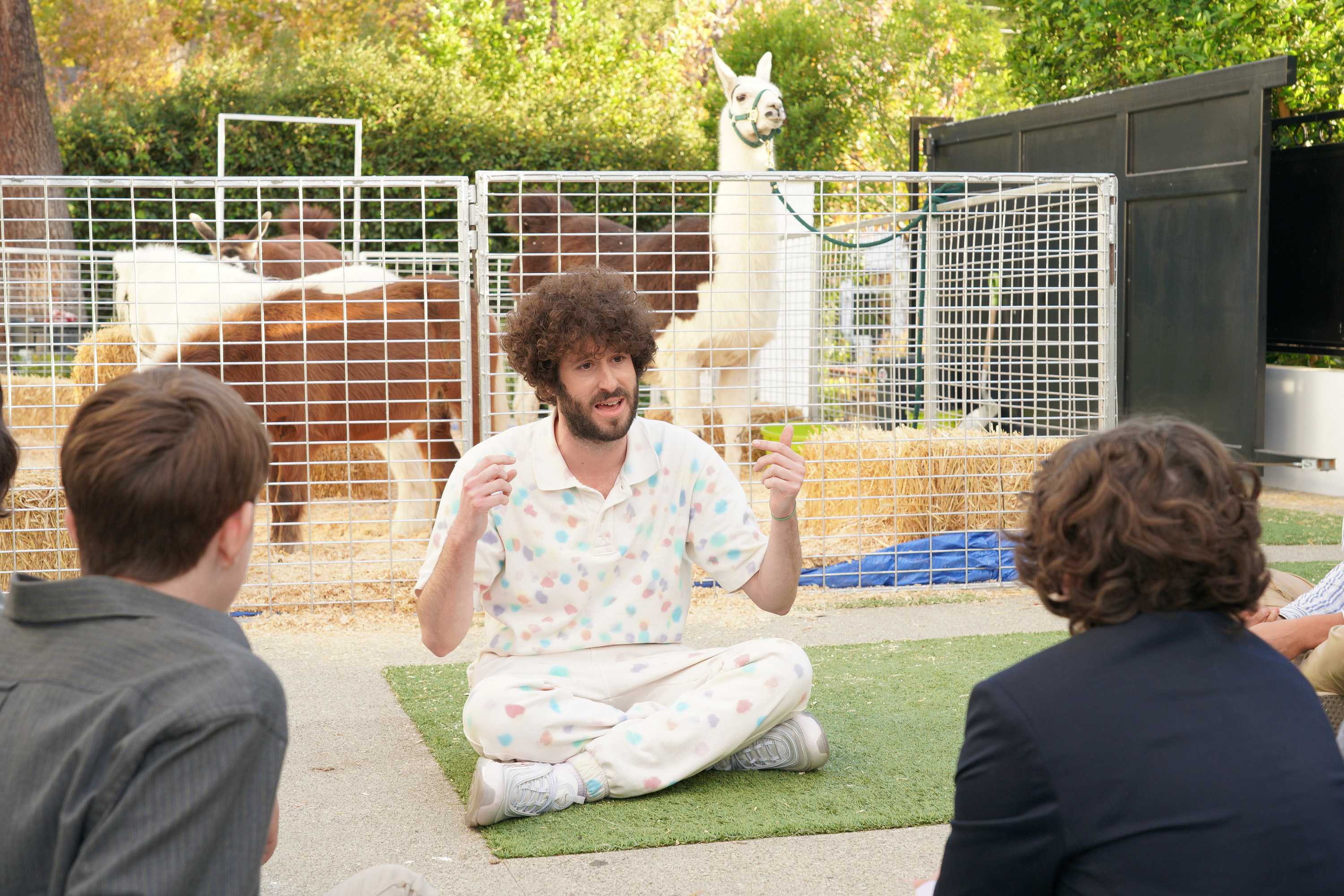 'Bar Mitzvah' is one of the most intense episodes of 'Dave' Season 2
Watching Dave's relationship with Ally (Taylor Misiak) crumble is one thing. But when all of his friendships start getting put on the back burner — including his relationship with hype man Gata (GaTa) — Dave becomes an emotional rollercoaster. 
"Bar Mitzvah" was written by comedian Biniam Bizuneh (How To Be Broke) and directed by Kitao Sakurai (The Eric Andre Show). As intense as the episode feels, that's what Burd intended for season 2 of Dave. 
"Things are just more complex emotionally and psychologically this season," Burd tells Variety. "It's still a comedy at heart and not the most depressing show ever." 
Burd and his team do a great job of striking a balance between life's heartbreaking and hilarious moments. Because as Burd says, "Life is not one-dimensional — there are pretty much pros and cons to anything you do."
Lil Dicky's relationship with Elz in 'Dave' Season 2 
Like Burd, Bennett's role in the show is authentic. He grew up in Philadelphia with the rapper and gives him free studio time to record (via FX Networks). But in season 2, Bennett's character starts letting fame get to his head. 
In "Bar Mitzvah," a local family hires Lil Dicky and his crew to perform. But with Elz and Dave's friendship on the rocks, this proves to be challenging.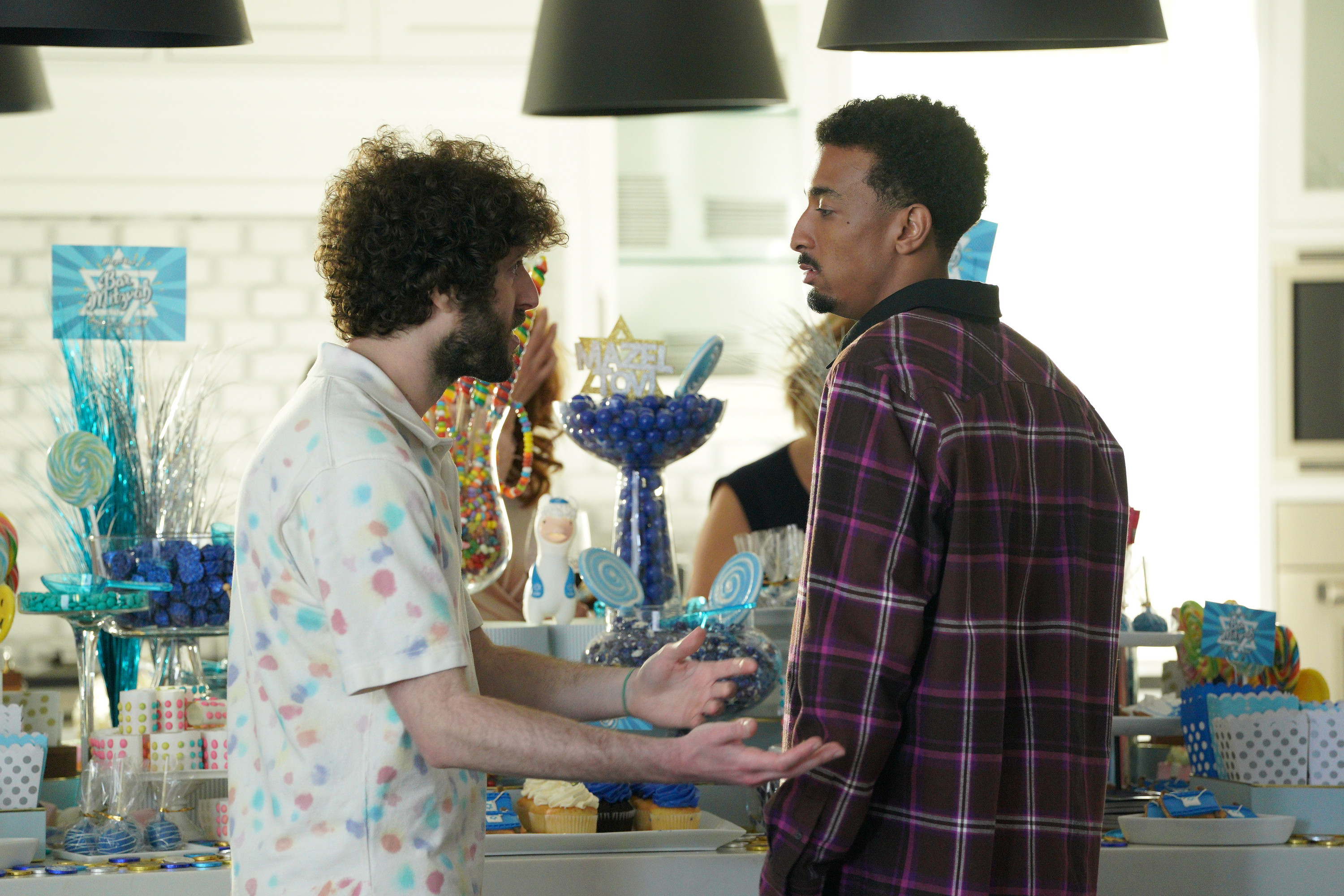 At soundcheck, Elz gets pretentious about the setup of the DJ booth. Dave — the ultimate narcissist — sees himself reflected in Elz's behavior. And he doesn't like it. 
Knowing Elz wants a credit on all of the songs on the album Dave is struggling to write but didn't have the courage to ask him, Burd let's his frustrations get the best of him. Tensions between Elz and Dave reach an all-time high on the basketball court. 
Gata gets a win in 'Dave' Season 2 episode 'Bar Mitzvah' 
So far, Gata has come second to everything going on in Dave's life, including an infestation of ants in the luxurious home in which he's supposed to write his album. Gata doesn't seem to mind being a positive force for the rapper, even when everything that can go wrong does go wrong. 
After Gata's car is towed and his phone dies, he ventures through the streets of Los Angeles. Why? He can't let Dave down — he has to show up at this Bar Mitzvah. Thanks to a string of holiday lights and his dedication to his relationship with Dave, Gata makes it to the event just as everything starts to fall apart.
Ironically, all it takes for the tension between Dave and Elz to break is a sadistic video the Bar Mitzvah boy makes. After Dave tells the boy to experiment because his "brains [isn't] even fully formed," he, Mike (Andrew Santino), and Elz are kicked out of the party. 
Despite losing out on their payment, Elz and Dave are reminded of their glory days getting kicked out of childhood Bar Mitzvahs. Plus, this leaves the floor — er, street — open for Gata to perform for the Bar Mitzvah boy and save the day.