'Dave' Season 2 Episode 9: Dave 'Lil Dicky' Burd Breaks the Cycle in 'Enlightened Dave'
Find out what has been holding Dave 'Lil Dicky' Burd back from writing his album in 'Dave' Season 2, Episode 9 'Enlightened Dave.'
Dave "Lil Dicky" Burd has finally met his match. Throughout season 2 of the FXX series Dave, the rapper has struggled with his creativity. Episode 9 finally reveals Lil Dicky's most significant obstacle — the one thing holding him back from creating his album is his ego.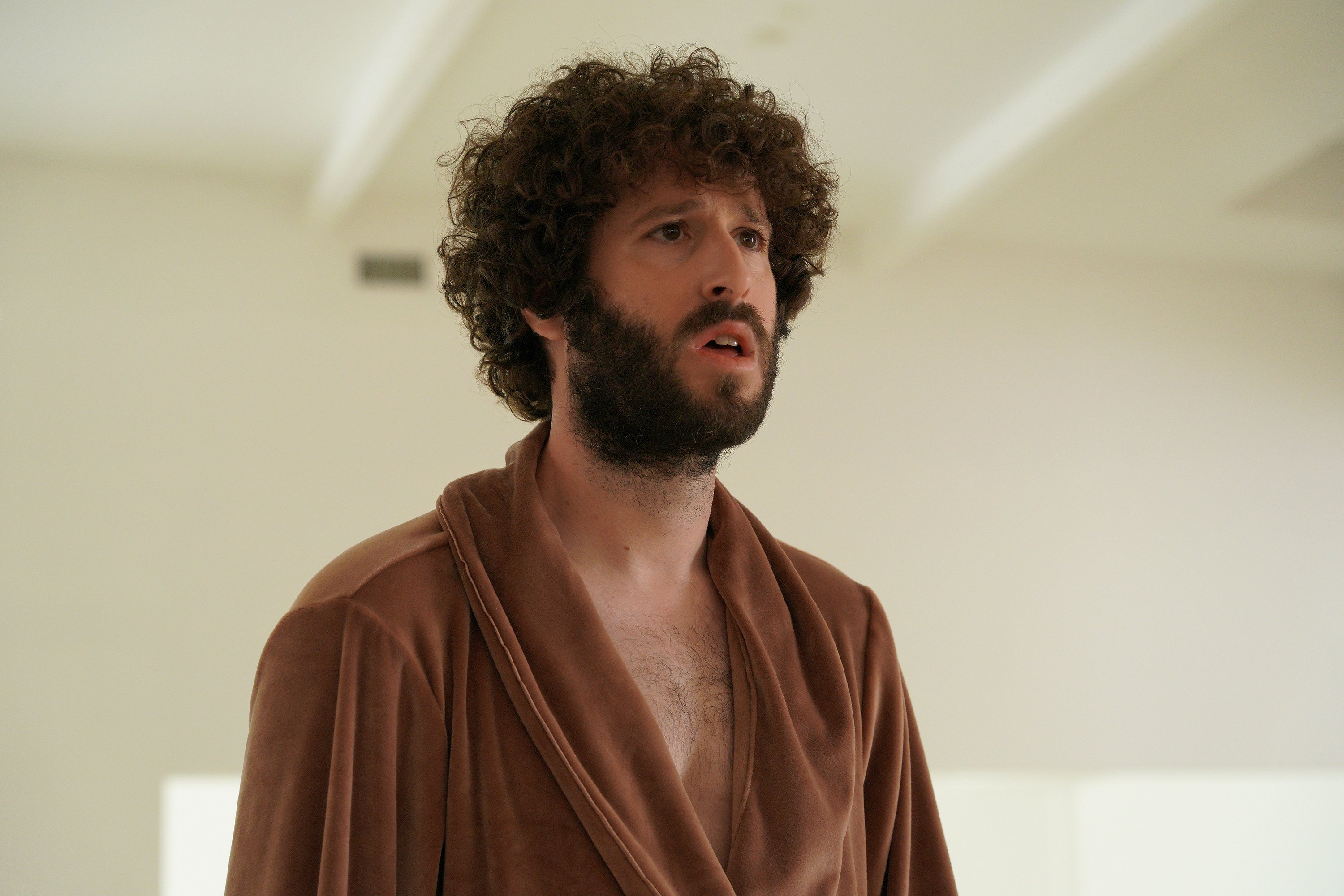 'Dave' Season 2, Episode 9 shows Lil Dicky's greatest fear is success 
Hoping to break his writer's block, Dave visits famed record producer and former co-president of Columbia Rick Rubin thanks to his friendship with Benny Blanco. When he arrives at the stark, white mansion, Dave is greeted by everyone but Rick. 
Instead of getting straight to recording, Dave goes through a series of exercises. It seems they're part of the creative process, but these tasks also force Dave to look inward. After burying his greatest fears, which include his parents dying and success, Dave takes a soak in a floating tub and discovers he is what has been holding himself back. 
'Dave' Season 2 character Biff Wiff is a real person 
During his time at Rick Rubin's chateau, Dave meets another guest by the name of Biff Wiff. As Lil Dicky let his Twitter followers know, Biff Wiff is a real guy. 
Many people might recognize Biff Wiff from his roles in I Think You Should Leave or Westworld. He has also appeared in Homecoming, Bless This Mess, Just Roll With It, 9-1-1, and Trade Show Show.  
'Enlightened Dave' clears Lil Dicky's writer's block in the FX series  
Season 2 of Dave has been a struggle for Lil Dicky personally and professionally. The relationships he holds with his friends, parents, and collaborators are out of sight, out of mind for the rapper, whose self-centered ways have him stuck in an inspirational rut. 
Finally, in episode 9, Dave comes to terms with his ego in the form of his enlightened self. "I've been expecting you," Enlightened Dave says when he finally reaches the deepest corner of his mind where the anteater from this season's promotional materials lives. Dave had to face Ally (Taylor Misiak) and eat Gata (GaTa) to get there, making an eyebrow-less version of Dave the least-weird visual in this episode.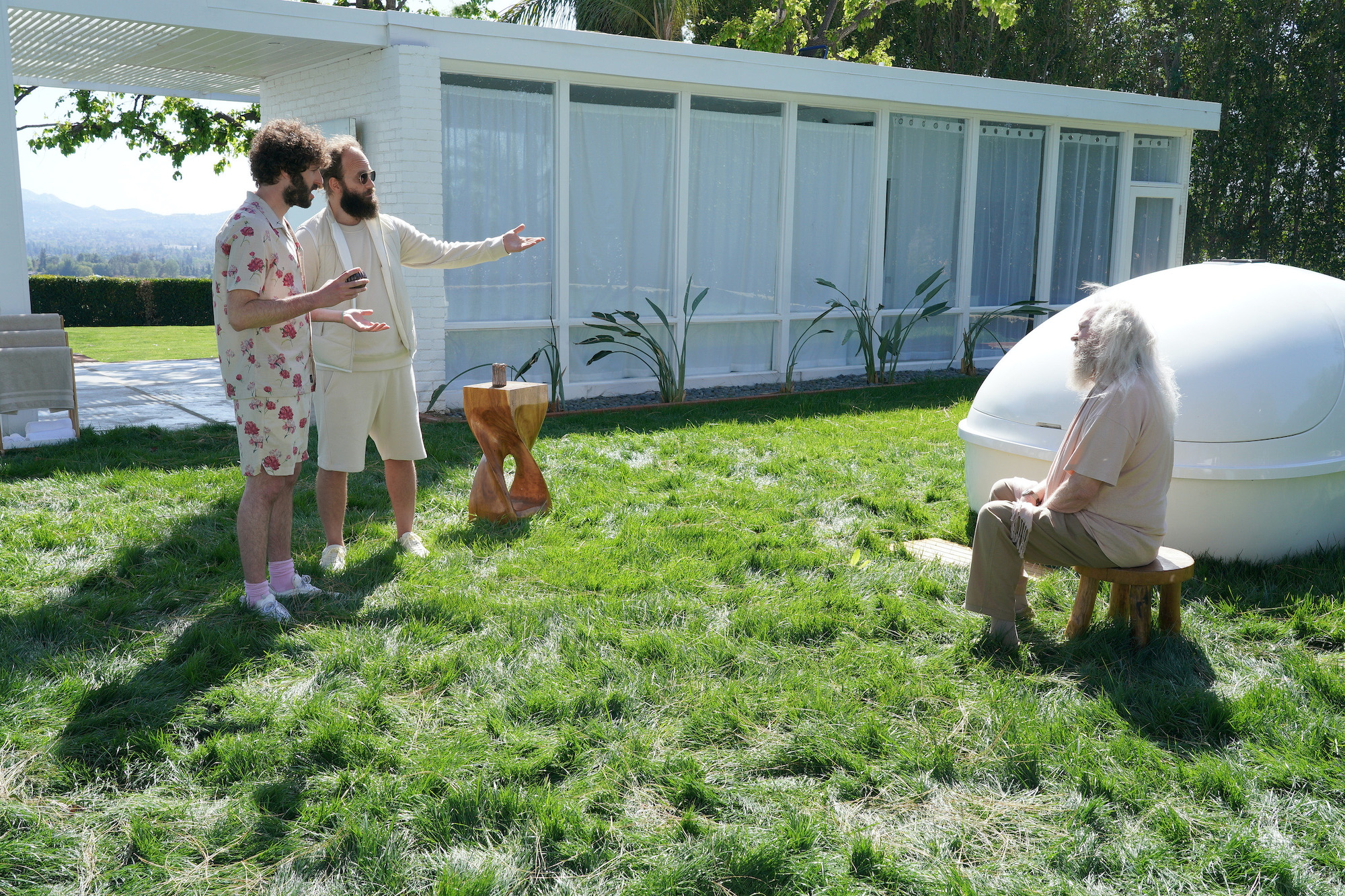 Once Dave hears his enlightened self's music, he's obsessed. "Can you send me some of those files?" he asks, eager to start creating again. 
"There's no need!" says Enlightened Dave. "I am you."
"By the way, I got the surgery to clog the second pee-hole," he adds. Because Dave's genital issues are a real point of contention. 
At this point, Dave thinks the purpose is to kill his ego. Because Dave's visions portrayed a selfish man, he assumes he has to be a better person to be a better artist. But as Dave's ego proves, that's not the case.
Dave has to be a better person to be a better person. When it comes to his music, Dave has to trust his intuition. "Humor is not a crutch," his enlightened self reminds him. "You're a humorous guy; you like making jokes. Don't change who you are." 
When Dave realizes he can be funny with songs like "My D— Sucks" and serious with others like "Ally's Song," he loses all inhibitions. "Stop worrying about trying to be high brow or low brow," Enlightened Dave concludes. "Just be no brow." As soon as Dave comes back to reality, he runs to the studio to start creating again.
'Enlightened Dave' is everything Lil Dicky fans hoped for this season
With season 2 drawing to a close, many Dave fans were pleased with Lil Dicky's realizations in episode 9. "I usually hate these types of 'main character is on drugs and hallucinates' episodes," said one fan on Reddit. "I'm not mad at this one, though; the writing is just good enough and fast-paced enough for me not to be totally annoyed by it, and Dave's sense of humor and dialogue helps."
"Yo @DaveOnFXX had me on a journey tonight and I loved every second of it!" tweeted another fan. Tune in next week for the season 2 finale of Dave on FXX.