From Daveed Diggs to Tituss Burgess, Here Are a Few of the 'Unbreakable Kimmy Schmidt' Actors Who Made It Big on Broadway
There are plenty of award-winning actors on Netflix's 'Unbreakable Kimmy Schimdt.' Here are a few of the cast members who performed on Broadway first.
Titus Andromedon dreams of a life in the spotlight. However, a few of the actors in Netflix's comedy series, Unbreakable Kimmy Schmidt, actually did enjoy some time on Broadway and in live musical productions. That includes Daveed Diggs, who starred in Hamilton before appearing as Kimmy's boyfriend on this show. Here's what we know about these talented actors.
Jane Krakowski starred in 'She Loves Me'
During Unbreakable Kimmy Schmidt, Jane Krakowski portrays Jackie Lynn "Jacqueline" White, a rich, stay-at-home-mom turned broken divorcée turned Titus Andromedon's agent.
After hiring Kimmy to be her nanny, the two become good friends eventually working in the same office. (Although, technically, Jacqueline doesn't even work there.) 
She worked on Broadway numerous times, including in a production of She Loves Me, Nine, Once Upon a Mattress, and Tartuffe: Born Again, some of which she appeared on the cast recordings of the albums. She's probably best known for her work on 30 Rock, though, where she starred as Jenna Maroney.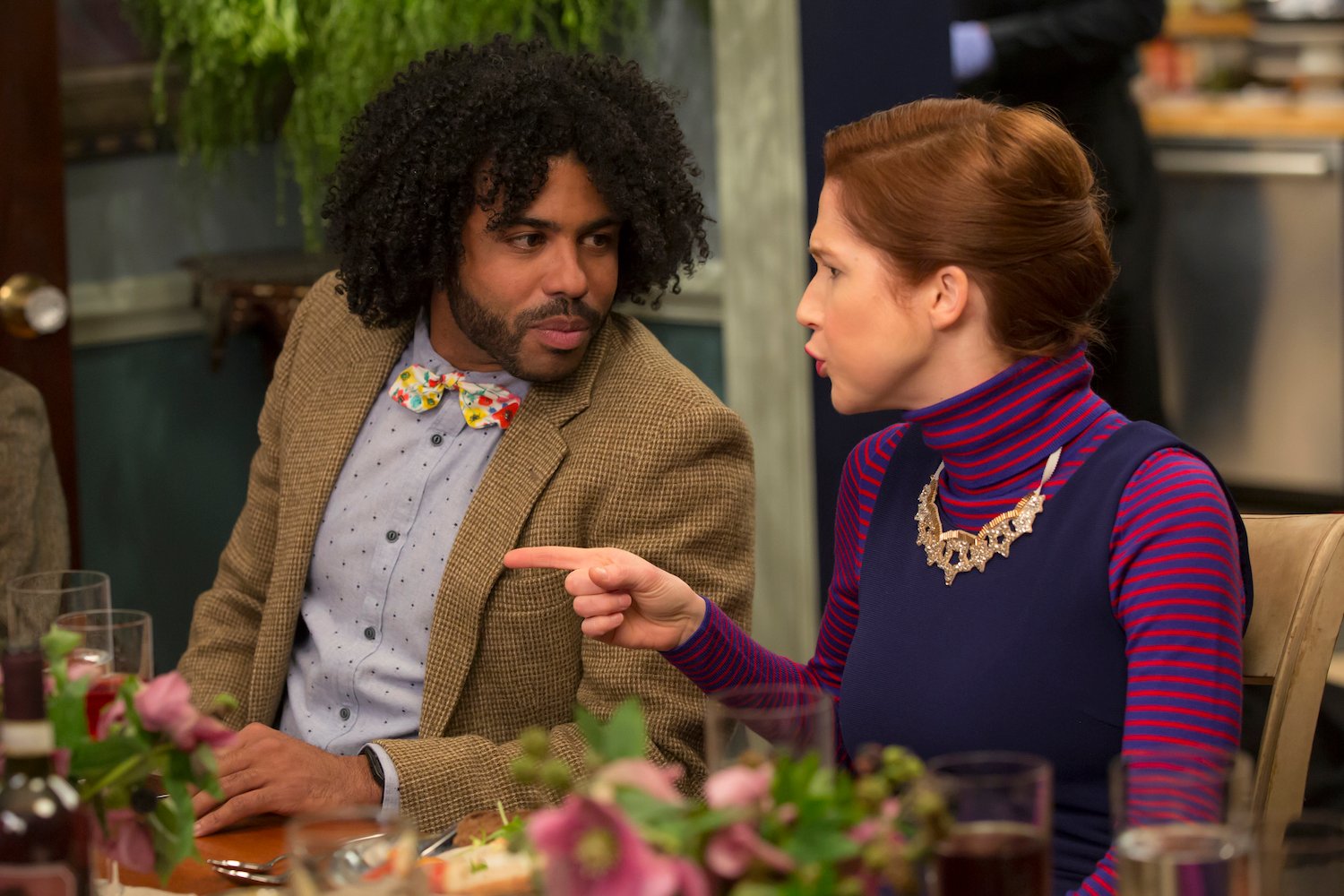 Daveed Diggs portrayed Kimmy's boyfriend, Perry
After getting her GED, the next natural step for Kimmy is to go to college. When she visits a community college, she first runs into Perry, a tour guide who eventually works his way up and gets a scholarship to Columbia University.
After showing off her rowing skills to some of the people in the crew team, Kimmy also gets a scholarship to Colombia, and their friendship (and relationship) only grows stronger.
Daveed Diggs was a star on Broadway before entering the world of Kimmy Schmidt, though. The actor portrayed Marquis de Lafayette and Thomas Jefferson in the original cast of Lin-Manuel Miranda's Hamilton.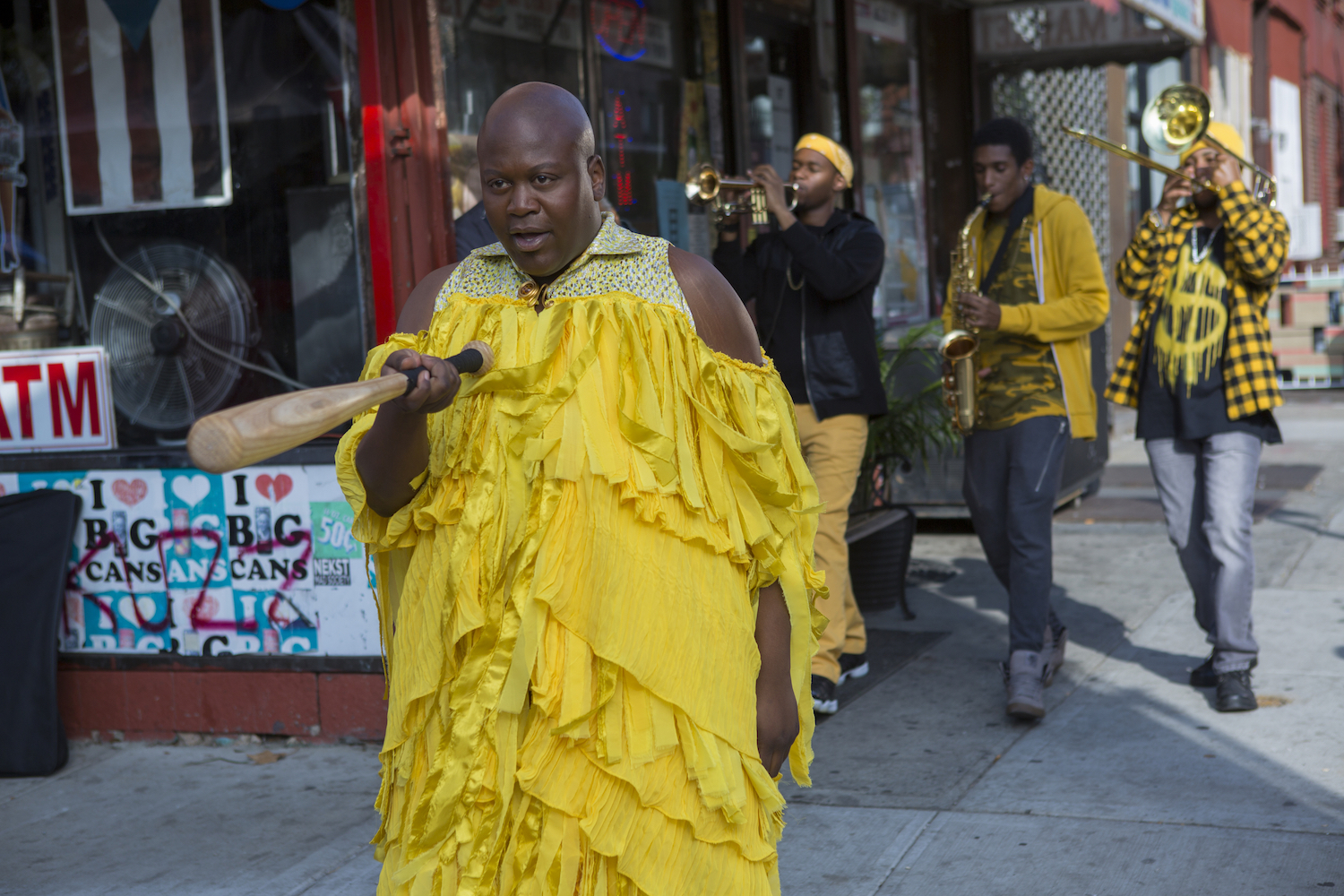 Tituss Burgess starred in 'The Little Mermaid' on Broadway
During this Netflix series, Titus Andromedon AKA Ronald Wilkerson AKA Cork Rockingham finally gets his moment on Broadway when he stars as Rafiki in The Lion King. Before he worked with this series, however, he actually did appear in a Disney Broadway musical.
Before he was Titus Andromedon, though, Tituss Burgess portrayed Sebastian in the original Broadway production of The Little Mermaid, even performing songs like "Under The Sea." He, reportedly, returned to the stage for the 2009 Broadway revival of Guys and Dolls.
Daniel Radcliffe, of 'How To Succeed In Business' appeared in the interactive episode 
For the one interactive special of Unbreakable Kimmy Schmidt, a newcomer to the cast was Daniel Radcliffe, who portrayed Kimmy's British fiancé. Although his role in the Netflix original was brief, fans enjoyed the chance to "choose his own adventure."
Before he was in this Netflix original series, though Daniel Radcliffe acted in the Broadway production of How to Succeed in Business Without Really Trying. Of course, he also appeared as the title character in the Harry Potter franchise. Episodes of Unbreakable Kimmy Schmidt are available for streaming on Netflix.