David Bowie and Bing Crosby's 'Little Drummer Boy' Duet Almost Didn't Happen: 'Take the Lipstick off and Take the Earring Out'
When the world tuned in to watch the new TV special, Bing Crosby's Merrie Olde Christmas, during the Christmas season of 1977, they had no idea they were about to watch the most bizarre collaboration in music history. A collaboration between Bing Crosby, a veteran Hollywood star, king of the crooners, known for "White Christmas," and David Bowie, the king of glam rock, known for his Ziggy Stardust alter-ego and songs like "Queen B****."
They couldn't have chosen two dissimilar people in showbiz if they tried. Not to mention, there was a stark generational gap between a 30-year-old Bowie and the frail 73-year-old Crosby.
The entertainers sang a duet of "Peace on Earth/Little Drummer Boy" for Crosby's TV special, including a corny skit. Later, it was released as a single and has become a Christmas classic.
However, the collaboration almost didn't happen mainly because Bowie didn't really have an incentive to do it.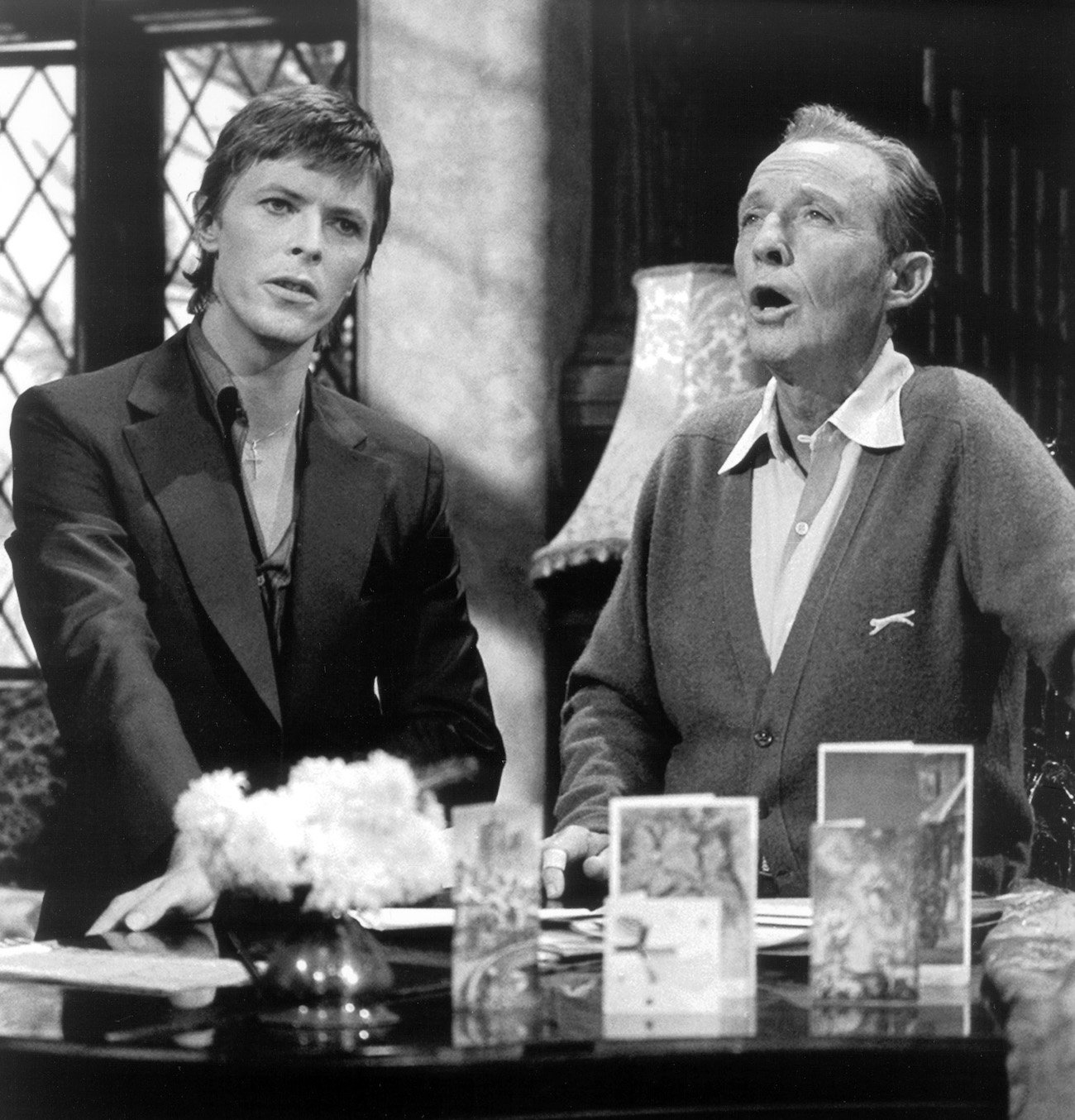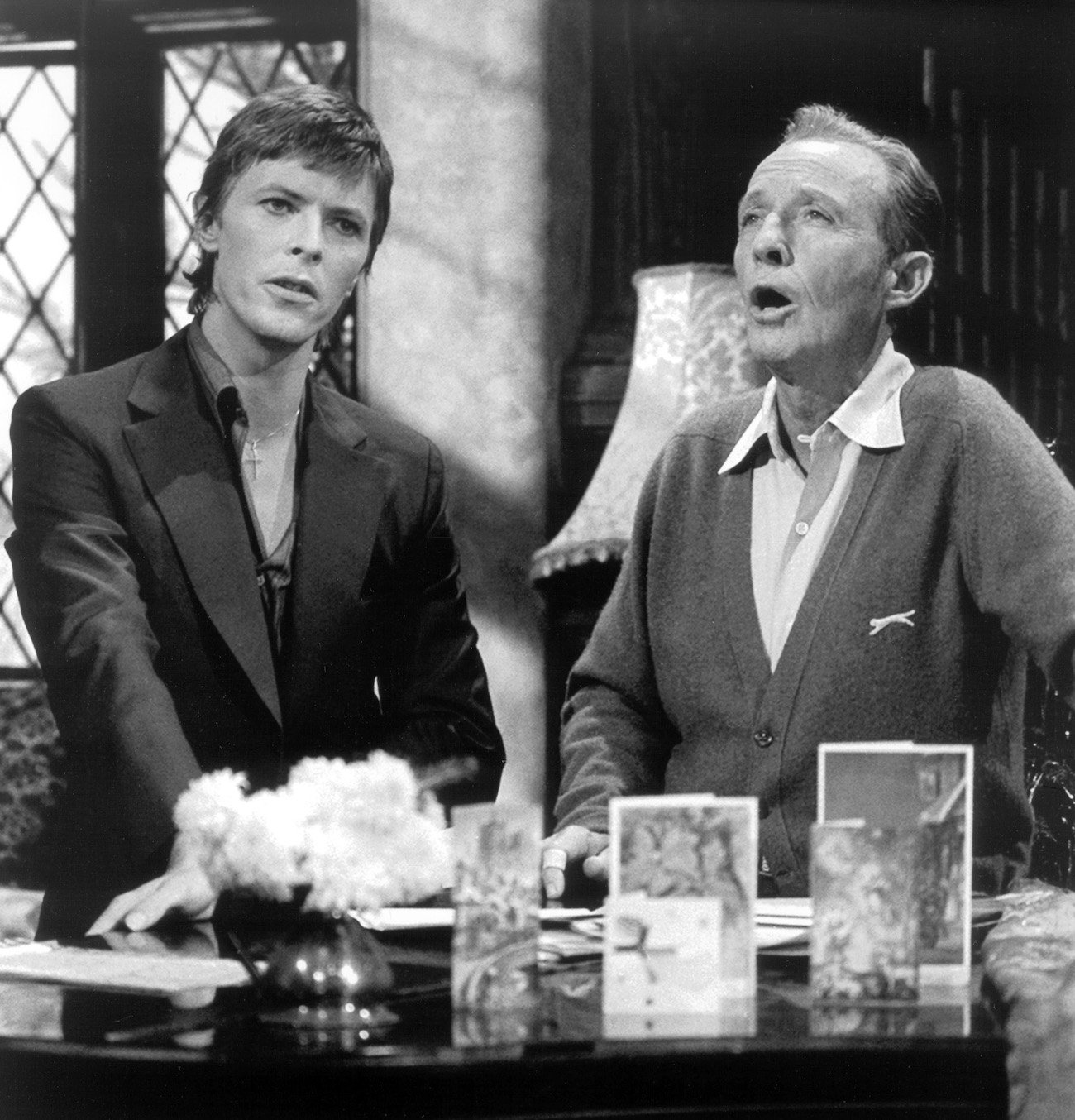 Bing Crosby's children said their father's collaboration with David Bowie almost didn't happen
On Sept. 11, 1977, Bing Crosby's teenaged children, Harry, Mary, and Nathaniel Crosby, were on set when their father and David Bowie taped their duet of "Peace on Earth/Little Drummer Boy" for Crosby's TV special.
Mary saw Bowie arrive. "The doors opened and David walked in with his wife," she said (per Billboard). "They were both wearing full-length mink coats, they have matching full makeup and their hair was bright red. We were thinking, 'Oh my god.'"
Nathaniel added, "It almost didn't happen. I think the producers told him to take the lipstick off and take the earring out. It was just incredible to see the contrast."
Initially, they witnessed the awkwardness between the singers. However, when they got to rehearsing, a transformation happened. Bowie and Crosby realized that they weren't so different after all.
"They sat at the piano and David was a little nervous," Mary continued. "Dad realized David was this amazing musician, and David realized Dad was an amazing musician. You could see them both collectively relax and then magic was made."
However, the collaboration almost didn't happen because Bowie couldn't think of a reason to do it except for his mother and promote his new album.
Bowie did the TV special for his mother, who was a huge fan of Crosby's, and to promote 'Heroes'
The TV special almost didn't happen, not just because the producers told Bowie to take off his lipstick and earring. The "Life On Mars" singer refused to sing "Little Drummer Boy."
In 2014, the writers of Bing Crosby's Merrie Olde Christmas Larry Grossman and Buz Kohan explained to PBS (per Classics du Jour) that the original plan was to have both singers duet on "Little Drummer Boy." However, Bowie bluntly refused. "He said, 'I won't sing that song. I hate that song… I'm doing this show because my mother loves Bing Crosby.'"
Grossman, Kohan, and Ian Fraser, then wrote a song, "Peace on Earth," for Bowie to sing while Crosby sang "Little Drummer Boy." It took the writers only 75 minutes to write. Then, they brought it to the singers, and they had it sorted out in under an hour.
Besides his mother, Bowie decided to do the TV special to promote his newest album, Heroes, and perform the titular track.
Crosby thought Bowie was 'clean-cut' while Bowie called the collaboration his 'most bizarre experience'
Bowie told Q magazine in 1999 that he thought his collaboration with Crosby was his "most bizarre experience."
"We were so totally out of touch with each other," Bowie explained (per Bowie Bible). The "Moonage Daydream" continued to explain what he thought when he did the TV special. Apparently, it is evident that Crosby was not well.
"I was wondering if he was still alive," Bowie said. "He was just… not there. He was not there at all. He had the words in front of him. (Deep Bing voice) 'Hi, Dave, nice to see ya here…' And he looked like a little old orange sitting on a stool. 'Cos he'd been made up very heavily and his skin was a bit pitted, and there was just nobody home at all, you know?
"It was the most bizarre experience. I didn't know anything about him. I just knew my mother liked him. Maybe I would have known (sings) 'When the mooooon…' No… (hums) 'Dada da, da dada, someone waits for me…' That's about the only song of his I would have actually known."
Meanwhile, Crosby spoke very highly of Bowie after their collaboration. The crooner said Bowie was a "clean-cut kid and a real fine asset to the show… He sings well, has a great voice, and reads lines well."
Another strange thing: two deaths happened around the TV special and Bowie's appearance on Marc Bolan's TV show, Marc. Crosby and Bowie filmed the special two days after Bowie's appearance on Marc. Bolan died on Sept. 16. Then, Crosby died a month after.
"Poor old Bing copped it as well just after I'd done this with him," Bowie said. "I was getting seriously worried about whether I should appear on TV because everyone I was going on with was kicking it the following week."
However strange the collaboration is (the skit in which Crosby is the long-lost relative of Bowie's neighbor is particularly head-scratching), the duet sounds excellent. The singer's voices work perfectly together, and the performance is unforgettable.