David Bowie Said He Needed Friction in His Career: 'I Adore a Sense of Competition'
David Bowie worked best when he had a healthy dose of competition. He said he needed 'friction' in his career.
If David Bowie had never had competition, he might not have become one of the biggest pop icons in music. No matter what industry you're in, it's always good to have a bit of healthy competition. Bowie loved competition and needed it to grow as an entertainer. However, he didn't think anyone could compare him to his peers.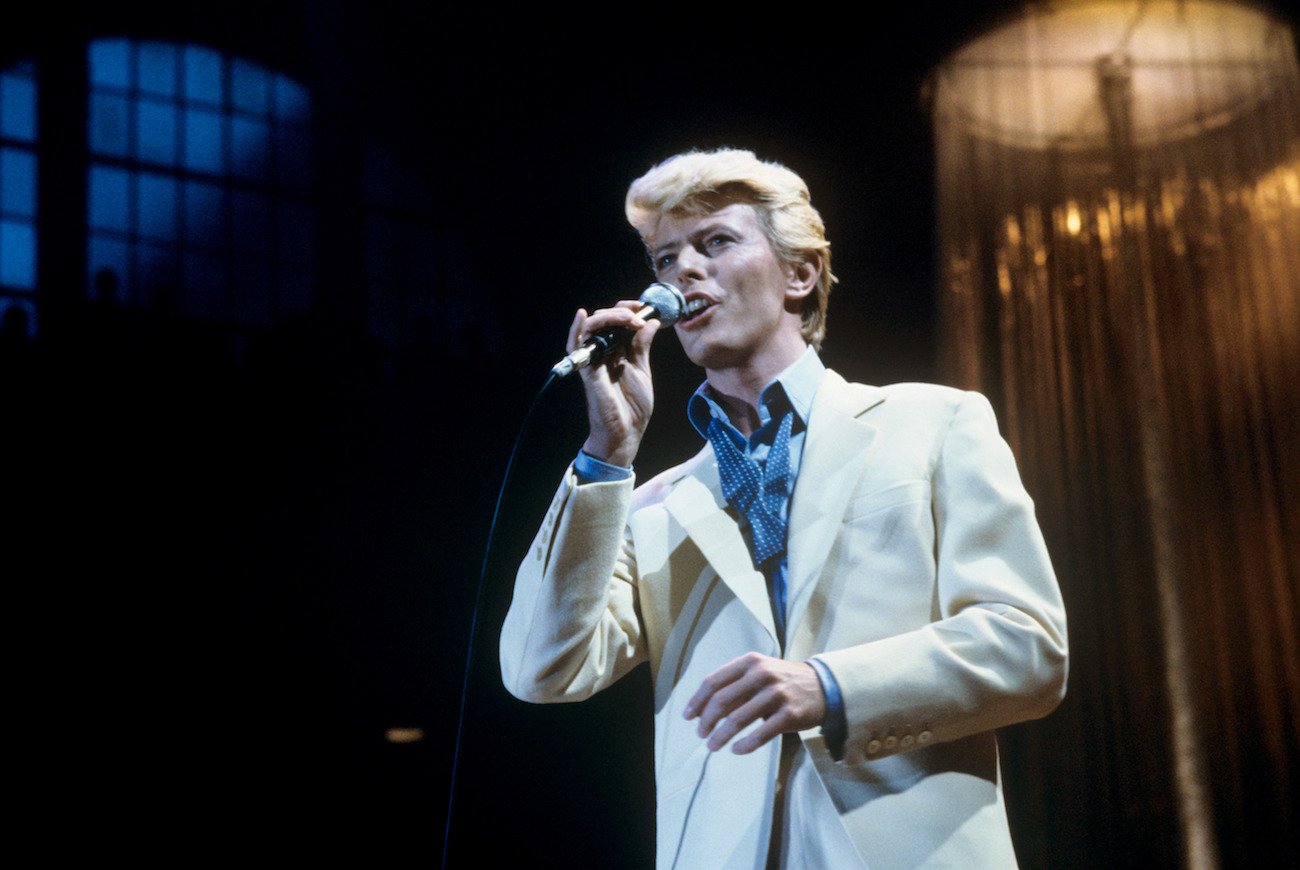 David Bowie loved a 'sense of competition'
Often, Bowie did what he wanted when no one else was doing it. He was prolific in many ways. However, setting trends in music, fashion, and art would have gotten boring if he didn't have a sense of competition.
Bowie told Interview in 1995, "I need friction. Also, I adore a sense of competition. I really like to see or hear somebody's work and say, 'I can top that.' It makes me work in a far grittier, more muscular way.
"In the '80s, I couldn't look at Paula Abdul and Kylie Minogue and say, 'I can do better than that.' I didn't give a f***.
"I've gotten to a place now where I'm not very judgmental about myself. I put out what I do, whether it's in visual arts or in music because I know that everything I do is really heartfelt.
"Creating something is the one area where you mustn't have caution or inhibition. If you make a startling, disastrous mess, it's fine, because you can reach out and reevaluate and plunge off into another direction. But never be scared to do the plunging."
Bowie had a lot of confidence. So much so that he didn't believe he could be compared to anyone else.
Bowie felt he was the kind of artist that couldn't be compared to anyone else
The "Let's Dance" singer might have loved competition and friction, but he didn't think anyone could compare him to anyone else in the business.
In 1990, Count Down asked Bowie if he had competitors. He replied, "I would say that I stay out of it. I'd like to say that. Whether that's true or not, I don't know. You could tell me from the outside, but I don't really feel that. I feel that frankly, over the last 20 years or so, I'm pretty much my own man.
"I suppose it's very cheeky of me to put myself in the same light, but if I look at Bob Dylan, he doesn't have competition. He's just Bob Dylan, whether you like him or don't like him. Whether he does good stuff or bad stuff. He's still Bob Dylan, and you don't compare him with anybody. It's not a competitive kind of thing.
"It's the same with the Stones. I know they create mock competitions for them with other bands; I've noticed in America it's been happening. But there's really no way that you can compare the Stones with anybody. And I would hope that I'm-I think I probably am in the same kind of position. I'm David Bowie, I'm either good, I'm a pile of s***, or you know I'm accessible, not accessible, I'm obscure, very commercial, I change all the time. But I'm still me.
"No [laughs]. My answer is no. I don't feel like I'm in a competition; I do feel it's very competitive for new artists." Bottom line: Bowie loved competition but didn't feel that he was competing against anyone. However, speaking of the Stones, it seems as if Bowie was locked in some competition.
Mick Jagger said there was some competition between him and Bowie
Reflecting on his relationship with Bowie during a tribute edition of Rolling Stone, Mick Jagger said there was a bit of competition between them.
"There was always an exchange of information within our friendship," Jagger said. "And I suppose there was always an element of competition between us, but it never felt overwhelming. When he'd come over, we'd talk about our work — a new guitarist, a new way of writing, style and photographers. We had a lot in common in wanting to do big things onstage — using interesting designs, narratives, personalities.
"He'd always look at my clothes labels. When he would see me, he'd give me a hug, and I could feel him going up behind the collar of my shirt to see what I was wearing. He used to copy me sometimes, but he'd be very honest about it. If he took one of your moves, he'd say, "That's one of yours — I just tried it." I didn't mind sharing things with him, because he would share so much with me — it was a two-way street."
So, whatever Bowie thought about competition, it was present in his successful career.