David Bowie Wanted to Start a Record Label to Manage These Acts but It Was 'Too Time-Consuming'
Can you imagine if David Bowie had started a record label? The chameleon artist not only would have brought us his own music but the music of some of the acts he deemed worthy. We would have trusted his judgment there.
At one point, Bowie did consider starting a record label. However, he soon realized it would have been way too time-consuming.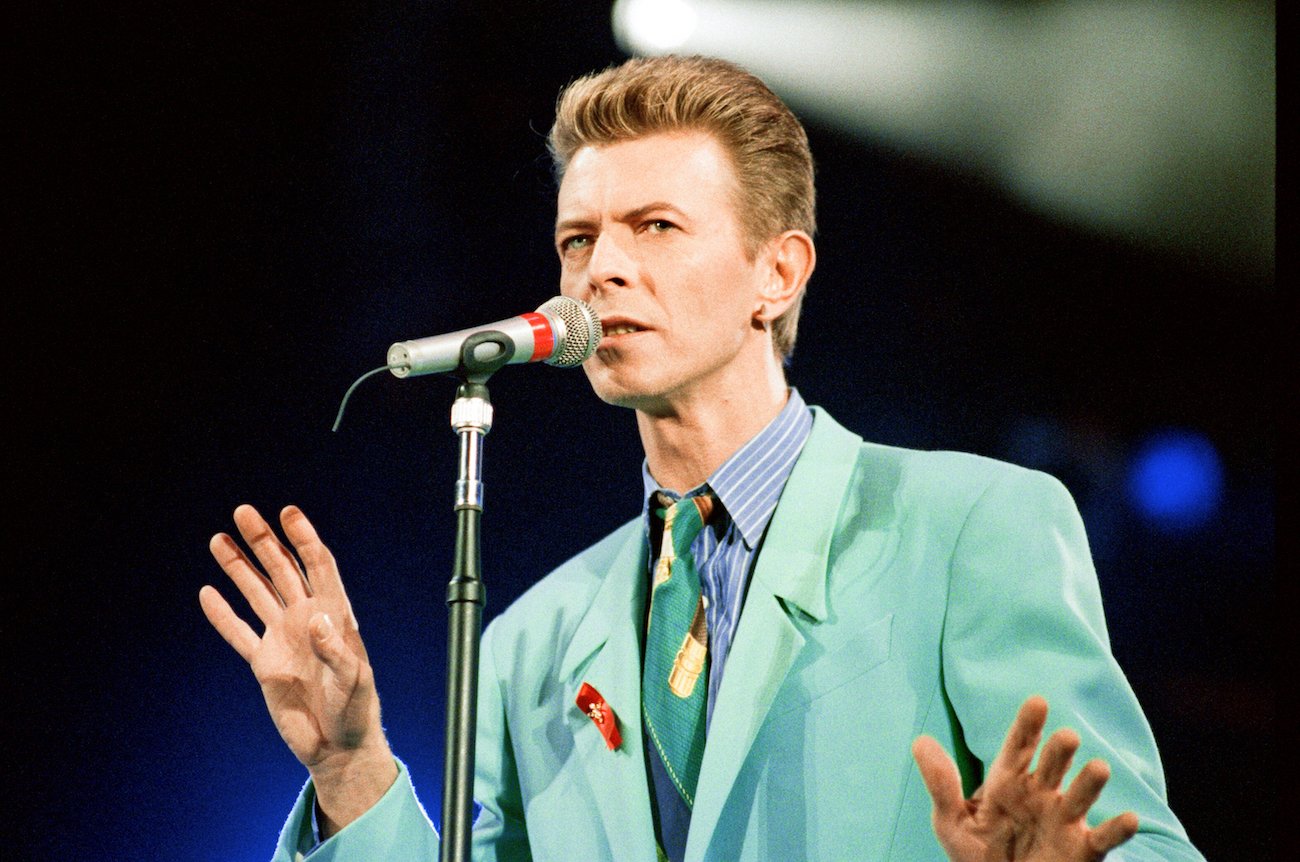 The music industry was different when David Bowie first entered it
During a 1990 interview with Count Down, Bowie talked about the changes the music industry has seen since he started in the 1960s. Then, nobody approached rock 'n' roll as a "career opportunity." However, by 1990, it had become very serious, almost like going into banking.
"When I was a younger guy, and I had the option to be either a musician or a painter when I was thinking about being a painter, it never occurred to me that I was going to want to be a painter to make a big killing and make a lot of money because that wasn't what was happening then," Bowie said.
"I mean, the whole idea about painting being a career opportunity just wasn't there, and that seems to have happened over the last 10, 15 years. It's happened to rock far more as well, whereas once upon a time, you really moved into rock because the whole idea of it was exciting. There were girls, there was a lot of fun times, and you could make some statements about something or other. And you think of something or other to make a statement about.
"But now guys approach it very seriously as a career opportunity. You know, it's as serious as banking these days or something for a lot of kids. It's a whole different ballgame."
Count Down asked if it changed the sound of music. Bowie said absolutely. "It's changed what's available anyway. I mean, it's very hard to pick up good music," he said. Bowie said you could only find good music on small college radio stations. Someplace where artists waited for someone like Bowie to pluck them out of obscurity and place them on a record label.
Bowie wanted to start a record label to work with acts like Sonic Youth but it was too time-consuming
In 1990, college radio was the only place to pick up good music. However, as Bowie pointed out, it only had a "tiny share of the market."
"I think it's a great struggle for any artists that really have a strong integrity with what they're doing," Bowie continued to Count Down. "Even though we have more media, more access to media, more communications now, it's probably harder now to get good music played than it ever was in the 60s.
"God, the 60s were brimming over with good music on radio. It was fantastic. Very difficult now." Count Down added that radio stations were playing it safe. "Absolutely because it's big bucks for making that right sound." So, naturally, Count Down asked Bowie when he was going to start a record label.
"It did come up, it did come up, but you see, again, I'd love to, but if I did that, I'd have to be-for something like that; we did investigate the idea of doing it. Because there were several acts that I wanted to really get involved in something like that. Mainly Sonic Youth, Pixies, Glenn Branca.
"Those were the top three I wanted to get involved with, but you know you'd have to be looking after something like that 24 hours a day; otherwise, somebody else will run with the ball and change the whole animal and become something else.
"It's so time-consuming. I wouldn't act as an artist anymore; I would have to become some kind of record executive. And it's no good me just fronting a record label and then leaving it up to other people to run because I wouldn't be able to keep its integrity."
Who else did Bowie want to work with?
Even though Bowie didn't start a record label, he did get the chance to work with other artists, and he didn't have to give up making music. Bowie worked with Trent Reznor, Nile Rodgers, and many more. However, Bowie still had a couple of names to check off his list of people he wanted to work with, including Goldie.
In a newly unearthed 1997 interview with Jim Keller for a special End Session at Seattle's 107.7 The End (courtesy of Audacy), Bowie elaborated on why he wanted to work with the British musician.
"I just did one thing for him for his album, which comes out in October," Bowie told Keller. "But I'd like to do some work with Goldie. I've got an immense respect for him. He really started what was called Jungle, or drum and bass now. He was one of the real pioneers on it. And I just think he's top man."
Despite what Bowie said, many musicians juggle their music career and their own record label. Take, for instance, George Harrison. However, we respect Bowie's decision, especially since it gave us more of his music. However, it would have been interesting to see what a Bowie-led record label would have become.