David Bowie Wrote This Song For Elvis But The King Didn't Take It
RCA Records asked David Bowie to write a song for Elvis in the early 1970s. So Bowie wrote "Golden Years." But the King didn't take the song in the end.
When you hear an Elvis Presley song, do you think of David Bowie? Of course not. That would be like saying you hear Alice Cooper in a Frank Sinatra song. It's just not possible. Or so we thought. There was once a groundbreaking moment in music history when David Bowie was asked to write a song for the King. But it didn't end the way Bowie wanted.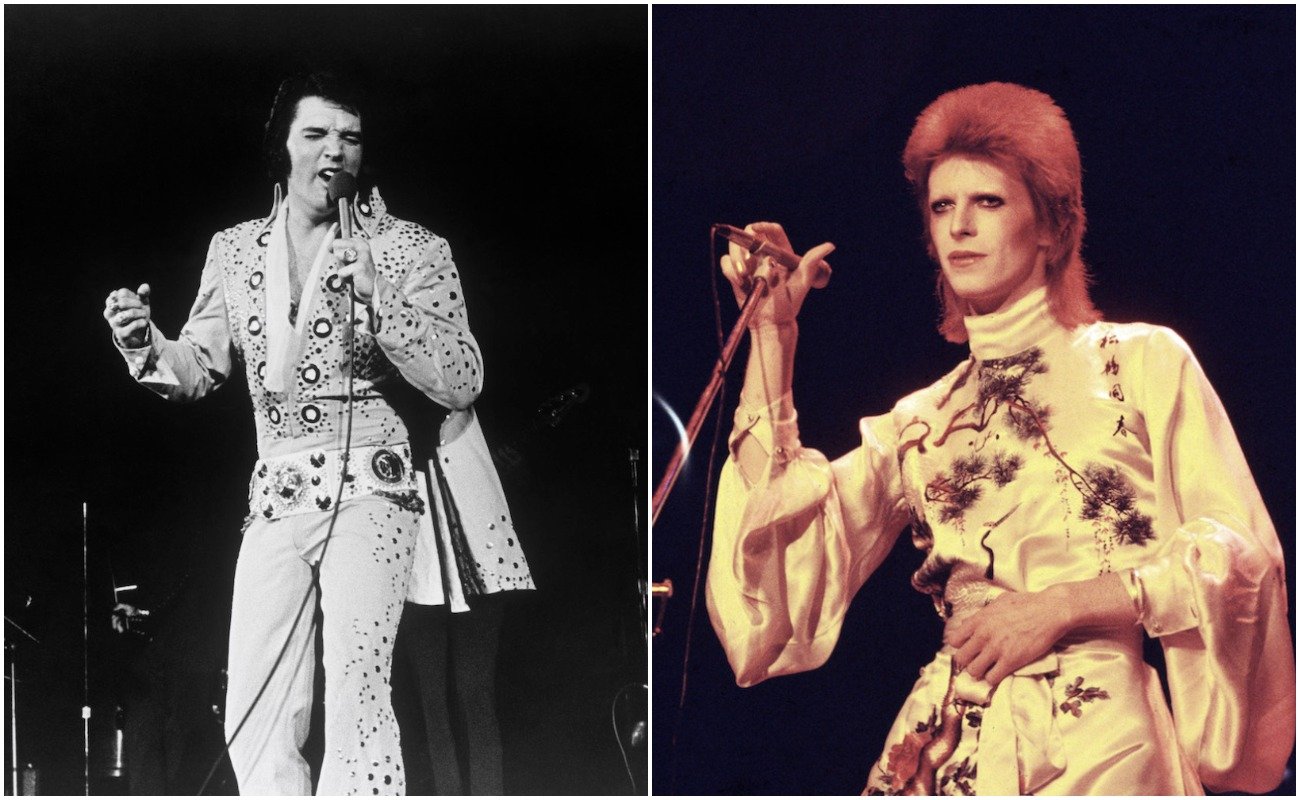 RCA Records asked David Bowie to write Elvis Presley a song
Somehow, we didn't think David Bowie would be the first person a million-dollar record company like RCA Records would approach to write a song for Elvis. Maybe we're wrong. It did happen.
Bowie was a huge Elvis fan. He thought it was a sign that they had the same birthday, but Bowie got an even bigger sign when RCA came to him with the opportunity to work with the King. Bowie was thrilled, and this was a chance for RCA, which managed both artists, to spruce up Elvis' catalog with a fresh tune possibly. A song by Bowie would be mean getting the ears of a younger audience.
By the 1970s, Elvis was playing to sold-out shows, but he was hardly a teen idol anymore. The teens that idolized him at the height of his career were now adults. Bowie was now the teen idol, pioneering a new sound in rock 'n' roll, glam rock.
Elvis' manager Colonel Tom Parker reportedly asked to bring Bowie in to write a chart-topper for the aging rockstar. So, Bowie wrote his 1975 hit song, "Golden Years." However, upon hearing the song, Elvis wasn't interested.
According to Express, Bowie talked about the incident in 2002. "There was talk between our offices that I should be introduced to Elvis and maybe start working with him in a production-writer capacity. But it never came to pass," Bowie said.
Elvis sent David Bowie a sweet apology
Bowie must have been massively let down when he heard that Elvis didn't want to take his song. "I would have loved to have worked with him. God, I would have adored it," Bowie said. Unfortunately, Bowie never got another chance to work with the King. Elvis died two years later, in 1977. But Bowie did get a memento from the incident, a letter of apology from Elvis himself.
After rejecting "Golden Years," Elvis sent Bowie a note saying, "All the best, and have a great tour." Bowie allegedly kept the message in his possession until he died in 2016.
Bowie's then-wife Angie said the song came about differently
According to Bowie's then-wife Angie, "Golden Years" was actually written after Bowie became inspired by her. "I did 'The Mike Douglas Show,' singing 'I've Got A Crush on You.' And David was so astonished that he wrote 'Golden Years,'" Angie said.
After he wrote it, Bowie sang the song to her over the phone. Whichever story is correct, it's hard to discredit the fact that "Golden Years" would have been an excellent song for Elvis. Bowie later recorded the song for his 1976 album Station to Station, and he sings it in a deep voice, similar to Elvis'. At the time, Bowie had also adopted a new Elvis-like persona, the Thin White Duke. Compared with the earlier Ziggy Stardust, the Thin White Duke was suave and sexy like Elvis was in his earlier career.
Even though Bowie never got to work with his hero, he did give the King a shoutout on his last album, Blackstar. Bowie named the album after Elvis' song "Black Star," which spoke about a man who knew he was dying. Bowie made Blackstar as he was dying, so it fit. Could you imagine getting to see Elvis and David Bowie perform together, let alone record together, though?