David Byrne's 'SNL' Performance May Have Just Earned Him a Whole New Generation of Fans
David Byrne's recent performance on Saturday Night Live wasn't quite "Once in a Lifetime," but it was his first performance on the show in 30 years and it sent the internet buzzing with acclaim. Same as it ever was with the former Talking Heads bandleader.
Byrne appeared on the show to promote songs from his Broadway show American Utopia and to perform the classic Talking Heads tune about when your days go by – although the song actually was not the hit some might remember it to be. 'Once in a Lifetime' was big on MTV, not much else
The song came from the 1981 Talking Heads album Remain in Light, and it was released as a single, but it didn't even hit the hot 100, bubbling under at 103. So how come people remember it so well? It was largely because of the music video, co-directed by Toni Basil of "Mickey" fame, which got a ton of airplay on MTV.
The song came out only a few months after MTV itself hit the air, and the timing turned out to be fortuitous, as the channel put it in heavy rotation. Talking Heads band member Jerry Harrison remembered in the book I Want my MTV that the video "showed off David's quirkiness, with him borrowing the body language of southern preachers and being in a sort of ecstatic state. And he's sweating a lot."
That sweat paid off because it set up the band for even bigger MTV success later with songs like "Burning Down the House," which actually was a US top 10 hit – the only one. Nevertheless, Harrison said "We thought MTV was a little silly. A lot of the videos, like Duran Duran's, were more like fashion shoots than films."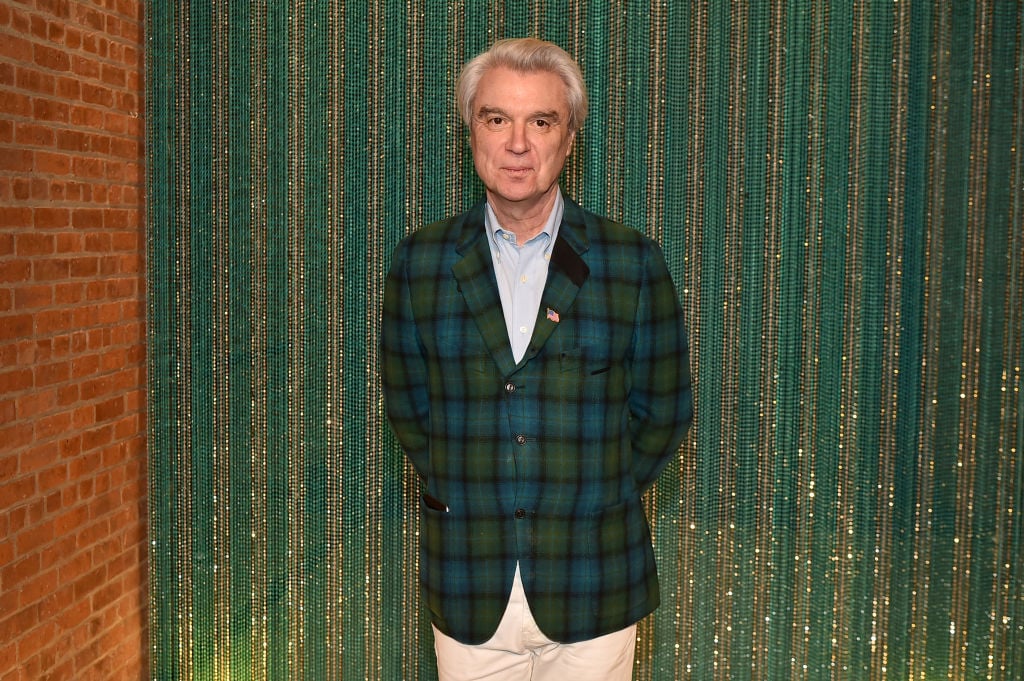 What happened on Saturday Night Live?
Although "Once in a Lifetime" was primarily an MTV hit rather than a Billboard hit, that was more than enough for memory to power the acclaim for Byrne's performance on Saturday Night Live. Byrne performed the song with an 11-member backing band, all barefoot and dressed in grey suits. It was his first time on the show since 1989, when he was promoting his solo album Rei Momo, according to Billboard.
Like a number of prominent musical guests, Byrne was not confined to the musical performances. In the "Airport Sushi" sketch, Byrne — playing "Baggage Handler Who Tosses Everyone's Suitcase Into Long Island Sound" — appeared opposite host John Mulaney for a LaGuardia Airport-inspired take on"Road to Nowhere," called "Plane to Nowhere."
Byrne's second performance of that night was for the song "Toe Jam," which was originally released in 2008 for Fatboy Slim's Brighton Port Authority project. "Toe Jam" and "Once in a Lifetime" were both part of the Broadway show American Utopia. Rolling Stone reports the show had wrapped its run in February but was slated to return to the Great White Way in September, although it is not known if the current Broadway closure might delay those plans.
What else can you watch with David Byrne?
Fans who loved Byrne's performance turned to the Internet to find other Byrne performances among them, and there were plenty of them to find, particularly the 1986 Talking Heads concert film Stop Making Sense. Acclaimed as one of the best concert films, the movie, directed by the late Jonathan Demme of Silence of the Lambs fame, is available for streaming on Amazon Prime and the Criterion Channel.
Speaking of Criterion, that company just released a new version of the movie True Stories, the one feature film that David Byrne directed, which is probably best remembered for the Talking Heads song "Wild Wild Life" and an early appearance from actor John Goodman. That film is not available to stream at this time, but can be purchased from Criterion and other outlets.