David Castañeda Says 'The Umbrella Academy' Season 3 'Gave Diego Something to be Selfless'
The Umbrella Academy Season 3 returned to Netflix after a two-year hiatus, and our loveable but dysfunctional superheroes are tasked with saving the world yet again. David Castañeda, who plays Diego Hargreeves in the series, sat down with Showbiz Cheat Sheet to talk about Diego's growth over the three seasons. 
[WARNING: This article contains detailed plot spoilers regarding The Umbrella Academy Season 3.]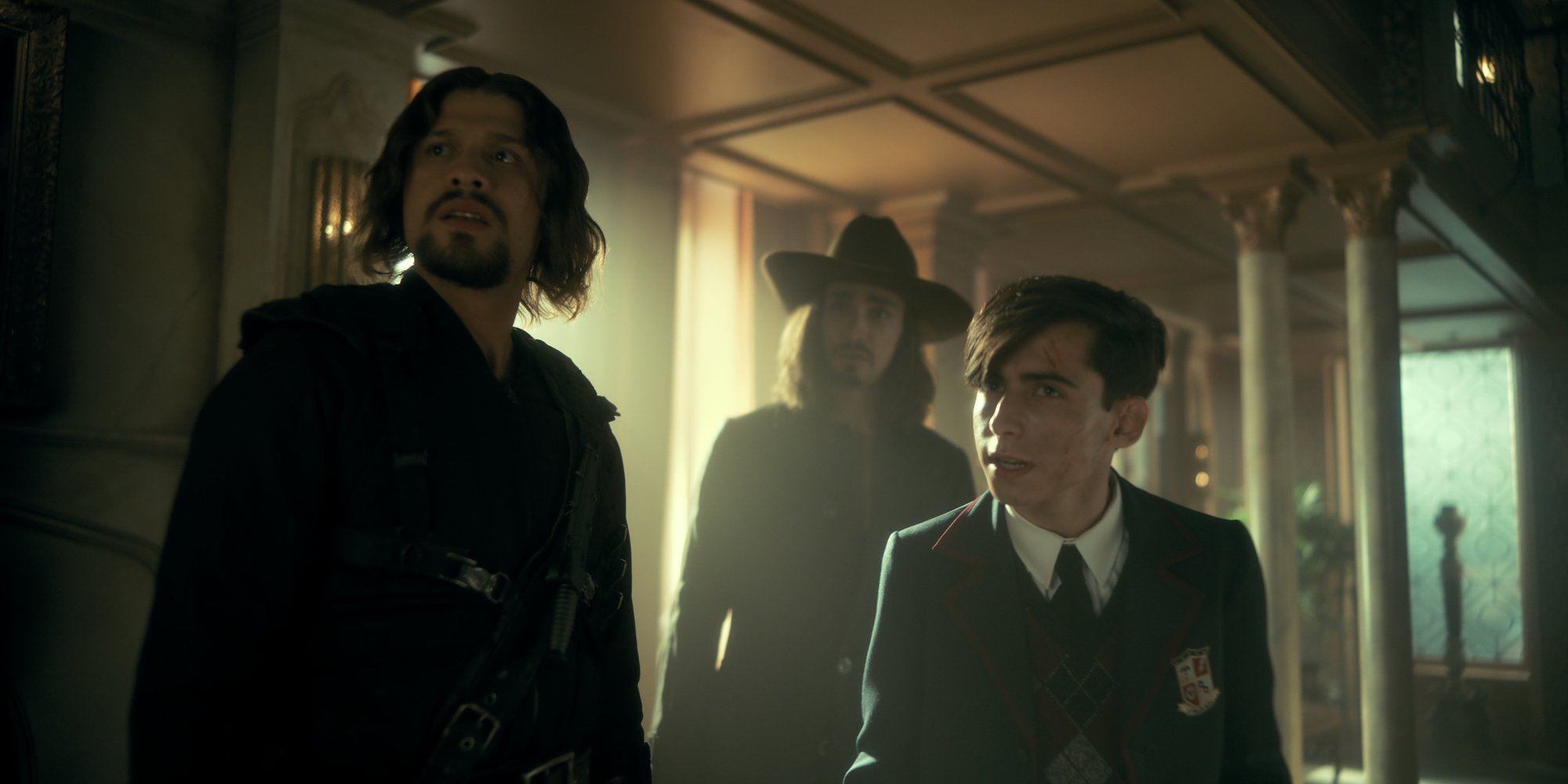 'The Umbrella Academy' Season 3 introduces David Castañeda's character, Diego, to some new responsibilities
When considering which member of the Umbrella Academy would make the best parent, Castañeda's character Diego probably doesn't top most people's lists. Allison (Emmy Raver-Lampman) clearly nabs the number one spot because she is a parent. Luther (Tom Hopper) might come in second. Regardless, Diego's surly attitude and gruff exterior don't necessarily make anyone think "parent" when they watch him in seasons 1 or 2.
However, that's where we find Diego in The Umbrella Academy Season 3. As Diego, Number Five (Aiden Gallagher,) Luther, and Klaus (Robert Sheehan) try to make sense of their new timeline, Lila (Ritu Arya) shows back up with Stanley (Javon Walton) in tow. Lila drops Stanley in Diego's lap with plans to gallivant around the world, sowing her wild oats. However, another apocalypse is brewing on the horizon, so their plans change quickly.
RELATED: We Need to Talk About 'The Umbrella Academy' Season 4
David Castañeda thinks Diego's change in 'The Umbrella Academy' Season 3 works well for the character
Castñeda told us that this version of Diego in The Umbrella Academy Season 3 felt like 'the right one to be in right now." This might come as a surprise to some fans because it really felt like Diego found his groove in season 2. However, instead of leaning into that version of the character, they took Diego in the opposite direction.
"They gave him something to be selfless, you know, and to allow growth within his own childlike obsession of trying to save and do things. It's like, 'Oh, no, now you have to be a father now.' And having his own fears of how his dad was and him not wanting to repeat those things. So I felt like it was just timely from just for the aspect of you can only fight so many times and seek revenge so many times. It was a nice change of pace," Castañeda told us.
David Castañeda loved bringing new cast member Javon Walton into the fold
The Umbrella Academy Season 3 introduces audiences to several new characters with the Sparrow Academy. However, they aren't the only ones to join the cast. Euphoria star Javon "Wanna" Walton takes on the role of Stanley, Diego's son, in season 3. We talked to Castañeda about what it was like working with Walton, and he had nothing but praise for the young actor.
Castañeda said, "We've already worked with Aiden [Gallagher] since he was 14. So, we already knew how to handle working with all adults and working with a child actor, and a talented one at that. When Wanna came, it was the same thing. He came in with such energy, and such positivity, and he was such a fan of the show. All I had to do with him was just play."
He continued, "He's a professional boxer. I mean, he's about to be a professional boxer, but he's been boxing his whole life. He's a phenomenal athlete. You can already feel he has this childlike aggression that Stanley already carries. When I would go to work with him, it was just the funniest days."
Catch The Umbrella Academy Season 3, currently streaming on Netflix. 
RELATED: 'The Umbrella Academy' Star David Castañeda Talks About THAT Scene in Season 3