David Harbour Liked 'Stranger Things' Original Title Better, But This Changed His Mind
Actor David Harbour liked the original name of Stranger Things and actually hated the final name until something changed his mind.
David Harbour wasn't always so in love with the name of his hit Netflix series, Stranger Things, and actually liked the original title much better. In fact, he said, "I hated it" when the show's creators pitched the name change. Find out what eventually changed his mind about it.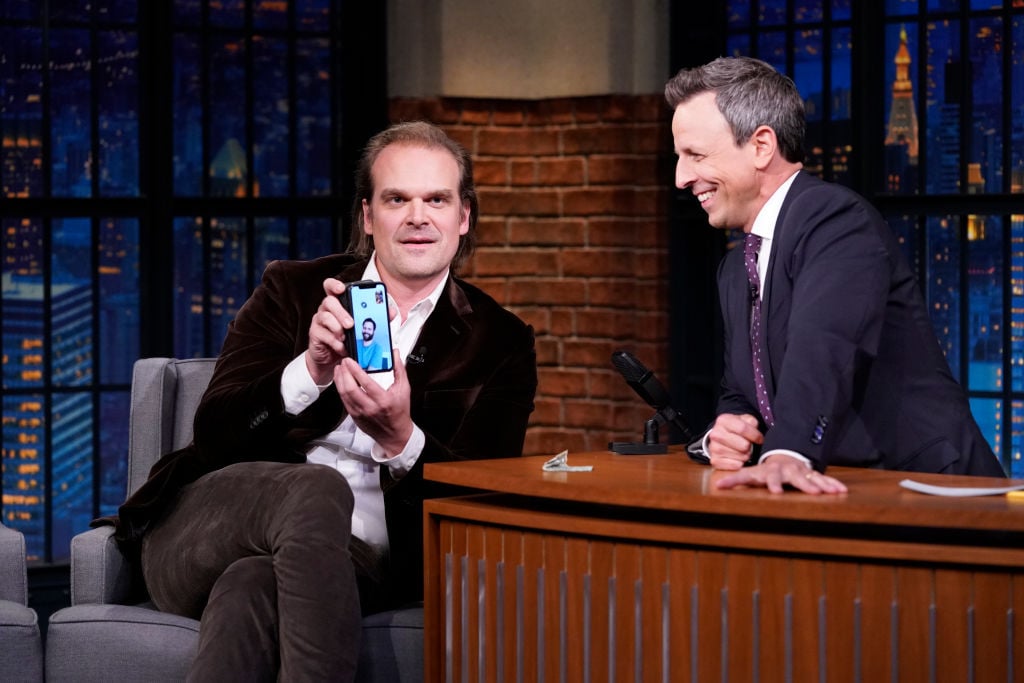 Stranger Things was originally called Montauk
It turns out the show wasn't always going to be named Stranger Things, as Harbour revealed during an interview on Late Night with Seth Meyers.
Harbour explained how there was a "rift" with the show's creators, the Duffer Brothers, over the title of the series. Harbour was pretty locked in with the show's original name, but the brothers decided to take things in a different direction.
The actor explained: "Originally it was called Montauk and I thought that was such a good title, really strong, simple, and one word, and it was set in Montauk and then they changed it to be set in the Midwest so they needed to change the title."
He continued: "They called me and they were like, 'We're gonna call it Stranger Things,' and I was like, 'That's the worst title I've ever heard.' It sounds like a terrible idea for a television show. So I hated it."
What made him change his mind? Turns out, it all came together with that now iconic 80s font and music, as Harbour shared: "And then I saw it in the font with the music and it was awesome again."
What happened to Hopper at the end of season 3?
Stranger Things ended season 3 with some questions, most notably what happened to Harbour's character, Hopper? While the Stranger Things season 4 teaser might hold some clues about Hopper's fate, nothing is particularly clear. Did Hopper die? What's the deal with the end credits involving Russians talking about an American prisoner? Is it Hopper?
Harbour is looking for some answers too and during his sit down with Meyers, he tried to get to them. He told the late night host: "Well, here's the thing. I always knew that Hopper had to make a sacrifice. Like, he's a jerk, and he also needs to pay for that in some way… So I thought he'd make the sacrifice."
Based on the script and the post-credits scene, he noted, he believed things were okay, sharing, "And I was like, 'Oh, clearly I'm the American.' And then I haven't gotten many phone calls."
Harbour tries to get an answer about Hopper
The actor noted that the Duffer brothers are "actually the only people that do know" about Hopper, so he FaceTimed them during the interview to get some answers.
Harbour asked them: "I have a question. Am I dead? Is Hopper dead" and Ross Duffer responded: "I mean, we're still figuring it out, David."
The actor wasn't impressed with the limited information but fans are giving him credit for trying. He ended the call by saying, "You guys are a ton of help. Really wonderful work. Good luck with season four. Love you, bye."
He dished on his talented, young co-stars
Harbour also shared the interesting part of working with teenagers and how it's a crazy experience as a man in his 40s, being around young people who are finding their way in life.
He told Meyers: "I have been in some conversations where, between them, we're in the middle of the conversation… I just have to walk away. I'm qualified to speak about this but I'm not going to tell you."